Best Cat Cooling Pad – Not Just for Dogs
With the long hot summers, we all try and find the best ways of keeping our cats cool. Well, I am now trying out a cat cooling pad and I will say – 'they are not just for dogs'. If you see most of the marketing for these cooling pads then they are almost always targeted at dogs. But cats can use them too.
How A Cat Cooling Pad Works
Most of these pads are filled with a non-toxic gel. And how it works is that it activates when your pet sits on the mat. After just a few minutes the gel is activated and starts cooling down your cat. Now why these might be targeted more for dogs is that all cat lovers know that cats can be very fussy about everything. And that includes where they sit and sleep. Which means that sometimes the cat does not hang around on the mat long enough for the gel to activate so they don't get the cooling effect.
However, if they do sit around for long enough and work out that the pad will cool them down in hot weather. Then as cats are rather intelligent they will keep coming back to the pad. The tricky part is getting them used to it that very first time. Oh and hide the dog decals! So, lets have a look at some of the cooling pads that are out there which might help keep kitty cool in the hot weather.
Arf Pets Self Cooling Pet Pad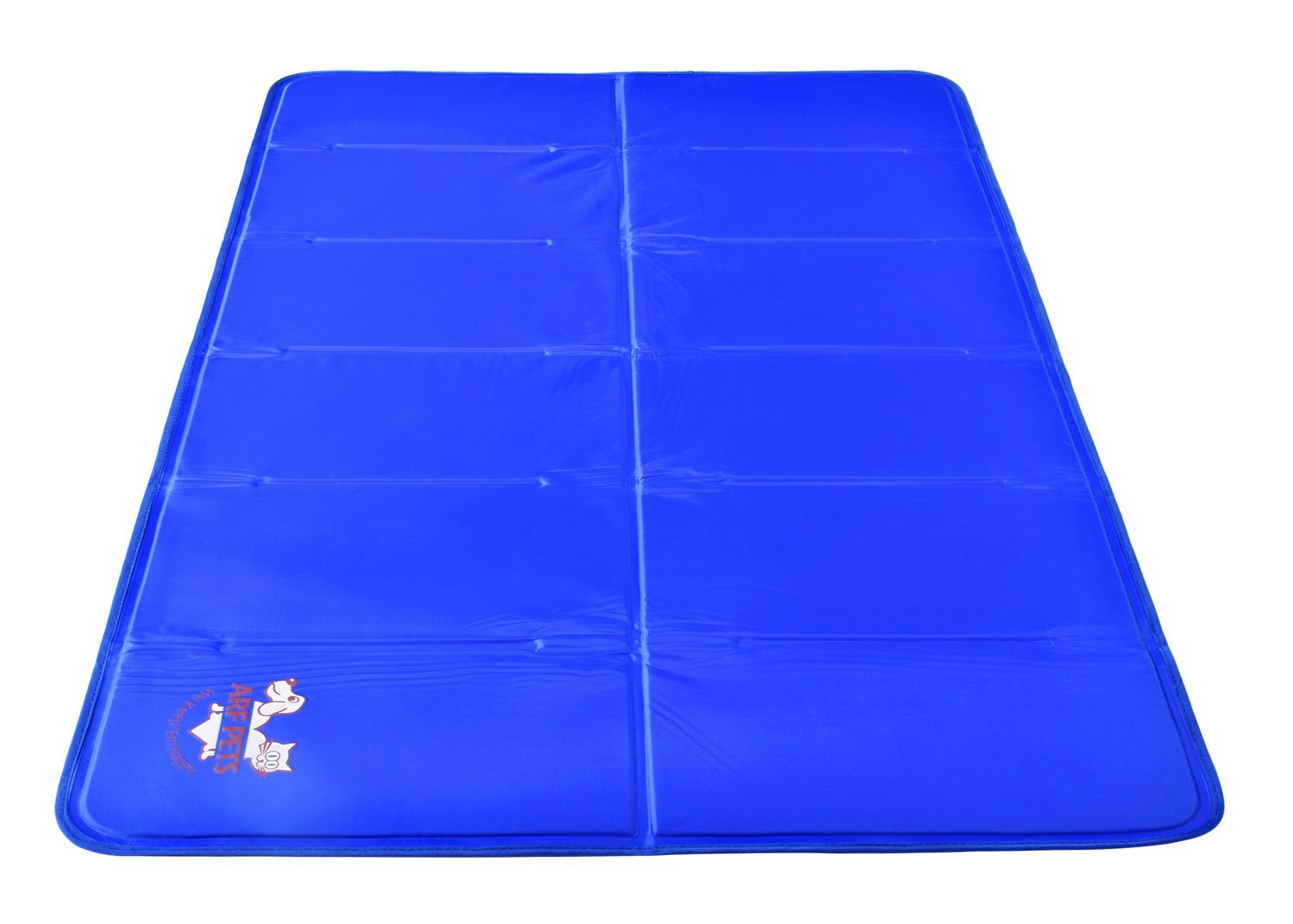 The Arf Pets cooling pad has a tough and sturdy nylon outside with a cool gel inside which absorbs the pet's body heat. Therefore, keeping them cooler and relaxed for up to three hours. It is completely self charging so does not need to be placed in a fridge or water and doesn't need electricity so it is very low maintenance. However, do keep an eye on it incase of rips from cats claws.
Again this activates when your pet sits on it. And after providing three hours of relief from hot temperatures it only needs about 15-20 minutes of non-use before it recharges and can be used again. It again uses a non-toxic gel and can be folded up quite easily for travel or storage. Whilst the nylon outer coating is easy to keep clean by just wiping over with a mild soap ad water. It is also puncture resistant and resists tearing.
It is available now from Amazon.
American Kennel Club Cooling Pad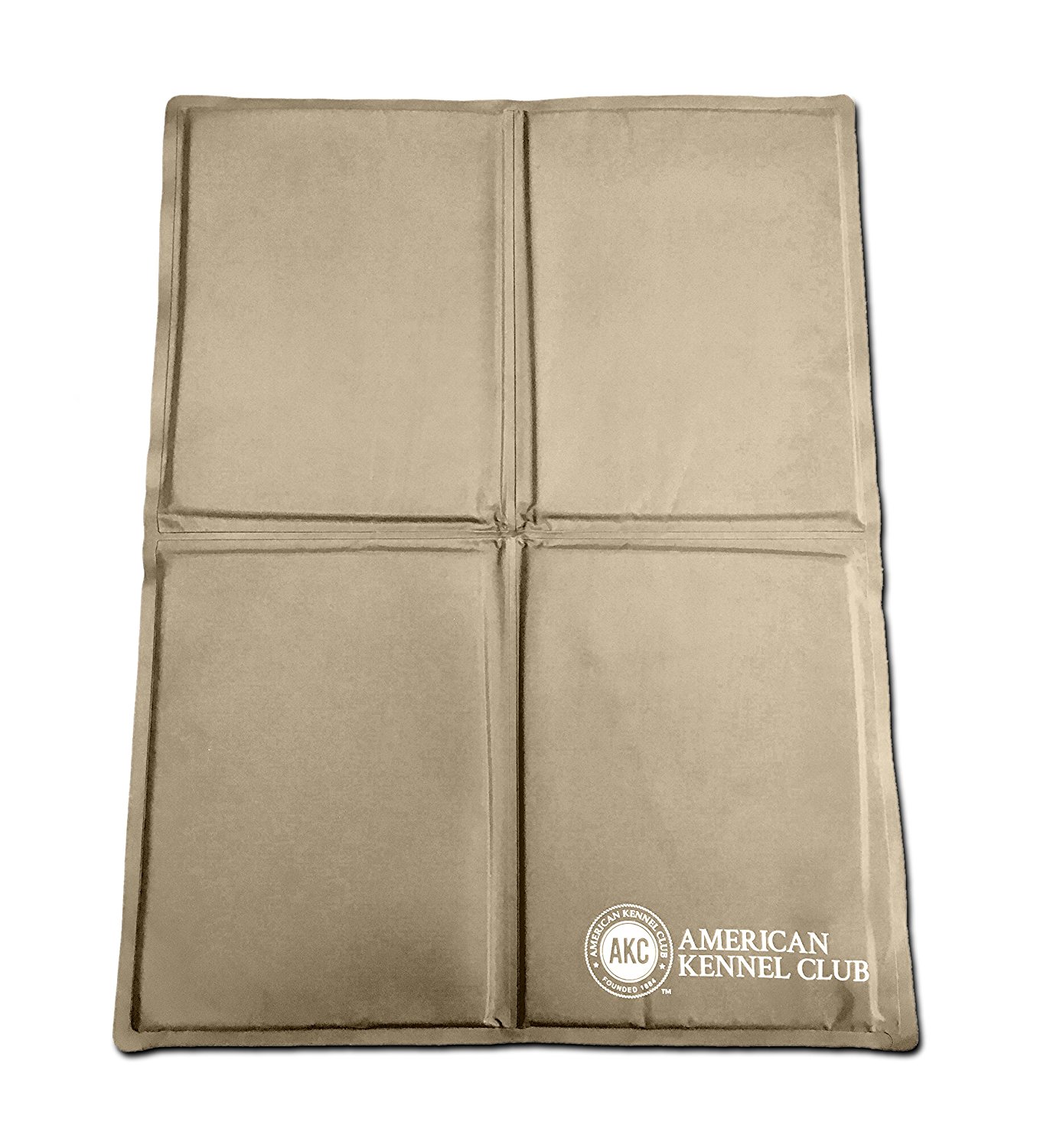 Yes, this is definitely marketed for dogs especially as it is from the AKC. However, your cat can also use this cooling mat quite easily. And this one also comes in three different colors and three different sizes. It is available in the usual blue plus gray and a tan color. Size wise it comes in a medium size (20 inches by 16 inches), large (26 inches by 20 inches) and an extra large size (30 inches by 24 inches).
This cooling pad is both water resistant and dirt repellent so very simple to keep clean. And it does have the AKC backing it up as well.
ASPCA Reversible Pet Cooling Pad
If you are looking for a cooling pad that is a bit different to the usual blue colorthen the ASPCA pet cooling mat looks great. And as it is a product by the American Society for the Prevention of Cruelty to Animals you also know that everything has been done to make this a safe product for your pets.
Therefore this is a durable, water resistant pad which is made from a 100% composite polyester fabric outer material and an inner liquid cooling gel. It can also be used indoors or outdoors – so great if you are looking to cool down some feral or outdoor cats.



The ASPCA cooling pad comes in three sizes – medium (20 inches by 16 inches), large (26×20 inches) and extra large (30 by 24 inches). But it comes in three great looking designs – chevron, paw & bone (yes it is for dogs) and a solid color. It also comes in different colors – tan, turquoise, orange, blue, gray, taupe and teal.
I really think that to make the ASPCA reversible cooling pad even better they could make it come in a more cat friendly design such as pictures of tuna cans or fluffy mice. However, if you don't mind chevrons or paws and bones then the ASPCA pet cooling pad is available from Amazon by clicking here.
Polar Pad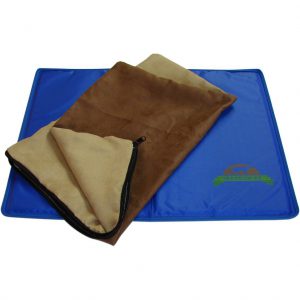 The Polar Pad definitely got a paws up as it also came with an extra plush cover. While this cover does cut down the cooling by about 60% it is great for cats who love comfort and may not feel completely comfortable on just a PVC or nylon cover. Plus it adds an extra layer of protection from your cat's claws. This zippered cover is easily removed for cleaning and comes in a chocolate suede side and a khaki suede side.
As with other pads, you can use the polar pad without the plush cover so you just have the blue nylon look. And it comes with a gel interior which gives about 4 hours of cooling. The edges of the pad are all double bound and sealed for extra durability. As this gel absorbs heat it partially changes state to enter a more liquid form and in the process cools your pet.
The Polar Pad comes in three sizes – small (15.5 inches by 20 inches), medium (20 inches by 26 inches) and large (20 inches by 35). It is completely non-toxic and can be easily fast recharged by running under cool water or placing in the refrigerator. Otherwise, it will just recharge at its standard speed.
And remember you can also use pet cooling pads for yourself. They made great toppers for pillows for a cooling nights sleep, or even place a laptop on them when working.