Product – Ripple Rug
Availability – Available from Amazon
With the arrival of a new kitten I have been trying out some new interactive cat toys. One of the toys was a cat puzzle toy called the Ripple Rug.
When I first saw the ripple rug advertised, my first thoughts were that as it was just a couple of pieces of carpet that I could make my own version. But on reading about the product further a lot of work has gone into designing this cat activity mat.
So what is it? And no, it is not just a piece of crumpled up old carpet. Thank my mother for that description when she came to visit. She was soon shown the error of her ways. Instead this is a cat activity play mat.
One Rug or Two?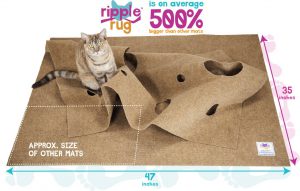 The ripple rug is actually two mats. The base mat or carpet is placed flat on the floor with the non slip surface directly against your floor. This non-slip surface is great especially for people who have hardwood floors. It also acts as great insulation for sleeping on (for the cats not for you).
The second rug has a number of velcro points attached to it. These velcro areas attach to the base carpet. But the fun and cool thing is that you can place these velcro points wherever you want to on the base carpet so you can create ripples in all sorts of shapes. You can also easily lift this rug up and alter the shapes whenever you want to.
The top rug also contains a number of varied sized holes. These can act as tunnels and hideouts. Smaller holes can be used by cats to place their paws through. Whereas they can burrow and tunnel through the larger holes. And these holes can be expanded for larger cats.
Safety First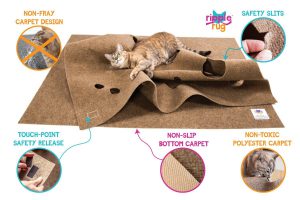 My first thought when I first saw this advertised as I said was that I could put two bits of carpet together so why did I need to purchase one. Well reading further showed that the manufacturers had safety first in their minds.
I have already mentioned the non-slip backing for the lower carpet. This means that if a cat runs towards this it is not going to go sliding over a hardwood floor which can cause injuries.
The carpet pieces are non toxic plus resistant to mold and mildew. They are also stain resistant. The velcro touch points are also quick release in case your cat gets nervous playing inside this toy.
The carpet is also made from a ribbed needle punch polyester tufted carpet instead of a looped fibre. This means that there is less chance for a cat to catch their claws on parts of the rug and cause themselves an injury.
Furthermore, for those interested in the environment. This interactive toy is made from recycled plastic bottles, with 28 bottles making one ripple rug.
SetUp and Maintenance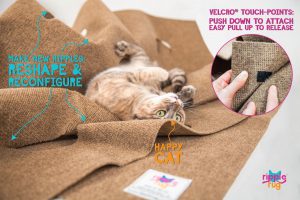 Like everyone I like toys that are easy to set up and easy to maintain. This rug was both. I just placed the first rug on the floor and then started making hills and furrows with the top rug which easily stuck to the lower carpet.
Maintenance wise, if I don't want to leave this over the floor it is easy to pick up and roll up. Also I can vacuum it and any marks can be sponged or shampooed off. A big plus for an interactive toy is that I also do not have to buy extra pieces as we go along. There are no batteries required and no added extras. Paws Up!!
Catability
So now you know what the Ripple Rug is about. The most important thing to a cat is whether they are going to play with it. Just because I love the environmentally friendly aspects and the ease of maintenance, this toy would be no good if my cats did not play with it.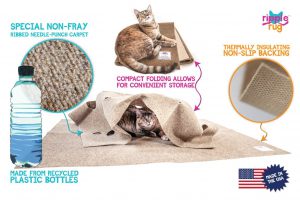 Well with a new kitten in the house who is starting to stalk and chase my older cat. This proved a really good purchase. Callie (my kitten) immediately launched herself into the tunnels and then tried to paw at my older cat from the holes. There was also a lot of running inside the tunnels and then she kept popping out of the holes.
My older cat liked staying more on the outside by jumping over the hills and landing in the furrows. I did not mind so much that she didn't burrow in the tunnels as she is not comfortable being covered over. However, she also liked to scratch at that fabric.
The other fun fact about the Ripple Rug is the ability to change the configuration of hills and furrows. Cats can get bored with toys when they play with them continuously. However, this toy keeps them thinking and keeps the toy fresh. It also really helps with their predator and prey personalities, allowing them to stalk and hunt their prey.
The manufacturer does suggest a couple of ideas for getting your cat used to this toy if they don't start playing with it and are wary.
Helping Your Cats to Get Used to the Ripple Rug
You can rub some cat nip onto the bottom or top rug.
You can also place a catnip mouse or any balls that your cat likes into the holes. I tried this with a crinkly ball that both my cats adore playing with. There was a great deal of scampering noises as they then tried to catch and chase the ball. My kitten chasing it through the tunnels whereas my older cat would put her paws through the holes to try and grab hold of it.
If your cat goes into the tunnels you can also use a cat fishing rod and dangle it over the holes so that the cat can try and grab it through the holes.
So playability did really get another paws up.
Specifications
So lets have an overview of the parts you get with the Ripple Rug
Two carpet pieces – 47 inches by 35 inches in size
Base carpet is rubber backed so non-slip
Easy access velcro on top piece
Made in the USA
Mold, mildew and stain resistant
Non-toxic
Easy to assemble and disassemble
Pros
Multiple configurations and changeable
Recyclable materials
Safe and Non-toxic
Very much an interactive toy getting your cat to think and use their skills
Lots of fun
Easy to clean
Cons
I am going to say that apart from the price I cannot think of a con
Conclusion
The Ripple Rug definitely gets a major paws up from Dyson and Callie. I also found it quite fun to create new varieties of hills and tunnels. This is a very well made and high quality toy and it is obvious the manufacturer really had pet safety in mind.
This is a great toy for letting your cats play on their own or together. But, you can also get involved in the fun – either using wands or fishing rods by the holes. And don't be too surprised if a kitten launches itself at your legs from one of the holes – ahem!
To try out the Ripple Rug, click here to purchase from Amazon – your cat will probably thank you!