So you have decided to bring home your new kitten. It is a soft, lovable ball of fluff and fun; as cute as anything and a great addition to your family. But, what are the secrets for having a happy and healthy kitten? Well it is not a daunting task and with just a few tips you should be able to forge a life long bond with your new companion.
1. Kitten-proof Your Home
Your new kitten is going to be very curious about its' new home and as it is just a small animal it can get into all sorts of small nooks and crannies – especially behind kitchen units, gaps in the wall and behind appliances so please block off any gaps.
Also keep the toilet seat down; cats and kittens can be fascinated by water and you do not want your new pet to fall in the toilet and get trapped and drown. Plus people put all sorts of chemicals down their toilet which can be detrimental to your kitten's health.
2. Electrical Cables
Cats and kittens love to chew and if they spot an electrical cable they can chew on these. As cat and kitten teeth are sharp they can easily chew right through the sheath and electrocute themselves. It can also cause a fire in your home.
Therefore either keep cables out of the way of your new kitten or use a cable protector which goes around the cables and will stop your cat from chewing.
3. Houseplants
Cats love plants and cats love chewing. However, some of the most popular houseplants are toxic to animals (plants can be toxic to cats whilst being non-toxic to other animals such as dogs and vice versa). Some of the popular houseplants that are toxic to cats are weeping figs, dragon trees, yucca plants and rubber plants as well as some flowering plants. So please check whether your plant is toxic to pets. I list ten non-toxic houseplants for cats in this post.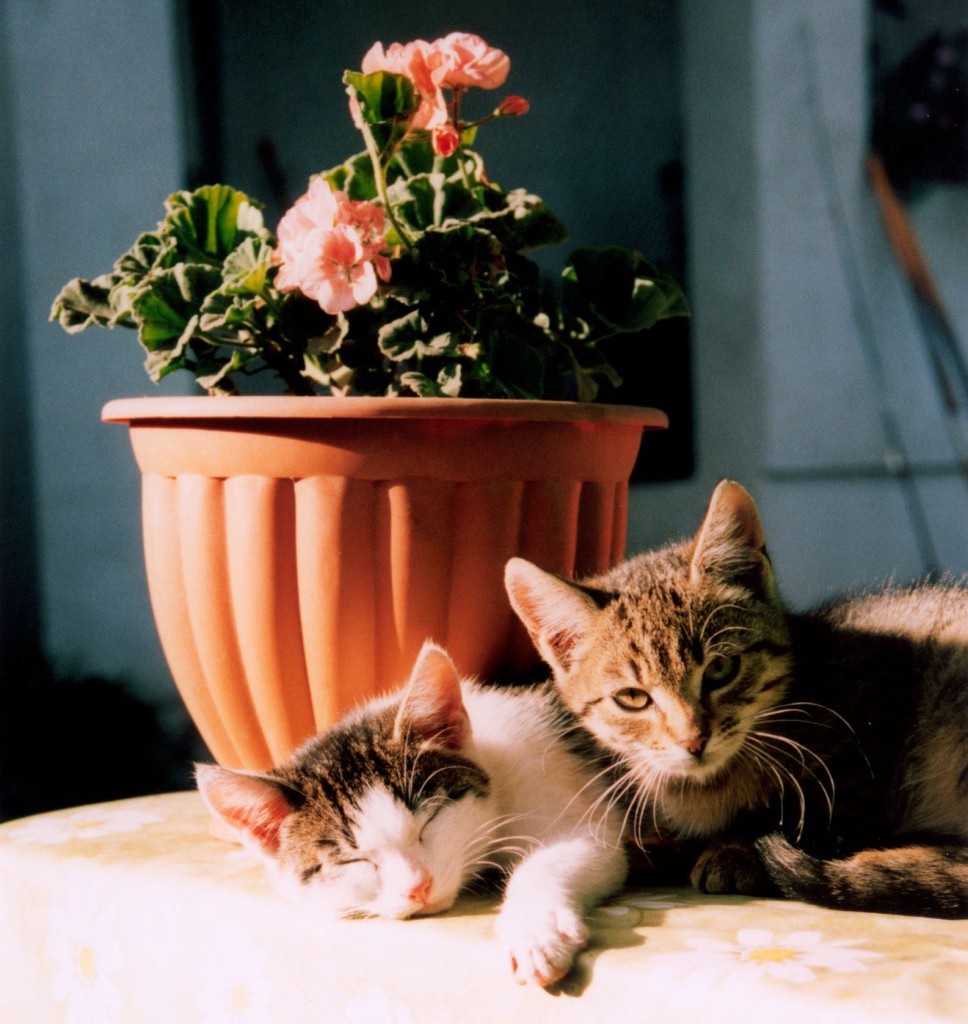 4. Food and Water
To minimize any tummy issues in the first few days then continue to feed your kitten the food that it was eating before it came home with you. Gradually then, introduce new food – mix a little with the kitten's current food at first. Choose a high quality food and one that is high in protein – it can be dry or wet food but remember with wet food not to leave it out for long periods of time as it can spoil. Also, in the first couple of weeks your kitten will want to eat little and often.
Give your kitten easy access to fresh and clean water and make sure it is in a sturdy bowl that cannot be tipped over as they will rest their paws at the top of the bowl. Many people now use water fountains as they constantly move the water around.
Many people think cats want to drink milk but after weaning, a kitten should not need milk. As they get older their tolerance to lactose greatly decreases and milk can make them sick, give an upset stomach and cause diarrhoea. If you really want to give milk to your kitten then pet stores usually sell specially formulated lactose free kitten milk but in reality your kitten only really needs water.
5. Toilet training
Cats are naturally very clean animals and will usually be toilet trained within the first 8 weeks. When you first get your kitten home, keep it in the same room as its litter tray or place the tray in a very easily accessible spot. Also do not have high sides on the tray as your kitten is going to have to climb inside. If you do get a toilet accident occurring then clean up the area with hot water and you can get sprays from the pet store that break down the enzymes within cat urine to erradicate smells. This also helps the kitten from smelling this area again and thinking that it is their toilet area.
There are also a large number of different cat litters on the market and their use is personal preference – both yourself and your cats. With a small kitten then do not buy heavily perfumed litter as this can be an irritant to your kitten's skin and also smell so strong to the kitten that it puts them off going to their litter tray. Cats have a more sensitive sense of smell than humans.
If you want to have a self cleaning litter box then look at our number one recommendation here. It has an easy step to climb into it very easily.
6. Vet Check and Vaccinations
If you have not got any other pets then get your kitten registered with a vet in the first couple of days that it is home with you. By taking it to the vet in its' first couple of days, the vet will give your kitten a good health check up including taking it's weight and will check its general health. This will give you peace of mind that you have a healthy kitten. It is also good to get your kitten used to visiting the vet at this early stage and it lets your vet also get to know you and build up a rapport. After all you have a friendly doctor who you feel safe with and your kitten needs the same.
Your kitten should have two vaccinations – the first vaccination should be at around 8-9 weeks of age and the second should be just after 12 weeks. (usually 3-4 weeks after the first vaccination). These vaccinations are very important and if your kitten was already over 9 weeks old when it left its previous home then the first vaccination should have already been done. Make sure to get a record that this vaccination was carried out.
This vaccination will guard you kitten against the following:
Feline infectious enteritis (feline parvovirus or FIE)
Feline Leukaemia Virus (FeLV)
Feline herpes (FHV1)
Cat flu
7. Worming
It is common for kitten to have intestinal parasites such as worms. In kittens this can be dangerous as these worms live in the digestive tract and will rob your kitten of nutrients. Some worms such as Coccidia can also cause diarrhoea in kittens and because kittens are very small at this age then dehydration can be life-threatening. Roundworms are also very common. Often your kitten would have been wormed at around 2 weeks old and then it should again be wormed at around 8-10 weeks. Again, check with the person who you received the kitten from to see if it has been wormed.
In this early weeks it is best to get worming tablets from your vet. This is because the dosage is linked to weight of the kitten and as kittens are very light it is best that you have an accurate weight from the vet and therefore an accurate worming dosage. Most vets will then advise how often to worm your kitten after this.
8. Fleas
Fleas are annoying for everyone – humans hate them but for your kitten they can be dangerous. As they feed on blood a heavy flea infestation can make your kitten very weak and very sick. Again as with worming dosage is very important and again it is linked with the weight of your cat so it is best to get your first flea treatment from the vet.
9. Spaying and Neutering
It is now regarded that 4 month or less is the best time to neuter a cat. This is because cats become sexually active from 5 months of age and so by neutering earlier you cut down the risk of unwanted pregnancies. Whilst neutering means that there are less cat pregnancies and so lessens the amount of stray cats, it does also have health benefits.
Female cats which are not neutered are more likely to suffer health issues later in life. For example, they have a higher risk of mammary tumours and also womb infections. Un-neutered males can be more aggressive and fight with other cats and also wander further if they are outside the house. They can also spray a lot more.
Play and Socialising
It is important to play and socialise you kitten at this age. This will build strong bonds and keep your kitten active and healthy. Regularly pick up your kitten, supporting its hind quarters when you do this. You can also stroke and groom your kitten now as well so that it gets used to being groomed. Be gentle though as it is very small at this age and therefore delicate.
Play with your kitten as well – roll balls for it to chase and dangle toys are great for your kitten to try jumping. Though, not too high up as you don't want it jumping so high that it can land painfully.
And finally…
Hopefully my top tips for having a healthy and happy kitten will bring you both lots of happiness and fun together. However, if you have any concerns about your kittens' health or welfare your vet will always be happy to give advice.
If you have enjoyed this post then click one of the links below to share this post.