During Halloween cats get a bit of a bad press. After all how many times do we see images of black cats in the media as being evil. Or being a witches' sidekick. But it is not just black cats we need to protect during this season so how do we keep cats safe on Halloween?
Black cats always seem to have a bad rep. You often find that they are the last cats remaining at rehoming centers. Sadly people often choose other colored cats before black ones. Mainly because people associate black cats with bad luck.
Coming up to halloween though there are more and more images of evil cats. And sadly people take this to extremes. At this time of year black cats are at a greater risk of being the target of cruelty. So much so that many shelters do not even allow black cats to be adopted in the few weeks before Halloween in case they are abused.
Keep Your Cat Indoors
It is a good idea to keep your cat indoors for a week up to and including Halloween night. As I said earlier at this time of year cats can become the targets of cruelty. By keeping them indoors you keep them safer. This may be difficult if your cat is an outdoor cat but I do have some tips for keeping indoor pets healthy and happy in an earlier post. Also you can give supervised access to the garden at this time.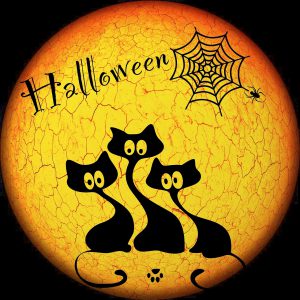 On Halloween night there will be a lot of strange sounds and noises. People will be dressed in strange costumes. And all of this can be scary for your cat.
Therefore keeping them indoors during this night will make them less stressed. However, there are other considerations to take into account when you keep them indoors.
The Safe Room
You might have trick or treaters consistently ringing your doorbell. There may also be screaming and yelling from outside the house. Therefore, on the night of halloween it is better to keep your kitty confined to a quiet back room of your house.
This means that when you open the door to trick or treaters that your cat will not get startled and run out. This is also especially true of cats who always run to you when you open the door. After all you might have kept your cat indoors for a few days and you do not want your cat to get outside now.
You can put cat food and water together with a litter tray into your cats safe room. Also place their favorite bed in here. Sometimes cats will prefer a covered in bed at this time as it gives them a hiding place so igloos are great as is a cardboard box. You might also offer them a bed off the floor as cats often feel more secure when able to be up high.
Hopefully this quiet room will make them feel more secure and safe. You can also feel safer in the knowledge that your cat is not going to run out each time you open the door.
Candy
Keep all candy out of your cat's reach. Usually during Halloween people will have bowls of brightly wrapped candy in bowls on the floor or tables. These are tempting to a cat as the papers can make an enticing rustling noise and they may try and eat the candy.
Chocolate is toxic to all pets not just dogs. And a lot of sugar free candies can contain xylitol which can cause liver failure.
If your cat accidentally does get into the chocolate stash then take them to the vet immediately. Fast action here can save your pets life.
Candles
Flickering candle light can also be enticing to cats. Cats can see a flickering brightly colored candle and think that this is something they can play with. This results in burnt paws and scorched fur. Candles can also be knocked over and then start a fire.
If you do have candles then make sure you do not leave them unattended.
Decorations and Lights
With decorations you may have long brightly colored dangly bits. These are again loved by cats as they love to play with dangling items. However a curious cat can get tangled up in decorations and then suffer an injury. With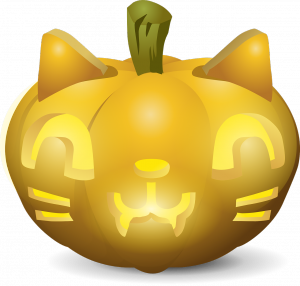 smaller decorations a cat could accidentally swallow them.
Strings of lights are doubly dangerous for a curious cat. Firstly then can get tangled in the strings and second they might bite through any electrical cords and therefore electrocute themselves.
Again it is best to supervise your cat whilst it is in the area of decorations and lights. Or make sure that decorations are out of the reach of curious paws. I also have a cable shield for any electrical items which stops the cat from chewing through cables.
Costumes
Lots of people love dressing up their pets during this time (I have a t-rex costume for my kitten this year). But please note that the health of your cat comes first. Some cats do not like being dressed up and will become stressed. If this is the case then please do not try to put a costume on them. Whilst my kitten is fine with being dressed up Dyson hates it (she would not even wear a Christmas hat) so I do not put any costumes on Dyson.
Also do not leave your cat unattended whilst in costume as again they can get trapped or accidentally injure themselves. They may try and remove their costume and become entangled and therefore injured. Or they could catch their costume on something and then choke.
I hope these tips will help you and your cats have a very fun halloween. If you have found them helpful then please share them on social media using the buttons below.