If you are looking for quality cat furniture that will last a lifetime and can be handed down through the family then take a look at this beautiful Orbit cat bed. Created by Faust Brothers Design it is made from top quality materials and every piece is handmade. But just take a look at how this cat bed actually looks. It is pretty gorgeous and does not look like a standard cat bed.
This is perfect for a stylish modern home where you want your cat bed to fit in with the rest of the surroundings. But not only that this is a really lovely hidey hole for your feline.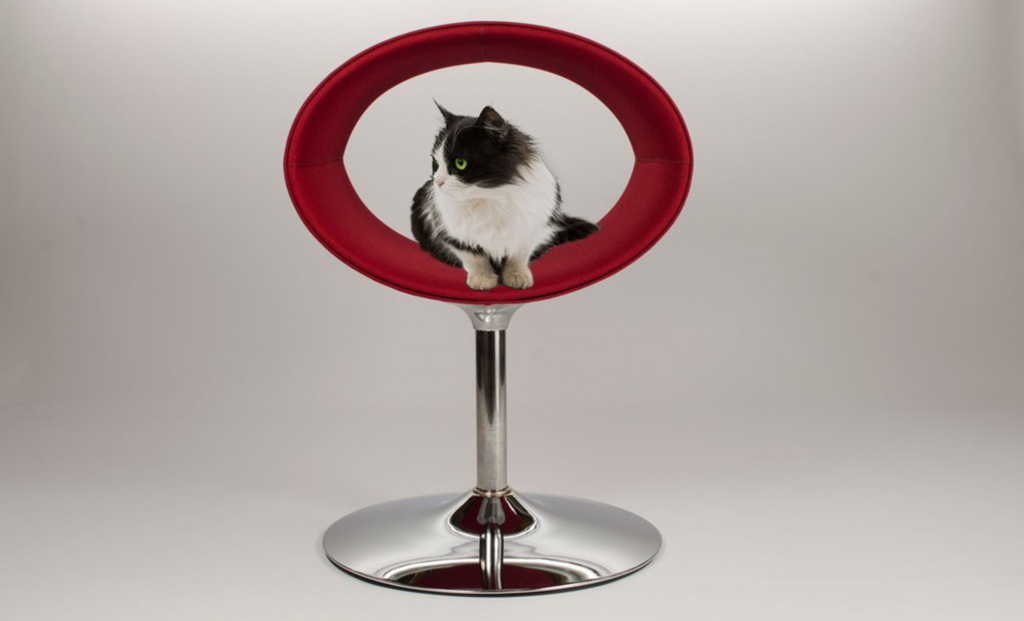 What Is the Orbit Cat Bed
The Orbit cat bed has been constructed using exactly the same methods and materials as some of the finest furniture in the world. It is made from a pressure formed laminated birch. How this works is that multiple layers are laminated together in a complex custom shape. Looking at the actual shape of the bed there is a distinct 1960s vibe to it with the lovely elliptical design and very clean and simple lines.
The elliptical bed are is then padded inside and out with a dense polyester batting which is hypoallergenic. This material does not absorb odors and will retain its look for decades.
The actual cat bed area is then placed onto a chromed steel base so that it is raised off the ground. Fabrics then used for the cat bed have been specifically selected to be soil and stain resistant just in case of little accidents. The materials have a very luxurious look and feel and are extremely wearable.
Putting the Orbit together is very simple and does not require any tools. So it can be set up very quickly.
Will Your Cat Love the Orbit Cat Bed
Cats can be finicky with what they like. But this bed is comfortable and raised off the ground so they can watch the world go by. With the enclosed elliptical shape it also gives cats a sense of security.
The creators, Faust Brothers Design, say that they have heard from clients who entertain frequently that their cats no longer hide when they are entertaining. Instead, the now jump straight into their Orbit to watch the evening's events.
Orbit Cat Bed Finishes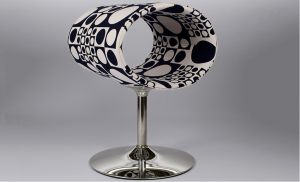 The bed area can be covered in a variety of different textile fabrics. You can get the Orbit in so many color options that you should be able to match the decor of your home. Choose from a 100% post consumer recycled polyester fabric or a recycled leather which is very resistant to claw marks and shredding. All fabrics are soft yet tough and elegant.
You can buy the Orbit in 31 different fabric colors or 21 leather colors. The creators also offer you the option to email them if you have a special color you want to use and they will see if they can match it.
Height wise the Orbit stands 29 inches tall by 20 inches wide and 18 inches deep. The chrome tulip base is 20 inches in diameter and provides great stability. However, if you have a cat that has difficulty jumping up then you can opt for the shorter height option for no extra charge.
Who Are Faust Brothers Design
What I love about small businesses is that you really get to know who the creators are. In this case, Faust Brothers Design is a small design firm based in Milwaukee, Wisconsin and consists of two humans, one cat and a dog.
They are a custom designer and fabricator of furniture, lighting and architectural elements for the residential furnishings trade. They regularly work globally with designers, architects and homeowners on unique projects of varying size. And with their own studio which is comprised of a full woodwork and pattern fabrication shop, blacksmithing and metal fabrication shop and glass facilities for hot and cold glasswork. You can be assured that you will receive a great quality product.