I have previously written about getting a new cat and introducing it to your home. But what happens when you have a resident cat? How do you go about introducing cats to each other?
Our previous post about caring for your kitten spoke about setting up your home for your new arrival. There are a few differences when you have a resident cat. And how you go about the first week is important in the longterm.
Territoriality in Cats
Cats are extremely territorial. Where there are multiple cats there will usually just be one 'Top Cat'. And strangely, it might not be the cat you expect as there are a number of factors which influence this.
When I had four cats previously, Cobie was the top cat. This was strange as she was the smallest cat and the least bossy. But, if you watched how all the cats interacted – they all deferred to her.
This was evident when I took in a pair of 9 month old sisters to join Cobie and her sister. After being told the new arrivals needed to be paired together as they were bonded it was very evident that they were not. A few months after they joined the family one of the sisters went to fight the other.
Immediately, Cobie got between the two of them (well the "picked on" sister looked to be hiding behind her). Then she growled the other cat down. She also mothered every cat and when I got Dyson as a kitten she basically brought her up. But again, Dyson always deferred to her.
Why is this important
Well cats do not like change and also if a cat is "Top Cat" it needs to keep that designation when you bring a new cat in. After all you are bringing an interloper into its' territory.
Therefore, there is a very fine balance when you bring a new cat home. And this is why the way you introduce the cats is important. Usually bringing a kitten into the domain of a resident cat causes less issues. This is because kittens usually know their place.
Setting Up for the New Cat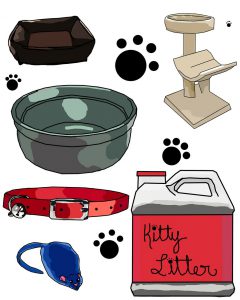 It is a good idea to have a safe room available for the new arrival. However, it should be a room that the resident cat does not usually use (you do not really want to restrict the resident cat from parts of the house it regards as its' territory if possible).
This room is going to be the new arrival's safe room. They will need access to food and water, as well as a bed, litter box, toys and scratching post. It is also a good idea to set up a Feliway diffuser as well. This contains a pheromone which is a copy of the pheromone which cats leave when they rub against an object or people. This pheromone is released when the cat is comfortable or relaxed.
Once the new arrival has been placed in this safe room keep the door closed. It is easier for a cat to feel more comfortable when they are in one room. Especially when the room is quieter.
The two cats are now separate from each other. The new arrival is in their one room whilst your resident cat has access to the rest of their usual areas.
Once the new cat is eating and using their litter tray and seems more relaxed, then it is time to move to stage two.
Scent Transfer
Cats are very scent orientated. Much more than visual. Therefore, the two cats now need to get used to each others smells.
One way of doing this is to gently rub a clean towel over your resident cat's cheek, chin and forehead. You can then rub this towel over the furniture in the safe room. Repeat the procedure by rubbing another towel on the new cat and then leaving it with the resident cat.
You may need to do this a few times. You can also rub a towel on one of the cats and then rub the same towel onto the other cat.
Once both cats seem quite relaxed you can let the new cat into other parts of the house. But, keeping them separate from the resident cat. The resident cat can then be left to explore the new arrivals safe room whilst the new arrival is not in the room.
They can then get used to each other scents.
The Third Stage
After this you can start feeding the cats at opposite sides of the safe room door. This will give them the chance to smell the other cat but be distracted by its food.
You can now let them see each other. One way of doing this is to have a child's stair gate across the safe room door. You can now feed both cats keeping them still apart from each other and separated by the gate.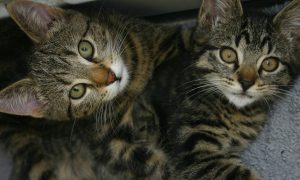 This means that they will get used to seeing each other and still be distracted by the food. The stair gate will also stop them from trying to fight each other if one gets overly stressed. If your new arrival is actually a kitten then the stair gate might have bars too wide to keep the kitten confined.
In this case you can place the kitten inside a dog cage with its food. Or you can use a child's mesh playpen that is turned upside down.
There may be some growling and/or hissing at this stage but this is normal whilst they try to work out which of them is the top cat. If however, either cat seems overly anxious by tensing up or flattening its years then they need to be re-separated and you can start the scent transference again for a bit before reintroducing them.
If you just have some growls and hisses then carry on with this a few times, increasing the visual time until the two cats seem more comfortable with each other. Keep doing the scent transfer as well in between visual visits.
The Meet
Once the two cats seem more comfortable then you can remove the stair gate barrier. It is best to monitor their initial interactions without the barrier and not leave them alone straight away.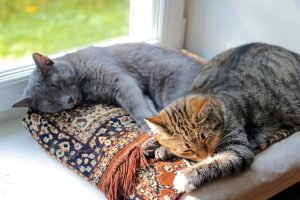 If there are any signs of aggression or again the cats get overly stressed and ears flatten then replace the barrier and do more scent transference.
After a day or two you can then try to get them to interact again without the stair gate.
This process should help you to have two cats that become integrated with each other. This process could also take any length of time from one week through to one month. It is very dependent on whether the cats do not get aggressive with each other when they finally come face to face.
Hopefully, with these tips you will have two cats that will live together in harmony. This could be anything from tolerating each other through to sleeping and playing together.
If you find these tips on introducing cats to each other helpful then please share this post using the buttons below.