We've been away for a few months after a couple of health issues with Dyson my oldest ragdoll. (A story to tell another time). In that time, there have been some pretty cool items come on the market perfect for your cool cats. I saw this really cute banana bed by Pet Grow recently and it just screams cute and fruity. I mean how can you hate a bed shaped like a banana? I seriously can't. It looks like a giant peeled banana.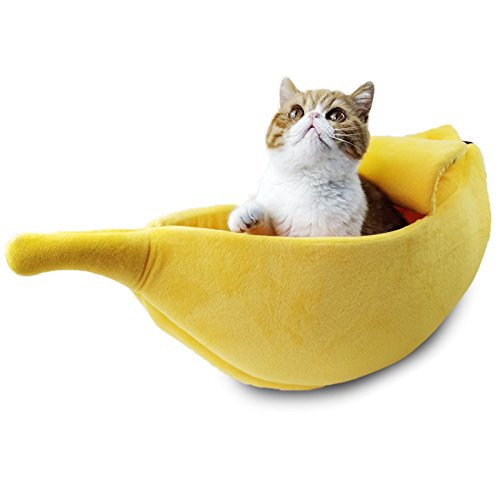 Now I know that even though a bed looks amusing and is cute that it might not be the most comfortable for your pet. So how does the banana bed stack up against other beds? Is this going to be a tutti fruity or is it going to be a bit of a split banana?
Banana Bed Features
Apart from looking like a large yellow banana, the Pet Grow bed does have a semi-opening lid so that it also resembles a peeled banana. The peeled back lid can give your cat a cosy and private area to hide out and sleep. The flap can be left open or can be closed down and it will still leave air into the centre of the banana.
It is made from a nice soft plush material with elastic sponge. So it is soft to the touch and cosy to sleep in. To keep it clean, just hand wash it and leave to air dry. You can also just wipe down with a damp cloth.
Sizing
One banana size does not fit all with this bed. Usually, most cat beds seem to come in one size but this Pet Grow bed comes in four sizes. The main issue that I can see with this is that if you buy a bed in a small size for your kitten then once they start growing they will no longer be able to fit into their bed. Therefore I would buy a bigger bed if your cat is still growing – after all a small kitten can sleep in a larger bed but it's difficult for a large cat to then fit into a kitten sized banana.
The manufacturer of this bed does advise weighing your cat before ordering the relevant size. In my case, it has to be extra large as both my cats are over 12 pounds in weight. I probably would not get the smallest size mainly because it is only for cats and kittens up to 3 pounds in weight. Most kittens I think would outgrow this size pretty quickly. Also, I think that some of the sizing is on the small size for the pet weight and could be a little too snug so I would probably go up a size.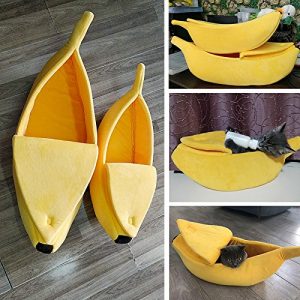 Small – 15.7 x 6.7 x 4.3 inches and designed for cats and kittens up to 3 pounds in weight.
Medium – 21.6 x 7.8 x 6 inches and suitable for cats and kittens weighing up to 6 pounds
Large – 26.7 x 9.8 x 7 inches suitable for pets up to 10 pounds in weight
Extra Large – 35 x 12 x 8 inches which is suitable for cats and kittens more than 12 pounds. (could also be suitable for small dogs)
Conclusion
This banana cat bed is cute and funny to look at but more importantly, it is also cosy and snug for your cat. I found that my cats definitely needed the extra large size as I do find that the sizing is a little on the tight side. It is actually really nice for cats who like to be enclosed on all sides sometimes when they sleep as it does have quite high sides. You probably will not need to pull the flap down and my cats definitely prefer the banana in its 'peeled' state.
Pros
Cute and Funny
Cosy fabric and comes in a variety of sizes
Cons
The sizing is a little on the small side
If you are interested in getting a banana bed for your cat in any size then these are available now from Amazon.