Every now and again when researching products for this site I come across some outrageous, cool or downright mad products. The Ludipuss Cat Tank I think fits into all those categories and is seriously for the cat that has everything. Is it bad that I really, really want one of these? Actually I would probably want one of these even if I did not have a cat! It is a seriously unique item.
I actually found the cat tank as it was being auctioned off to raise funds for the Cat House on the Kings (a great animal rescue in California). I had to find out more about it and have now found that they are made to order and sold on Etsy by Ludipuss.
Handmade to Order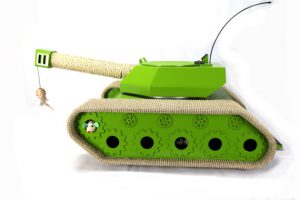 The Ludipuss Cat Tank was designed and handbuilt by Eddie Tycer who has now built his Ludipuss shop on Etsy. I have no idea how he came up with the idea of a cat tank but honestly I am glad he did as this thing is pretty amazing.
After ordering, it does take a couple of weeks for your tank to be built. But you can have it customised. So if you do not like the green color then why not a color to match the decor in your home? They will even put your cat's name on the side if you want it.
They are made from a fibreglass shell which is lightweight but is strong enough for the largest cats to jump around on it. The paint is also car grade so it is very durable and will resist almost all scratching by your kitty.
But the thought that has gone into the design of this cat tank is amazing. Look at the list of accessories that the cat tank has below and you will see that this is a complete cat activity center. It features the following:
Hidden Mice
There are five fur mice with rattles inside the tank. Three mini mice are placed in the grenade launchers whilst another two larger mice are in the left hand track where they can be slid back and forth by your cat.
Moving laser light
There is a Trixie laser light on the front of the Cat Tank which requires 3 AAA batteries which are included. This laser light helps stimulate a cat's hunting instinct.
Ping Pong Ball Play Centres
There are 4 separate ping pong play centres consisting of 10 balls scattered around the Cat Tank. The right hand track hides the ping pong system. But just pop a ping pong ball down the gun barrel and it will be caught by the circular ball toy under the turret hatch lid.
Extra Play Areas
Apart from the three play functions above the cat tank has a number of other fun activities as follows:
Three scratching areas made from sisal – 2 tracks and the gun barrel
A sisal wrapped ball hanging from the gun barrel
A full 360 degree rotating gun turret with opening lid.
Flexible aerial which has its own bell and flag.
A second entry into the tank via a hinged ramp at the rear of the tank.
The Ludipuss Cat Tank is not a small item as it is around 40 inches in length and 23 inches wide. Whilst its height is around 16 inches with the lid closed. It also weighs 33 pounds (15 kilos) so your cat is probably not going to tip this over.
The inside of the cat tank is also lovely and snug with 100% wool felt lining the entire body. The standard color is black but again this can be customised to your choice.
This is probably one of the coolest cat activity toys that I have seen. The only downside is that it is expensive (approx $1000). But, for something handmade that takes a couple of weeks to create you can see why it is this price.
I am hoping that the creator will come up with some more designs though as well. I really fancy a submarine for my cats or wow an aircraft carrier would be great.
The Ludipuss Cat Tank is made in the UK and ships worldwide. Have a look here, on Etsy, for more information.