I have been hanging about on Etsy a bit recently, mainly looking for supplies for my photo studio. But now and again I come across cat items that I love for a variety of reasons. They can be completely unusual and strange or absolutely perfect products that my cats will love. Like all cat lovers though I do seem to collect cat themed 'things' or be given them for birthdays and Xmas. So imagine my delight when I found Clockwork Art on Etsy and noticed how many cat items they had. And how many items had a steampunk or techno theme.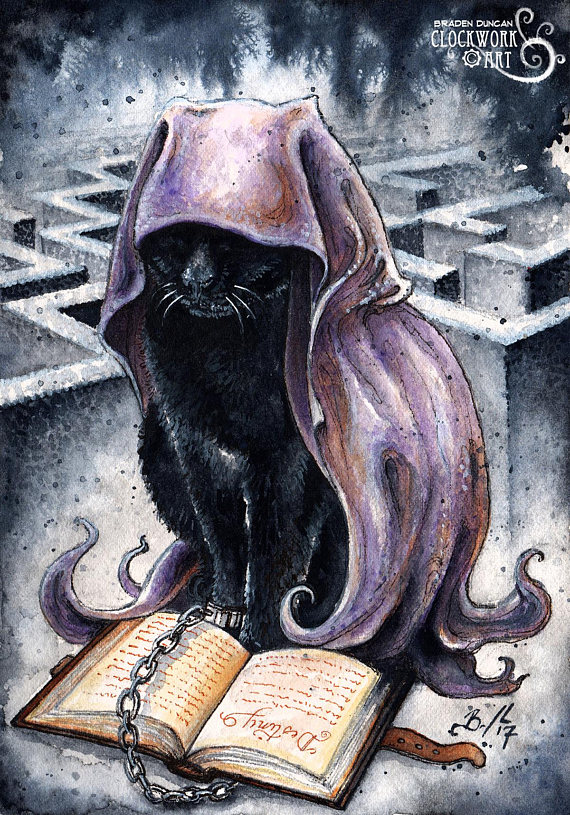 Now in real life apart from being a crazy cat lady and photographer, I am also a bit of a techno freak. I love gadgets and really like steampunk (I have even incorporated steampunk into some of my photo shoots). So steampunk and cats is really a no-brainer for me.
Who Are Clockwork Art
Well, Clockwork Art is actually a person, Braden Duncan, a Seattle based artist who primarily works in watercolor. She is a co-founder of the Seattle Arts Coalition and a writer with the Art Scene Seattle as well as Steamposium's merchant co-ordinator and a member of the international Strange Dreams Surreal Art Collective.
She is also a cat lover and her black cat Diesel is her constant companion and artistic studio muse. She also has two new members of the team – Ghost and Earl Grey. Painting her own cat really inspired her to start painting pets for friends and family and from this Clockwork Art was born.
Her art pieces in her words 'represent organic beings enhanced for their new roles in a bio-industrial world. I can also officially say I've turned 'crazy cat lady' into a viable profession! I make art that I love, and I'm thrilled to have the opportunity to share my creations.'
I think that's a sentiment that many cat lovers can really relate to.
All of her work is made from archival and acid-free materials so it will be long-lasting. And all her work is professionally scanned, colour proofed and reproduced locally so that her fine art prints always resemble her original pieces as close as possible.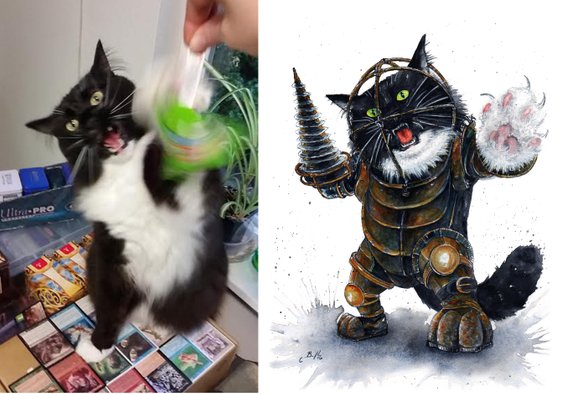 What Does Clockwork Art Have Available
Clockwork Art produces a  number of items from original watercolour illustrations, custom pet portraits, fine art prints, magnets, cards and stickers all featuring kittens augmented with mechanical and pop culture adornments. (Oh okay not all the pieces are of kittens, she does use birds, bunnies and bugs in some of the illustrations as well).
Her 4×6 and 8×10 prints are almost always in stock as well as her postcards, magnets and stickers. If you want a 9×12 or larger print then these are printed to order and usually take about a week to produce. If you want a custom portrait of your own pet then these can take 3-4 weeks.
My Personal Clockwork Art Likes
[one_half_first]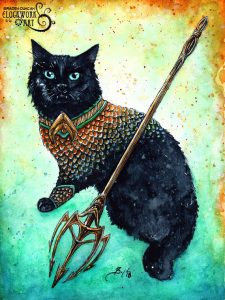 [/one_half_first][one_half_last]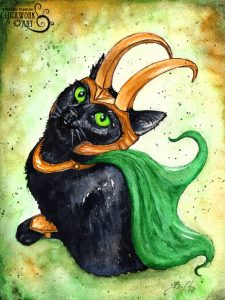 [/one_half_last]
One of the first pieces that caught my eye was of Aquacat. This is a watercolour (and you can see how Diesel was a muse for this piece) and is available as print or postcard. What caught my eye with this was the extreme details and colour as well as the almost mythisism of the piece. I can imagine this cat as Poseidon with his trident. It looks so cool.
Another piece I really like is Loki Kitten. If you are a lover of Marvel's Avengers then of course you will know Loki. But I bet you never thought of a kitten as Loki. Though it does make Loki a little bit more loveable.
Some of the other pieces I like are where kittens are turned into Octopussy or the mermaid kittens.
The fun thing about these as well is that if you want a custom piece you can choose to have your cat or kitten turned into Octopussy or a merkitten or even have your cat turned into a piece of pop culture art. There is so much variety and all of them are cute and quirky and strange and adorable.
[one_half_first]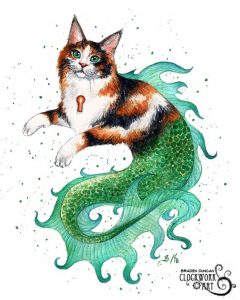 [/one_half_first][one_half_last]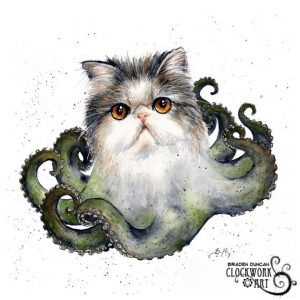 [/one_half_last]
I think that Clockwork Art has almost something for everyone's tastes. And the pieces look so fun and yet unusual, they are basically one of a kind especially if you get a commissioned piece of your own cat.
[thrive_link color='red' link='https://www.awin1.com/cread.php?awinmid=6091&awinaffid=304403&clickref=Clockwork+Art&p=https%3A%2F%2Fwww.etsy.com%2Fuk%2Fshop%2FClockworkArtShop%3Fref%3Dss_profile%23items' target='_blank' size='big' align='aligncenter']Check Out Clockwork Art Now on Etsy[/thrive_link]