Pet Pals Cat Perch – review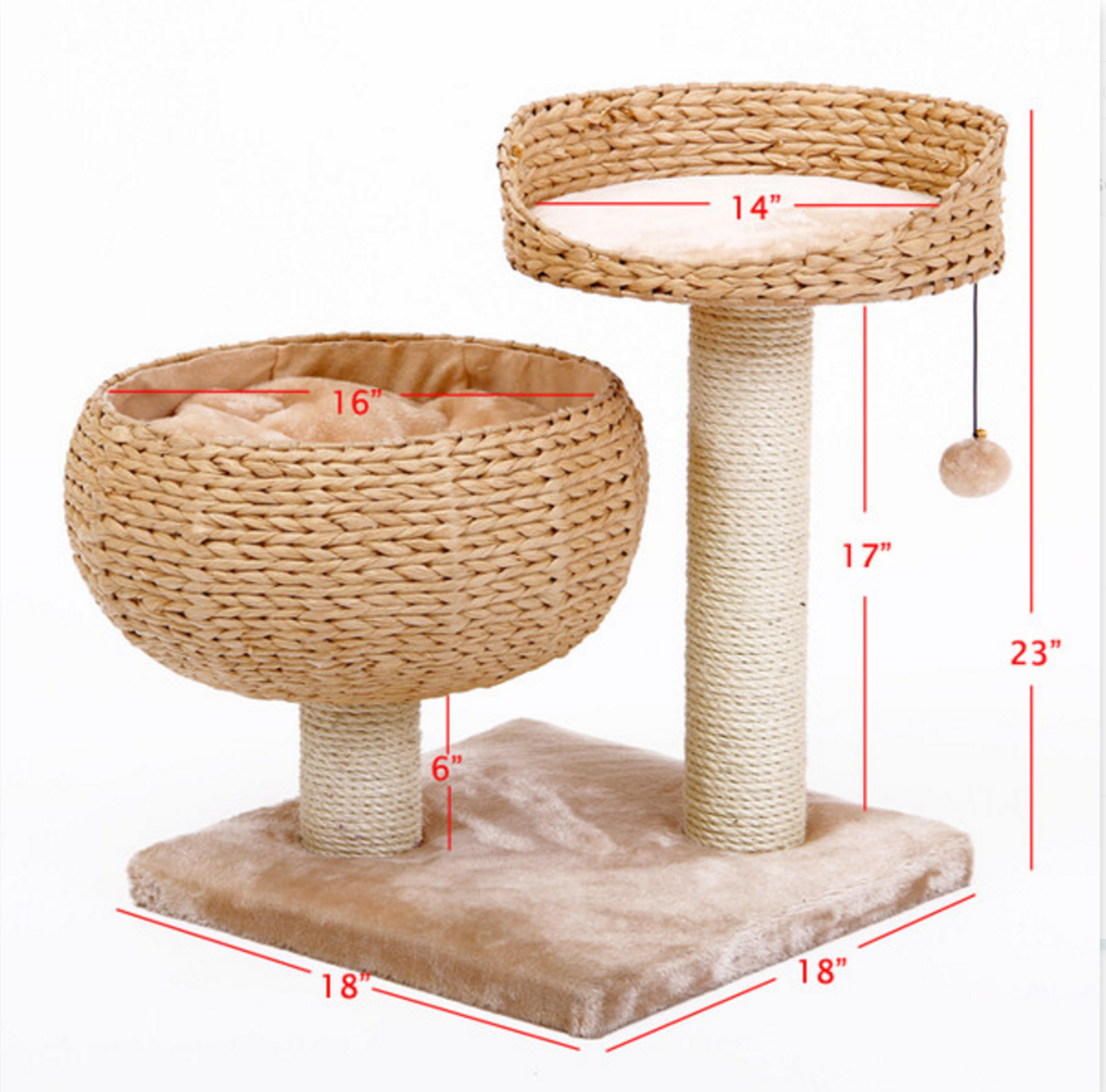 Product: Pet Pals Cat Perch (both Natural and "Jack")
Height: 23 inches
Available: Both Natural and Jack are available from Wayfair
I love cat trees and pet perches and so does my cat. Recently, I came across the Pet Pals cat perch and as I like contemporary and modern looking cat trees for certain rooms in my apartment I thought I would take a look at this item and give it the "Dyson" test.
(for those that don't know Dyson is my very spoilt, very diva-ish Ragdoll cat)
I like a variety of different cat trees – for my lounge/living room I like contemporary ones with lots of wood and natural products. For other rooms in the house I like larger and more sprawling cat trees (did I mention that my cat was spoilt?). Dyson also likes to use different cat trees and perches of different heights – some days she likes climbing to the top of a six foot tree, on other days she prefers chilling in a lower basket.
After my previous cat tree review on the Refined Feline Lotus Cat Tower, I had been asked for cheaper options but yet still retaining a nice, contemporary look.
This is where the Pet Pals Cat Perch came in. And one of the first things that I liked was that it came in two colour options for almost the same price – so whatever your style you might like either one of these (or even both).
Pet Pals Cat Perch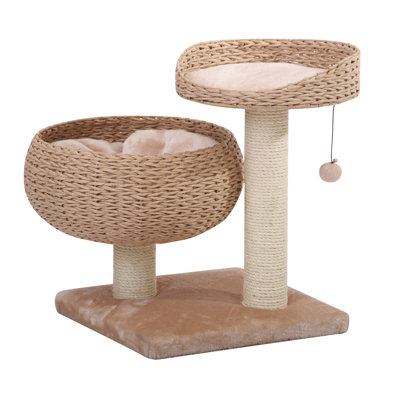 The first perch came in a natural beige color and has two tiers. It is made from environmentally friendly materials which is a big plus – woven paper rope (wicker) make up the perches, whilst the poles are wrapped with sisal and the sleeping areas are made from a fleece material.
The lowest perch is a large bowl shaped bed which is 16 inches in width so great for even larger cats. It does though only sit about 6 inches from the floor so if you want your cat to view out of the window from this bed then the window has to be quite low (or you could place this near a French window). A big plus is that the bowl has a lovely soft cushion inside it which can be removed for easy cleaning. (As we all like things that can be easily cleaned).
The second perch sits atop a higher sisal wrapped perch – this post is 17 inches high so this might be a good window watching vantage point. This perch is about 14 inches in diameter so might not fit a very large cat but my Ragdoll can mange it quite well. This has a fleecy base for sleeping on but this sadly cannot be removed for cleaning.
Thoughts on style and catability
The Pet Pals Cat Perch is definitely  a very cosy cat tree/climber. The fleece cushion and mat are very soft and thick and this feels much more luxurious than carpet covered cat trees. It also comes with a hanging toy from the top perch which your cat can use for batting back and forth.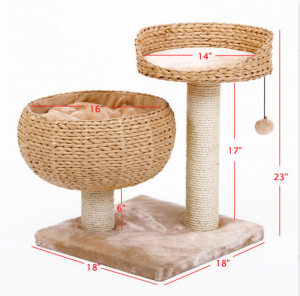 Looks wise it is very smart, it has a natural look, I like that it is Eco-friendly and I like that it is easy to clean. I do wish though that the top fleece mat was removable. It may also be a little short if you have higher windows.
Setting Up
Putting it together was so simple and took less than 10 minutes. Basically it came with two bolts which were used to bolt the two sisal posts to the base. These two sisal posts then had pre-fitted bolts the other end onto which you just screw the perches. Very simple and the box also contains an Allen wrench which fits the base bolts so you do not need to find your own tools. The box contains instructions on fitting together which are easy to follow.
Pet Pals Cat Perch Cat Rating
So the important part is what does my cat think of it? Well I am in a top floor apartment and I have a number of floor to ceiling Windows so placing it by a window means that she has a comfy seating area for watching the birds. She loves the big bowl and curls up in there to sleep.
She also likes the top perch but mainly sits on this part rather than sleeping (we have some housemartins who are nesting in our eaves currently so she uses this perch to watch them fly back and forth).
The largest sisal post is used for a stretch and a scratch and it is standing up well to this. It's not as high as she would like though as like most cats she likes to stretch full length for a scratch and she is a long and big cat. The smallest sisal post is really not used as it is too low and too short – this might work for a little kitten.
All in all though I think this perch gets a big paws up from Dyson.
So what happens if you want this perch in another look other than natural? Well here you are in luck as Pet Pals manufacture the same looking product and made out of the same material in a very snazzy black and white look.
Pet Pals Cat Perch – Jack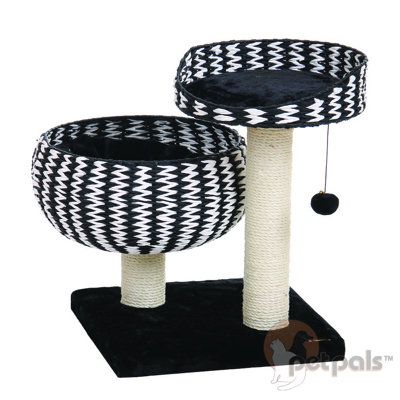 Yes this one is called Jack. As per the previous perch, it is the same size, shape and made from the same material. It even has the same plush cushion and fleece mat but this time they are in black rather than the neutral beige color. You can see how smart it looks in the picture below.
This one really will match a very modern room. And as I have a living room which is mainly black and red this perch fits in well with that color scheme. So big bonus is that this looks good and my cat loves to sleep in it. Catability is exactly the same as the previous perch.
Cost wise "Jack" is sometimes a little more expensive – though by only a few dollars. The retail prices for these perches ranges from about $80 to $120 but the best price I found was from Wayfair (note these prices were correct at time of going to press but are subject to change). And even better they offer free delivery if you spend over a certain amount so shipping on these was free. (And I like the word "free")
Conclusion
Pros
eco-friendly
easy to put together and build
comfortable fleecy cushion and mat – no carpet
cushion removable for cleaning
very smart look
cat loves the perches.
Cons
wish the top mat was removable for cleaning
slightly too short for high windows
Click here to purchase the cat perch of your choice:
[columns_row width="half"] [column]

23″ Cat Perch 
from: Wayfair[/column] [column]

Jack 23″ Cat Perch
from: Wayfair[/column] [/columns_row]
All in all I really like the Pet Pals Cat Perch and so does Dyson. If you have one of these perches let me know below what you think about it. And which color did you go for? If you don't have one of these – which color gets your vote?