This website is littered with photos of my Ragdoll cat, Dyson. As I often get asked about this breed I thought I would compile this post about some Ragdoll Cat information. You can then decide if a ragdoll will fit into your family.
About the Ragdoll Cat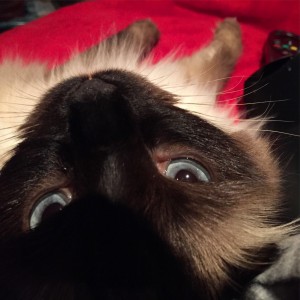 As you might have noticed large bright blue eyes are a trait of this breed. Ragdoll cats also have a very silky medium to longhaired coat and beautiful soft "smiley" faces. They are extremely affectionate cats and love to be around people – in fact they will follow you about like a dog and to be honest Dyson has been the most dog-like cat that I have ever lived with.
They get their name from their ability to go limp and flop when picked up. But not all ragdolls will go completely limp. This is though usually a sign of complete trust and how happy they are to be held and picked up.
Due to this floppiness and their extremely soft and silky coats people often think that ragdolls are fragile cats. This is very far from the truth. Ragdolls are one of the largest of the cat breeds with females reaching about 10-15 lbs in weight whilst males are much bigger and will range in size from 12-20 lbs. Definitely a gentle giant. They are also very muscular – feel underneath the ragdoll's fur and you have a very firm body.
History
The ragdoll is a pretty young cat in breeder terms after having been bred in the US in the 1960s by Ann Baker who mated an angora like female with a Birman or Burmese. Subsequently she also mated with a Persian like male. The Birman male was then mated with the female offspring producing the ragdoll. The breed was then introduced into the UK in the early 1980s.
Physical Looks
Apart from the muscular bodies and long silky fur which is rather distinctive, the ragdoll has a ruff that goes between the front legs like a Persian and does get thicker during the winter. They also have very fluffy hind legs and a long tail which is covered in long fur. The ragdoll also comes in four different fur patterns:
Pointed – This is when there is one color which is on the cat's extremities, nose, tail, ears and paws. Dyson is an example of a color point ragdoll and she has a deep brownish/gray coloration to her legs and paws, her entire tail, her face and ears. The rest of her body is a soft beige.
Mitted – This is almost the same as pointed but the ragdoll has white paws and abdomen (almost like wearing mittens).
Bicolor – The ragdoll has a distinctive white V on its face and white legs. They will also have a white abdomen.
Lynx – this is a tabby looking version of the bicolor.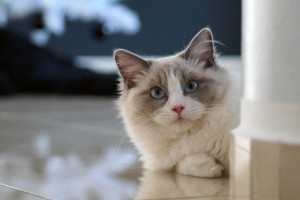 There are very few color options for ragdolls, for example you will never see a pedigree black ragdoll. The colors you will see are:
Seal – dark brown which has a sooty dark gray/black look to it – this is Dyson's coloration.
Blue (a lovely soft dark blue-grey color) which is a dilute color of seal.
Chocolate – This is a lovely deep chocolate brown.
Lilac – This is a dilute of chocolate and is a much lighter blue gray with a pinkish tinge.
Red – This is also sometimes called Flame and is a delicate red/ginger color.
Cream – This is a red dilute and is a very very light shade of the red.
Ragdoll Kittens
If you have ever seen a ragdoll kitten then you would wonder if you have seen the right color as ragdolls are all born completely white. By 10 weeks of age they might just have small pinpoints of color on their fur. This means that it can be difficult especially with the Red and Cream varieties to tell exactly what color the ragdoll will become. Their full color maturity is not reached until about 3 or 4 years of age.
As the color points mature so does the rest of the ragdoll's fur – when they are born they are completely white but their other fur then becomes beige or darker cream. Some such as the chocolate point have very cream colored fur whilst seal color points become quite beige in coloration.
Ragdoll Cat Information on Personality.
Ragdolls are extremely intelligent and affectionate. As previously said they will follow their owner round the house and almost have dog-like traits. They are very gentle cats and are extremely laid back – they are definitely one of the most chilled out cat breeds.
Because of their easy going attitude, ragdolls are much better at being an indoor cat only (or outdoors with supervison). They are definitely not road savvy and are very trusting so will follow almost anyone.
Due to their extreme intelligence they do need to be kept entertained and they don't like being left alone for long periods. This is why if you are out at work all day people are advised to get two cats so that they keep each other company. But a ragdoll will be happy with all sorts of company, not just another ragdoll, and they will get on with dogs (hopefully the dog will get on with them).
So is a Ragdoll cat for you?
Well a ragdoll will fit into most homes, but as said they prefer companionship so if you are out all day then think about getting them a companion. They are very loving and enjoy being brushed and groomed. Furthermore, they are perfectly happy being indoor cats only. If you want more information about indoor cats then I have written a post here about keeping indoor cats entertained.
Health wise ragdolls can be susceptible to Hypertrophic Cardiomyopathy (HCM) which is a hereditary heart defect but most breeders have their cats tested negative for this before breeding. Therefore when getting a ragdoll kitten please check that the parents are negative for HCM.
If you already have a ragdoll then drop us a comment below (I love meeting other ragdoll cat lovers) or if you want to ask a question. If you want some more information about this great breed then have a look at the following informative books (and they have some very nice ragdoll pictures):
[columns_row width="third"]
[column]
[/column]
[column]
[/column]