The SmartyKat Hot Pursuit cat toy is a concealed motion toy which replicates the movement of prey. This encourages your cat to play plus use their hunting instincts.
How it works is that you have a wand with feathers on the end that are hidden under a circular cover made from a durable fabric. These wands are attached to a center plastic console which houses 3 AA batteries which drive the movement. The wands then zip around and move erratically thus enticing your cats to play and hunt.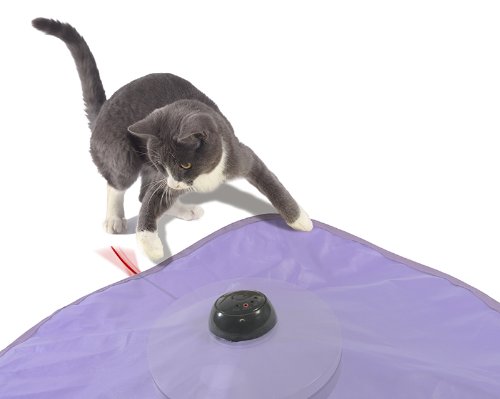 The SmartyKat has four speed settings for the wand – slow. medium, fast and random. I think my cats prefer the random setting though as it is less predictable. The slow setting seems way too slow and doesn't entice them to play as much.
I previously reviewed the Cats Meow version which my cats loved. So when I saw the SmartyKat version I initially thought it was just a copy cat product. However, I think that the product itself has been improved over the Cats Meow. Some of the issues I had with that toy have been addressed.
Improvements
Unlike the Cats Meow, the SmartyKat Hot Pursuit toy uses 3 AA batteries (rather than the C batteries in Cats Meow). Now I actually find AA batteries easier to source and they are also slightly cheaper. Plus if your cat loves these toys as much as mine then you really need to get rechargeable batteries. Again I find rechargers for AA batteries much easier to find – and you may already have a set of rechargeable batteries in this size.
The next improvement is that this unit is actually pretty quiet. Other units sound very mechanical and noisy but with a quieter unit then it is less disturbing when your cat sets this going late at night. My cats have figured how to turn this on and they often play at around 3am. Therefore, the mechanics of this toy do not wake me up as frequently.
The SmartyKat pursuit toy also has two interchangeable wands in the pack. And they are much more interesting wands because they have feathers on the ends. Having a couple of spares is also great because if yourcats are anything like mine then they will try and pull the feathers off. However, my one concern is that the manufacturer does not sell replacement wands as a separate item. I think this is a bit short-sighted as you will definitely need replacements at some stage – unless you go feather-less.
Simple Set Up
It is really easy to set up the SmartyKat Hot Pursuit. Just unscrew the cover on the center base unit and pop in 3 AA batteries. Be careful not to lose the screws though. Then push your wand into the mechanical arm that protrudes from the base.
Next place the vinyl fabric over the top of the center console (there is a central hole cutout to go over the buttons) and place on the cap. Then you just need to press the center button to set it in motion. The first press of the button will set the wand movement to slow, the next push to medium and so on up to random.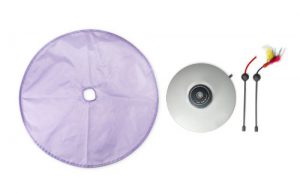 Pros
It is a fun interactive cat toy which your cats can play with for hours
Allows your cat to play without involving you (perfect if you need to work)
Random speed settings stop your cat getting bored
Takes the more readily available AA batteries
Central console and wands made from recyclable plastic
Cons
Battery life is not great – it's a good idea to get rechargeable batteries
Apart from the two wands in the pack, you cannot buy new wands.
Your cat may pull the feathers off the wand
Overall Summary
The vinyl cover is actually quite durable. I find that my cats can play quite rough and have their claws out when playing and so far I have no rips in the cover. However, the edges are fraying a little but I have had the toy for over a year.
My main concern with this toy though is the lack of replacement wands. It is so easy to attach a wand that I think the manufacturer has really come up short by not making addon packs of wands available. I have heard though that people have written to the manufacturer and received a replacement wand but it would be so much easier to have a pack as a replacement product.
You can also do some DIY and tape on your own feathers to the end of the toy.
But overall though this is a fun toy that will keep your cat occupied for ages. And they will come back to it time and time again. I do also like that the plastic used in the construction has been recycled. And SmartyKat products are tested to meet and exceed safety standards. SmartyKat also offer a replacement or refund if customers are unhappy.
You can get the SmartyKat Hot Pursuit Cat Toy here from Amazon.