It may no longer be Shark Week but the Cat Ball Great White Shark bed is amusing at all times of the year. If you are looking for an extra special gift for your cats this Xmas as well then this funny cat bed will make it a memorable Xmas.
Like other people, I have chuckled at videos of cats dressed in shark outfits riding around on Roombas. I don't know what it is about cats and shark items but it is definitely amusing. And now you can give your cat this great cat pod bed. Just think of all the photo opportunities that you can have with this.
I must admit I am finding more and more really unique and cool cat stuff on Etsy and this Cat Ball great white shark bed is no exception.
So let's get our teeth into this review (see what I did there? – you can't write about shark beds without throwing out the puns}.
Cat Ball Great White Shark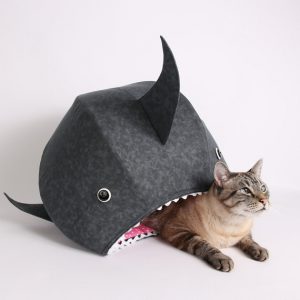 First of all, no sharks were harmed in the making of the great white cat pod. And you don't have to worry that your kitty will get hurt in the belly of this beast. This is a soft and cuddly shark and he doesn't bite even though he looks ferocious.
He (I am assuming this shark is a he) has been designed by the Cat Ball company. They started life when their costume designer founder was asked to make a ball costume for a person. She then realized that this ball design would make a great bed for her own kitties.
The shark bed is made from a high-density foam which keeps its shape even if your cat decides to lie on the shark. You just push the bed back into its original shape. It's covered with a nice soft and cozy cotton fabric and the great white shark pod comes with fins, scary shark eyes and a row of teeth.
He is quite a tubby shark (probably eaten lots of cats) and is very easy and roomy to fit into. Each cat ball is made out of panels which makes a unique hexagonal shape so kitty can roll around and get into the comfiest sleeping space. Size wise he is 17 inches in diameter and about 16 inches high. There are two entrances – one being 10 inches in diameter and a smaller entrance of 6 inches.
Is the Great White Cat Ball Bed Waterproof?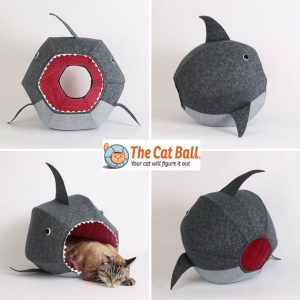 Well, of course, he is a shark after all. He is washable using a front loading washing machine but turn him inside out first. The Cat Ball creators do stress not to use bleach as sharks do not like bleach.
He can also dry out inside out as well and his fins can be ironed (though do not iron the rest of his body – great whites are not meant to be flat).
So fin-ally (yes I know another pun)… Don't just wait for shark week to pick up this Cat Ball bed. This will also make a great gift for a shark mad cat lover.
The Cat Ball Great White Shark Cat Bed is currently available on Etsy and ships worldwide from the US.