With the release of the new Star Wars film recently, everyone is agog again for Star Wars memorabilia and characters. Well, cat toys are not immune to this (and neither are us here at CoolStuffForCats). I love Star Wars and finding super cute and funny Star Wars Cat Toys was a bonus. My cats are happy too.
Star Wars has been one of the most popular film franchises ever. Anyone seeing the opening scene when Leia's Tantive IV ship was hunted down by an Imperial Star Destroyer was probably hooked for life (yes I am a Star Wars 'geek'). And now with the new films being released the entire Star Wars universe has expanded and is creating new fans. People have fallen in love with the characters from humans through to droids and all the amazing races in the galaxy.
The characters have always been brilliantly realised with personalities and great character and humor. And they can be really cute – perfect then for cat toys. So with the release of the new film, I have had a look around and found some of the cutest toys.
Star Wars C-3PO and R2-D2 Cat Toy Mice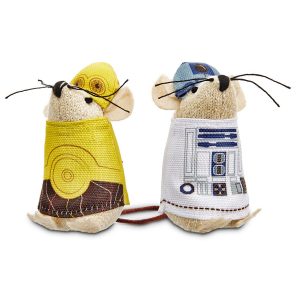 Styled after the original droids from the original trilogy (dare I say it, the original trilogy is still the best in my eyes), this dynamic duo will make a fun gift for your kitty. Your cat will have endless fun chasing down C-3PO and his droid pal R2-D2, who helped Luke Skywalker take down the Death Star.
However, these two cute toy mice are not going to be battling any stormtroopers. Instead, they make a great catnip filled toy for your cats to bat around the house and pounce upon. R2-D2 is probably one of the cutest droids ever created and this little toy mouse has all his character.
You can get these two cute droid mice now from Amazon. 
Chewbacca Plush Cat Toy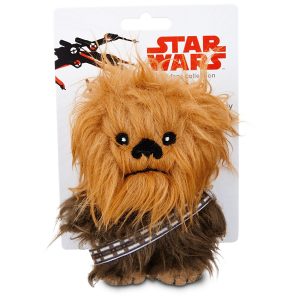 Who doesn't love Chewbacca or Chewie as he is lovingly known? This giant hairy Wookiee is known to millions since the first Star Wars film was made. And now your cat can have their own Wookiee to play with too.
This Chewie is a soft and furry plush with a large head and is 4 inches in length by 4 inches wide. Even though this plush is just a cat toy it still has some great touches. Such as an embroidered gun ammunition belt and embroidered eyes and nose. Your cat will have lots of fun playing with this catnip filled toy.
You can get the Chewbacca plushie cat toy now from Amazon.
BB-8 and Captain Phasma Star Wars Cat Toys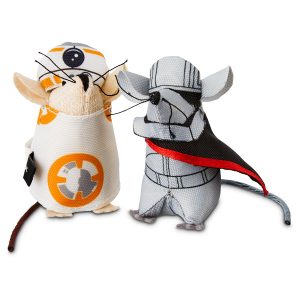 If you love the latest Star Wars trilogy then you would have met the new droid BB-8 and the nasty female stormtrooper, Captain Phasma. While BB-8 is a cute droid and makes the perfect cat toy, Captain Phasma has had to be softened up a little. Now she looks just as cute as BB-8.
This cute mice duo will make a Star Wars new trilogy fan happy and your cats will love playing with these. You can get your BB-8 from Amazon now.
BB-8 Star Wars Cat Teaser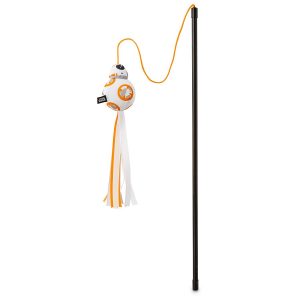 If your cat likes something a bit more agile to play with then they may love this Star Wars cat teaser. This BB-8 wand toy is great for allowing you to play with your cat. This lovely soft toy is on a foot long string and by flicking the wand you can have your cat running and jumping and give them lots of exercise.
The soft body of this toy also has long dangly 'strings' hanging from the body giving your cat even more enticement to play. And even when you are not flicking the wand then your cat will still want to run and chase this toy.
The BB-8 Star Wars Cat Teaser is available from Amazon.
Star Wars Big Head Yoda Cat Toy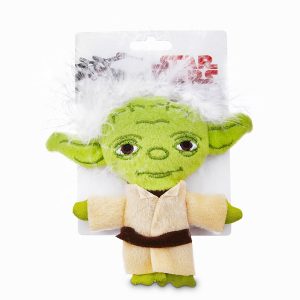 Mention Star Wars and probably everyone knows Yoda. The supreme Jedi master is now made into this cuddly plush toy, especially for your cat. This toy is 4 inches wide by 4 inches long and Yoda has been given a large head and small body.
The top of the head is covered with a feathery material which acts as hair. And then the body itself is covered in a Jedi robe. Your cat can throw this toy around and pounce and play with it as Yoda manages to stand up to pretty intensive cat playing. This is a well-made cat toy and will give your cat hours of fun and will last for quite some time.
You can get the Star Wars Big Head Yoda cat toy now from Amazon.