As any cat lover knows, cats often love climbing and getting up high and most cat homes will probably have a cat climber or two or even three. This is where the Wooden Perch and Snooze from Pets At Home comes in.
I wondered where to place a post about a cat climber but then worked out what my cat actually used this cat climber for and decided "sleeping".
When we moved to a new top floor apartment last year, I found that I had a lot of full length windows and you could see a great distance so I wanted to buy a few cat climbers so the cats could sit in the windows and watch the world go by as well as play. I came across the Wooden Perch and Snooze and it had a nice, smart look to it that I thought would be perfect in my lounge.
How Does It Look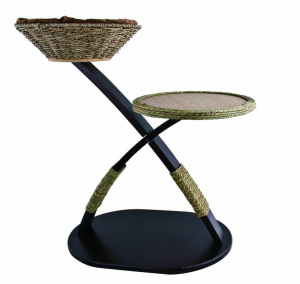 Well as I said it looks very nice, there are two wooden pieces that cross over each other. One is slightly longer than the other and both have seagrass wrapped around the lowest part. The largest wooden piece has a seagrass basket on top with cushion which is suitable for cats up to 8kg in weight, whilst the smaller wooden piece has a plain seagrass platform. There is a then a feather toy that hangs from the lower platform as you can see in the following photograph.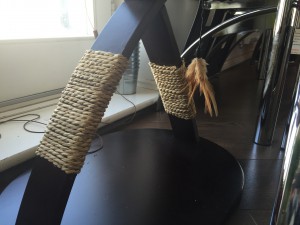 So looks wise it is very nice and fits in with my furniture very nicely. It is actually pretty elegant for a cat climber and will look very smart. It is also not as tall as other cat climbers – coming in at just under 75 cm in height.
Set-up
Set up was actually pretty simple as the cross pieces slotted together and all the parts just screw together. Most climbers come with the bolts already in place and you basically just screw one part into the other by simply turning the pieces. I think this took me about 20 minutes or so to put together but I am a cat climber officianado.
Fun-Factor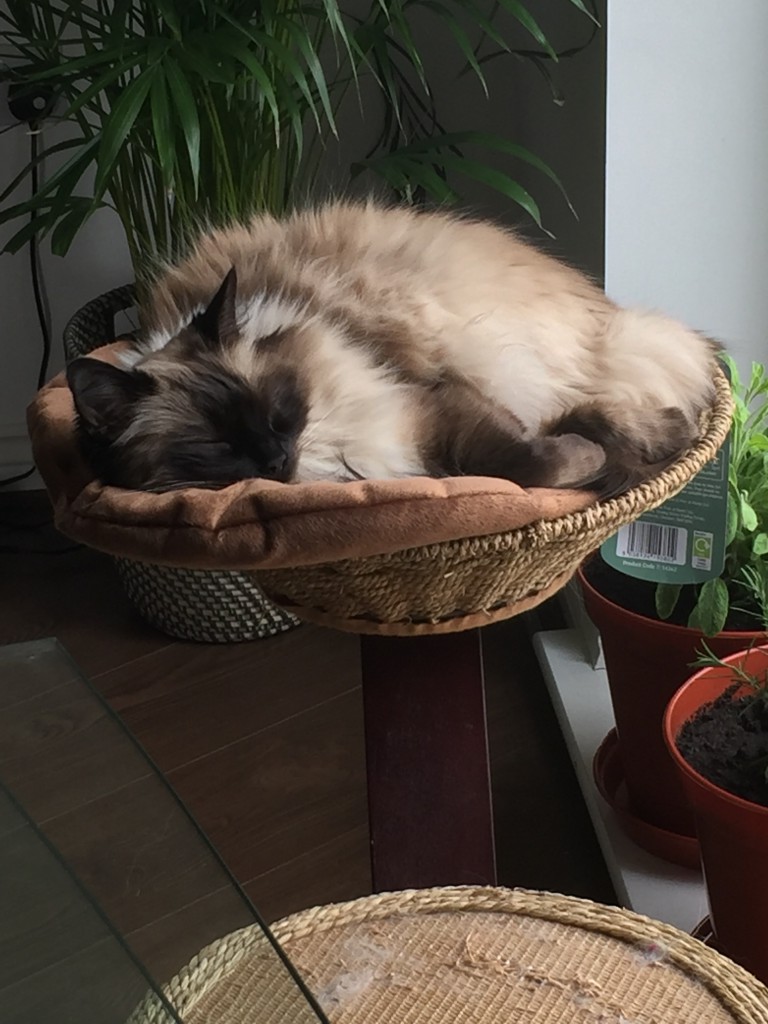 Well my cat usually just uses this climber for sleeping. She does often curl up in the top basket though the basket looks a little too small for her – but cats seem to fit into any space. I do find though that the cushion moves around a lot. She also uses the lower platform as a scratcher and does sometimes sit there looking out the window.
However, the seagrass scratchers on the legs are completely ignored as for a full grown cat they are too low down and too short in length – a cat likes to stretch whilst they are scratching. The feather toy has also been completely ignored mainly because it is on the lower platform and again this is too low down. The feather toy might interest a kitten though.
Durability
Well this has held up after being built for almost 9 months now. The wooden posts still look nice and it is easy to wipe down the wooden base. The first platform is looking a little tatty but that is because my cat uses this as a scratcher – it would be useful if you could get parts for this so that the platform or the seagrass around the legs could be replaced. The basket is still stable and has not broken or frayed.
The climber still does look very smart in my lounge.
Conclusion.
Looks wise this is a nice looking climbing frame and it is pretty sturdy and durable. However, from a fun-factor for your cat it does lose out as it is too short and most of the play items on it are too low down. Cost wise this was also £60 which is quite expensive for a climber that is this short – usually a climber of this price would have 3 or 4 platforms.
All in all I think that the Wooden Perch and Snooze is a nice looking piece of furniture and your cat will enjoy sleeping in it but there are plenty more climbers on the market that offer more for the same price.
Pros:
Looks nice in any room
Made from natural products – wood and seagrass
Durable
Easy to clean
Cons
Overpriced for what it consists of
Not much "fun-factor"
Too short
Basket a little small