My cats have played with cat tunnels before but usually find them pretty boring. After all, usually they are a single crinkle tunnel and there is nothing much the cat can do inside them. The Prosper Pet cat crinkle tunnel hopefully will change that as it consists of three tunnels.
Previous tunnels have not really lasted very long in my household. I usually find that they collapse very easily. They are also not very long so my cat runs in and runs out the other end whilst the tunnel makes a crinkle noise. It does not seem very exciting and my cats agree.
Where the Prosper Pet Cat Crinkle Tunnel differs?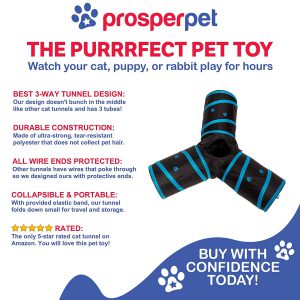 The Prospect Pet is actually a three-way tube or tunnel system. So you have three decent sized tunnels (each tunnel is 17 inches long by 10 inches in diameter) joined together. Where the tunnels meet in the middle there is a top entry hole (or exit hole).
Each of the three tunnels introduces a different activity for your kitty. One tunnel contains a hanging cat ball for your cat to bat about, a second tunnel is lined with crinkly material and the third tunnel is a standard tunnel. Your cat can run between all the tunnels and even use the peephole in the center.
If you have two cats then they can hunt and stalk each other through the tubes.
Size Matters
This tube system is definitely spacious for most cats. Each tunnel is 17 inches long and 10 inches in diameter. A larger 20-pound cat though might find it a snug fit. However, puppies can also use the Prosper Pet cat tunnel system perfectly happily. It is great for adding early stimulation to a puppies' early development.
But Will It Tear?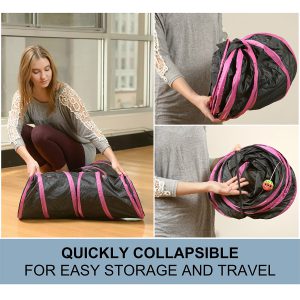 Well, this is made from a durable 190T polyester fabric which is strong enough to resist tears from your kitty's claws. Furthermore, the polyester resists collecting pet hair as some other tunnels do. Plus, it is washable. This is a big plus as a cat toys over time pick up a large amount of grime and can look tatty and dirty after a few months of use.
As this is polyester just pop it in the wash.
Previously tunnels that my cats had always collapsed. They basically just looked like a small lop-sided tube. Then my cats would have difficulty getting into the tube so would just lie on top of it and look bored. (Trust me Dyson can really give a very good bored look when she tries).
This tube actually has a rugged steel frame so it keeps its shape. Cats and kittens can, therefore, run through the tubes, jump on it, chase each other and even sleep inside it and it will still stay the same shape.
The steel spokes are also covered at the ends so they will not poke your kitty.
Storage Solutions
Whilst this cat crinkle tunnel is a pretty decent sized toy you might not want to leave it out at all times in your lounge. No worries! It actually folds down to a small, compressed size either for easy storage or for easy transport.
The Prosper Pet Cat Crinkle Tunnel also comes in a wide range of nice looking colors. Have a look at the range here on Amazon.