How many of you brush your cat's teeth? Or take your cat to have regular dental checkups? Cat dental care is a pretty important topic and less than 60% of cat owners do not brush their cats' teeth or perform any other dental care.
So why do cat's need regular dental care? Well this works the same as humans and I bet that every one of you reading this, brushes your teeth at least twice a day. You also probably floss, use mouthwash and do regular dental checkups where maybe a hygenist will do an extra clean and polish of your teeth.
Your cat needs the same sort of dental care – well probably not the mouthwash! So why is it important to do some form of dental care for cats?
The Warning Signs
Same as humans, cats will get plaque build up on their teeth. If left untreated, this can then harden to form tartar (same as in all the toothpaste commercials). This can then lead to gingivitis which is an inflammation of the gums and is the first stage in gum disease.
This can then progress further and lead to painful gums and eventually to tooth loss. Furthermore, due to the build up of bacteria and toxins in the mouth this can then lead to further health issues such as kidney or heart issues.
So what do you look for?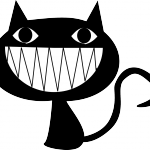 Your first sign that your cat may have gum disease will probably be bad breath. And this will usually be strong enough for you to notice it. Other symptoms might be that your cat is having difficulty eating. For example, is your cat just eating from one side of its' mouth, or is it drooling whilst eating or dropping their food regularly?
This might mean that they have gingivitis and/or that a tooth is loose. They may also be in pain whilst eating but cats do not like showing pain so it is often difficult to tell if something is badly wrong.
Other hints that not all is well with your cat dental care are:
Red or swollen gums
Receding gums
Gums that bleed easily, for example whilst eating
Difficulty eating such as eating on one side of the mouth
Excessive drooling
Loose teeth
Pawing at the mouth
General lethargy and reluctance to play – can show that they are in pain
Prevention is Better than the Cure
This is definitely the case. Firstly preventing gum disease from occurring will save your cat a lot of pain. It may also save them from having teeth extracted or lost. And furthermore, it will save you in the pocket. Dental extraction is an expensive process. It means that your cat is often under anaesthetic which then poses other risks.
Isn't it easier and cheaper to just help prevent gum disease in the first place?
So what are some of the ways you can manage cat dental care? 
As with humans, cats can also have their teeth brushed. This can take a little bit of time for your cat to get used to brushing but it can be done. Starting your cat off with having their teeth brushed at a young age will help them to acclimatise faster but do not start brushing whilst your kitten still has their milk teeth.
Getting into the regular routine at a young age will mean that your cat will often allow you to keep brushing their teeth as they get older.
But Lions Don't Have their Teeth Brushed So why Do my cats?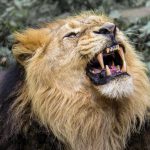 Though we all love to think that our cats are like wild cats – they are not. Pouncing on your toes at night and hunting toy mice is different to roaming plains and eating wild kill. In the wild big cats have a different diet. They eat raw, wild food and usually eat all parts of the animal – including muscle and bone. This food has to be chewed and this does help to cut down plaque.
BUT, cats in the wild do suffer gum disease and they do suffer tooth loss and pain whilst eating. This often though means that if they can't eat their kill they die. Their life cycle is very much based on being able to hunt, kill their prey and chew. If they are unable to do that they do not have the ability to be seen by a vet and looked after.
Your cats may live to 20 years or more and for that time they are going to want their teeth.
Some Brushing Tips to Get Started
You will need to buy special cat toothpaste – DO NOT use human toothpaste. Cat toothpaste also will be flavored with malt or chicken or fish and not mint. Also you should get a special cat toothbrush which will be soft enough to use on your cat's teeth.
You can get finger brushes which seem easy to use but this means putting your finger in your cats' mouth. This can result in a bite especially the first few times you try it.
Get multiple brushes and keep them clean. Don't share a brush between different cats as like humans this can transfer bacteria from one cats mouth to another.
Don't start brushing straight away. Start by acclimatising your cat to the toothpaste by putting a little bit on your finger and letting them lick it off. Keep doing this for a while until they get used to the taste and don't back away from your finger.
Choose the same time each day to perform the cat brushing. Best time is when both of you are relaxed and so the cat gets used to the time and remains relaxed. It is often best for the cat's back to be facing you as well as this is less confrontational.
Starting the Actual Brushing
Once your cat is used to the toothpaste taste, put a little on the toothbrush. Then slightly peal back your cat's lips and just touch the brush to their teeth gently. Then stop. Don't go straight into brushing as this might scare them and then you will have difficulty ever getting them used to it. As with getting them used to toothpaste, just lightly touch their teeth with the toothbrush for a few days. And give them a reward each time you do this.
The trick is not to force them into this as otherwise they will get scared and you might never be able to brush their teeth.
When they are completely comfortable with you touching their teeth then start brushing slowly. Do this gently and by applying the bristles at a 45 degree angle to the tooth. You should reach both the tooth and the gum margin this way but do not directly brush the gums.
After a few seconds stop again and then give your cat a treat. Over time you will be able to build up the time you can brush for – but always give a treat once finished.
If you are still worried about doing this yourself, your local veterinarian should have nurses who will be happy to show you how to brush a cat's teeth.
Other Methods of Cat Dental Care
It might be that your cat never takes to having their teeth brushed. In that case all is not lost and there are other methods for helping with your cat dental care. These may not be as effective by themselves but they will help to keep gum disease at bay in the long term.
Cat Dental Treats
These often contain more fibre than usual treats and should allow your cat to chew them more. This then helps to rub at the plaque and keep it from building up.
Cat Chew Toys
Like dental treats these can help rub the plaque from the tooth and they can allow for massaging of the gums. Usually they contain catnip to encourage your cat to use them. But as per other toys your cat may or may not use them on a regular enough basis so don't just rely on cat chew toys alone.
Cat Dental Gel
This contains enzymes to kill the bacteria in the cat's mouth and to help cut down on gum disease developing. As with brushing this does need to be done daily and should be carried out at a regular time. The gel just needs to be applied to the cat's teeth – no brushing involved.
Changing Food
There have been studies that show that feeding a dental food diet can cut down incidences of plaque and therefore gum disease. This is because of added fibre in the food resulting in it being more abrasive on the teeth and then it stops a heavy tartar build up. However, these foods are mainly dried food and dried food is not particularly good for cats.
Reasons for not going to a total dry food diet are
Whilst these foods can help reduce tartar buildup they do not stop it completely as dried food is not really chewable – one crunch and it is gone. So cats are not chewing enough for it to be better than brushing.
There is less water in dried food – and cats need a good source of water. After all when they eat wet food they get quite a bit of water within the meat.
A lot of dried food contains grain products – and grains are not digestible by cats.
Therefore, another option for changing food is switching to a raw diet. This means that your cat will eat all parts of the meat – including sinew and bone. This allows them to chew which helps cut down tartar. But make sure that the meat you purchase is from a reputable source and that you handle it correctly as you do not want cross contamination of meat products to occur.
Conclusion
Looking after cat dental care is an important issue. Hopefully I have helped you to understand more about the topic and given you some ideas to help you achieve better dental health for your cats. In Part 2 of this I will be discussing some of the products that you can use to keep your cat's teeth in tip top shape in more detail.
If you have any questions or just want to make a comment then leave me a message below. I will be happy to answer anything I can.