Pet fountains have become very popular over the past few years. Whilst, they are more expensive than a static water bowl are they worth the extra money? Dyson and I, therefore, tried out the Cat Mate Pet Fountain which has been one of the top water fountain sellers for a few years.
Why Are Water Fountains So Popular?
Well, cats enjoy fresh, oxygenated water. After all, how many times have you found your cat drinking from a dripping tap? Furthermore, if a cat is enjoying it's water then it will drink more which cuts down problems from kidney disease and urinary tract infections.
Also, if you have a cat that eats a lot of dry kibble, they really do need a good supply of fresh water. With a static water bowl, water quickly becomes stale and not so appealing to your cat to drink. Therefore, a pet fountain encourages a cat to drink more.
The Cat Mate Pet Fountain will offer your cat a fresh supply of endlessly moving water. Thus encouraging your cat to drink.
What is the Cat Mate Pet Fountain?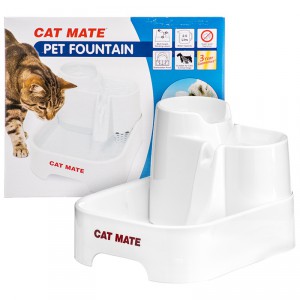 The Cat Mate fountain holds around 2 liters (70fl oz) of water which is about average for cat fountains. It is made out of a sturdy plastic which is very easy to keep clean as it is dishwasher safe.
Furthermore, there are only a few parts in the Cat Mate pet fountain so it is incredibly simple to put together. It is probably one of the easiest cat fountains to assemble on the market today.
But what did catch my eye with this water fountain was that there were three areas available for my cat to drink from. Each drinkable area is also at a different height which is great for older cats that find it a little tricky to bend down. But, this is also great for smaller cats.
Each of these three areas also acts slightly differently with water flow. So you have the top area which acts like a bubbling brook as the water bubbles gently into this area. The middle bowl is a gentle stream which takes water from the "brook" at the top and passes it to the lowest area via a waterfall. The base bowl, therefore, is like a large pond with a waterfall flowing into it. Your cat can also drink from the waterfall itself.
The Cat Mate Pet Fountain also comes with a flow dial so you can alter the flow speed to suit your cat. And to keep the water fresh and cool it has a removable poly-carbon filter which traps excess dirt and cat hair. This helps purify the water. The filter can be easily replaced every couple of months and it is also easily washed under running water.
Cat Mate Pet Fountain Setup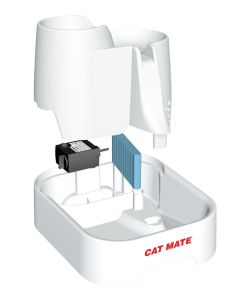 The Cat Mate water fountain is probably one of the simplest fountains to set up as it only has four parts. Just place the pump into its compartment in the bottom bowl, slide the filter into its guide points – easy to see which way around this goes as one edge of the filter is curved so fits into the curved guide.
Then just slot the top bowls into the base – it fits very easily and without having to exactly line things up. Finally, fill with water and plug into the mains. Just do not plug this in without there being any water in the bowls.
The power cord is a good six feet in length so you can position the Cat Mate anywhere on your floor within 6 foot of the power supply.
Clean up
This is an important issue for many people – how easy is this pet fountain to clean? Well, this should make everyone happy – this unit is very easy to clean and I get no mold build up in it as the design is so simple.
Switch it off at the mains, empty out the water and then the two plastic parts can be just washed out or you can even put them in the dishwasher which makes clean up a cinch. To clean the filter run it under running water and the pump itself can also be cleaned under running water. If you live in a hard water area you might want to clean up any scale or other crud from the pump and I have used an old toothbrush for this in the past.
Day to Day Usage
So is the Cat Mate Pet Fountain quiet? Well yes it actually is. You can hear the water gently bubbling when you are up close but that is it. If it does start to gurgle then either the water level is too low (you do have guides at the side of the bowl with the min and max water height) or if it becomes clogged with cat hair.
Will your cat use it? Well mine uses it regularly and seems to love it. Due to the three levels you could also use this if you have a small dog. My old cat also used to regularly use it though she drank from the lower bowl.
What about replacement parts? Well as there are only 4 parts to this fountain and the only really moveable part is the pump then not too many things will go wrong. The filters should be replaced regularly and if the pump does fail then this is also easily changed. There is a 12 month guarantee on the pump.
How often should you refill the water? Well I top it up every couple of days and then I do a full clean and full refresh of the water every couple of weeks plus rinse out the filter. I actually find that the filters last longer than the manufacturer says.
Cat Mate Pet Fountain Conclusion
The Cat Mate Pet Fountain is one of the best fountains I have bought. My cat gives it a major paws up.
Pros
Fresh water all day long
Easy to clean
Quiet
Good price – currently around
Cons
Replacement filters a little more expensive than the plain charcoal ones.
So is it worth the money? Well yes, I would say it is. I have a cat that is prone to cystitis and the Cat Mate Pet Fountain encourages her to drink a lot more. I used to find a lot of muck on the top of the water when I used a static bowl, even if I emptied the water each day. Now all the muck is caught in the filter so the surface of the water looks clean and fresh.
Overall if you are looking to get your feet wet and buy your first pet fountain then you can't go wrong with the Cat Mate Pet Fountain. It is currently available here on Amazon.