Catnip company, Meowijuana, has just launched a brand new product line of 100 percent organic catnip. Playing up the idea that catnip is a "high" for many cats they have used a new tagline…
For cats who need the weed.
Whilst they are using a play on words for their name there is no marijuana in any of Meowijuana's products. Instead, they are made with a 100 percent organic catnip that is grown in Southern California and Washington.
The catnip buds are then harvested at the peak of their oil production life cycle. This then means that the herb is very strong. If your cat loves catnip, therefore, they will probably become euphoric with the Meowijuana.
I've actually tried to grow catnip for my own cats as it is a member of the mint family. However, I lack green fingers and never produced any decent flowers. Also, not all cats react to catnip though approximately 50 to 75 percent of cats do. My former cat, Cobie, used to go absolutely dippy for catnip and roll around in it but Dyson is a bit more reserved about it.
Meowijuana's Products
Meowijuana has produced a range of interesting products which will actually make great gifts for a cat friend. Or if you are looking for a treat for your own cat for Xmas then if they are a catnip lover they will probably love this.
One of their best sellers is a jar of catnip buds called Purple Passion. These come in a sealed plastic jar filled with about 12 grams of catnip buds in the small jar or 16 grams of catnip in the large jar.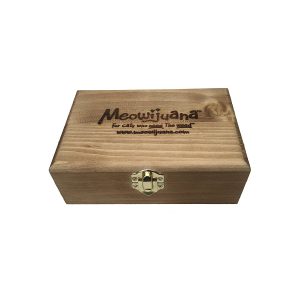 What makes this a great gift as well is the thought that the manufacturer has placed in their packaging. With your Purple Passion catnip buds, you receive Meowijuana's stickers and a Meowijuana pen. As well as a small pouch which you can use to place the catnip in for your cat to play with.
Other products include the Meowijuana's Cigar Box of Buds which contains about 16 to 20 grams of larger catnip buds. This even has a humidor button to keep the buds fresh.
How To Use
You can just sprinkle the buds over the floor or your cat's bedding. They will then roll around in the herb. Or you can fill the little presentation pouch with some buds and let your cat play with it like a toy.
You can even use it to stuff an older toy. Or you can rub some catnip on a scratching post which will also encourage your cat to scratch in that place.
Meowijuana's products are now available Nationwide and they also ship to outside the US. You can see the Purple Passion jars here at Amazon.
Some of the other Meowijuana products on offer at Amazon: