I love unusual cat trees and toys. And I hope that my cats also love them. One issue with cat trees and cat climbers is that they can take up a lot of floor space. However, the Fabric Cat Maze by CatastrophiCreations is designed to be hung on the wall. Therefore, it is not going to take up valuable floor space. And now CatastrophiCreations are announcing version two of their brilliant maze and it's completely modular.
Most cats love climbing and they absolutely love to be up high perusing their domain. But also, for nervous and territorial cats this design can be perfect. Nervous cats often prefer to be in a higher place where they can feel a lot safer and secure. After all cats in the wild would often climb trees and watch for predators and prey from this vantage position.
Cats can also be quite territorial and so, especially for indoor cats, this hanging maze can increase a cat's territory.
What is the Fabric Cat Maze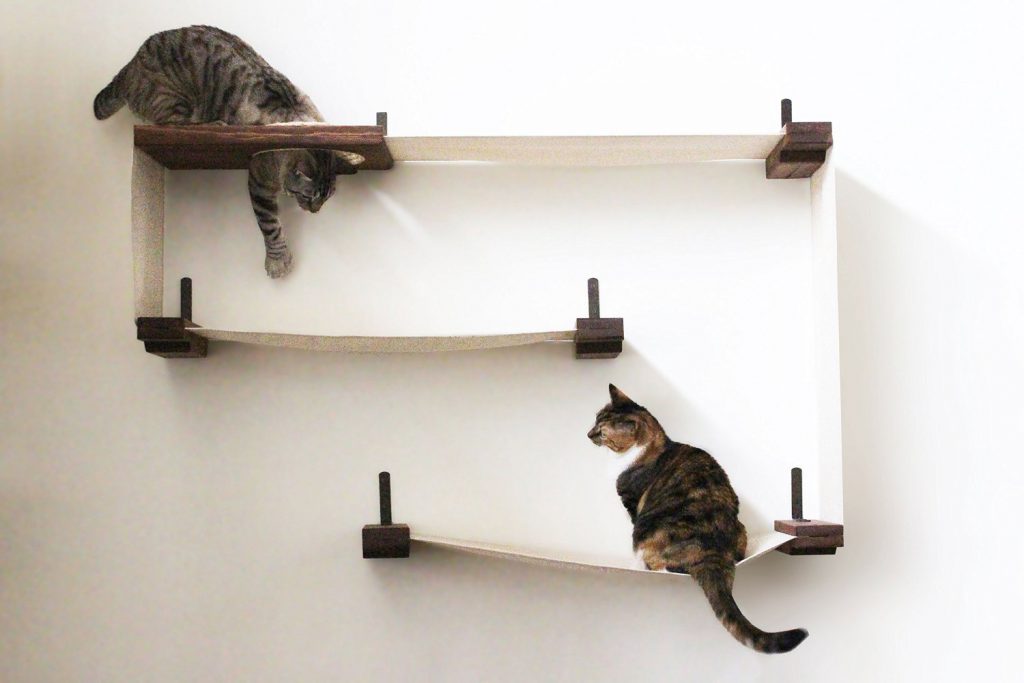 This is a handmade design that consists of a series of stretchy fabric hammocks and wood posts. This makes a series of walkways and spacious lounging spots.
The standard setup comes with 154 inches of canvas fabric as well as 18 inches of sisal lined escape hatch and five mounting planks. This will give you everything you need to start off your own Creation. But maybe you want to let out your inner CatastrophiC designer – in which case you might want to add a feeding station or even a fun escape hatch into your wall mounted setup. It is easy with the new range of cat mod add-ons.
Overall, the starter setup has a total width of 52 inches with a height of 31 inches and a depth of 11 inches. The hole in the escape hatch is 7.75 inches in diameter so plenty of space for your cat to enter.
For indoor cats the CatastrophiCreations maze gives plenty of opportunity to problem solve and be stimulated.
A Unique Cat Experience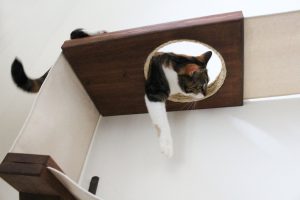 As this piece is wall-hanging you can actually change the configuration yourself. For example, you could place the hammocks at an angle to make a walking slope. However, the standard configuration will give your cats a great workout and sleeping space.
The cat maze is handmade and solid wood is used for the shelving and mounting posts. Whilst a heavy-weight canvas is used for the hammocks. CatastrophiCreations actually pre-attach all the brackets for easy installation and they supply all the screws you require.
You also have a few color and wood stain options so that you can get a piece that fits in with your decor.
The wood stain comes in the following:
Unfinished
Onyx
English Chestnut
Whilst the following colors are available for the hammocks:
Black
Natural
Charcoal Gray
Navy Blue
The two waterproof options in the canvas color are a great new option as they allow you to wipe away any debris with a wet towel. Therefore, you will no longer get a build up of cat hair on these hammocks and you can keep your cat maze looking in tip-top shape.
But I think the fun part of these mazes is that they are modular. So not only is it fun for your cat but can be fun for you too – especially if you want something very unique and want to have fun creating something new. And it looks so smart as well as taking up no floor space – a big bonus in smaller houses or apartments.
And if you purchase a CatastrophiCreation via my button below then you will also receive a free bag of premium Tiger Grass catnip with your order.
[thrive_link color='red' link='http://shrsl.com/1opv6′ target='_blank' size='big' align='aligncenter']Take a look at the CatastrophicCreations Maze and get a FREE Tiger Grass Catnip with your order[/thrive_link]