As cat owners, we have to be careful when we have plants inside our house as there are many plants which are toxic to kitty. But if you do find a non-toxic plant that you like then your cat might like it even more and take to hiding in the leaves or shredding the leaves. If you have an indoor cat then maybe you would also like to bring some greenery into your cat's life. Well, the CatHaven Cat Condo can allow you to have a smart looking bit of greenery whilst giving your cat somewhere to chill out.
What Is The CatHaven Cat Condo
The CatHaven Cat Condo is a cat tree condo that is perfect for your cat to lounge about on. But unlike a number of other condos, the CatHaven is also decorated with artificial leaves. Basically, it resembles a small bush or tree for your house. The platforms are then hidden away in the greenery.
This cat tree has been designed to encourage cats to climb. The greenery gives them privacy and the chance to feel that they are closer to nature. It is a really good idea for an indoor-only house cat. And it gives you some greenery into your home as well.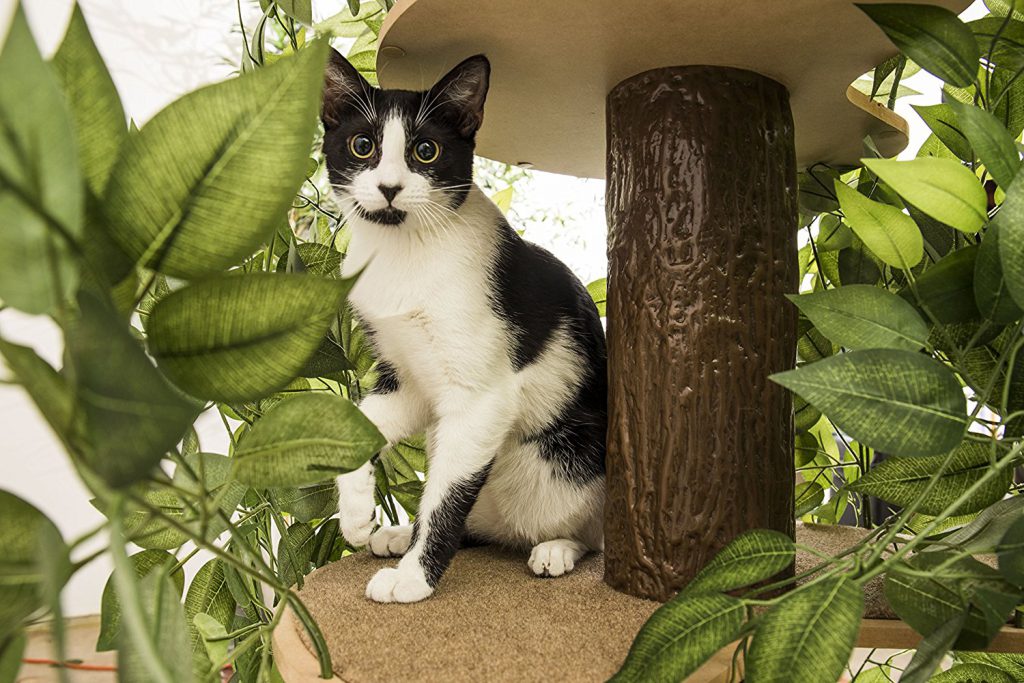 The cat condo is made from pressed wood which makes up the tree / bush trunk and the platforms. Each platform is then covered in a carpet material which cannot be removed. The base comes in either a round or a square design and is covered with a grass-like artificial turf. Whilst the leaves are made from a smooth silky material which is non-toxic.
The CatHaven does also come in a variety of sizes so can perfectly fit into any size room. Each size has a different number of platforms, Each tree though is designed for cats up to 32 pounds in weight. So it is perfect for even the tubbiest cat and this might encourage an overweight cat to jump and climb. Thus, keeping your kitty fit.
Small
The small CatHaven resembles a small bush like plant. It only has a single carpeted platform which is 22 inches in diameter. This is a decent size for cat lounging. The base will be around 24 inches in diameter and can be ordered as square or round. Total height of the small cat condo is 36 inches and it weighs 22 pounds.
Medium
The medium looks like either a small tree or an oversized bush. As per the small, it has a 24 inch base but this cat condo does have two carpeted perches. One perch is 22 inches in diameter whilst the other is 18 inches. Total height is 48 inches and it weighs 26 pounds.
Large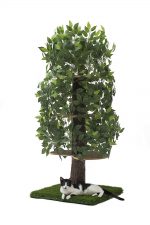 The large does resemble a tree in your house. Again the base is 24 inches in diameter but the large condo does have three platforms making it a great choice if you want your cat to climb. Two of the platforms are 22 inches in diameter whilst the third is 18 inches.
Putting the cat tree together is quite simple and comes with full instructions. You do not need any tools as all the parts self screw to each other. By compressing the entire tree when you fit the pieces, it makes it very sturdy. Overall it should take about 15 minutes to put together.
Conclusion
I was pleasantly surprised with how this tree actually looked in the house. Initially, I was expecting horrible looking plastic leaves. But instead, the leaves looked pretty realistic as the silky material they are made from is the standard material to make artificial house plants. Putting it together was quite simple and it was sturdy enough for my large cat to go climbing.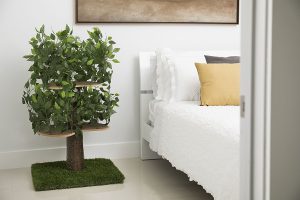 For me, it added a bit of nice greenery into my apartment. For my cats, it added an extra dimension to their play areas as they could hide out on the perches and peep through the greenery. Quite fun when another cat does not realise the other cat is on the perch so playtime and pouncing on each other happened quite often.
My one disappointment though is the lack of really good scratching areas. Your cat can scratch the carpet on the perches or the very soft fake turf. But my cats love to do full-length vertical stretches as well so it would have been great if the tree trunk was made of a scratchable material.
So to sum up.
Pros
Realistic looking plant for you home
Plenty of hiding and climbing areas for your cat
Really makes a cat tree look like a tree
Sturdy for even a larger sized cat
Lounging perches are quite roomy
Cons
Lacks a decent vertical scratching area.
If you are interested in seeing more about the CatHaven Cat Condo then all sizes are currently available here from Amazon.