Product: CatIt Fresh & Clear Drinking Fountain
Capacity: 100 fluid ounces (or almost 3 litres)
Best Price: Amazon $29.99 at time of writing
I am a big supporter of water fountains for pets. I tried out the Catit Fresh & Clear Drinking Fountain a short time ago and here are my thoughts on this product.
What Is the CatIt Fresh & Clear Drinking Fountain
As all pet owners know, your cat requires a good supply of clean and fresh drinking water. The CatIt Fresh & Clear Drinking Fountain is designed with this in mind. It is a water station that constantly re-circulates water and keeps it moving at all times.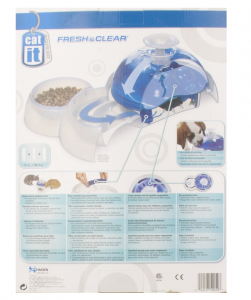 This recirculating keeps water exposed to oxygen and therefore keeps the water tasting fresh and not stale. This means that water also remains cool due to this circulation.
This fountain does come with a food bowl which is luckily detachable. Personally, I do not like food bowls directly next to a water bowl. If you keep the food bowl attached you will find that pieces of food get into the water bowl – not very nice. Therefore, I would advise you to detach the food bowl before setting up.
The first thing to notice about this water fountain is that it does have a really cool looking design. It has a large blue coloured dome that fits over a water pool and it holds a large 100 fluid ounces of water. It does though take up a bit more space than other fountains due to the large size of this dome.
Setting up the Fresh & Clear
Setup is not difficult. The motor is placed into the base water bowl which is filled with water. Pop in the charcoal filter which is shaped to fit the bowl and then fill the dome with water.
The dome can be filled by tipping it upside down, filling all the way from the tap and then turning back round. A plug will then stop the water from escaping.
Place the dome on top of the water bowl and then switch on – that is it. You should now have a cascade of water freely running over the entire surface of the dome. If water runs down in rivulets then first make sure that the water bowl is on a smooth surface – an unsmooth surface doesn't allow the water to run smoothly and the motor makes more noise.
If the water still doesn't cascade smoothly down the side of the dome then massage the dome gently which creates static to help the water flow.
How Will your Cat Use it?
Probably the most important question. Using this water fountain for kitty is very simple and gives them a number of options. They can either lick water directly from the dome or drink from the large pool. The dome is large enough as well for two or more cats to drink directly from it – a bonus in a multi-cat household.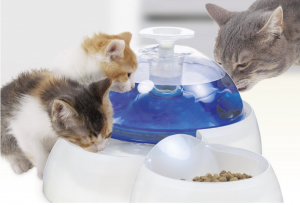 Overall my cats loved drinking from this. My older cat used to prefer drinking from the actual bowl but Dyson used to prefer drinking from the top of the dome (she really does not like bending over to drink her water).
The filters though do work as expected, they trap debris and dirty particles and should be changed about once a month. They should also be run under hot water about once a week to remove dirt build up.
Clean-up
Clean up is a little more time consuming than some other fountains. Once a week the bowl and dome should be rinsed out along with the filter. The dome does need to be given a wash over due to the build up of saliva that can mean the water cascade does not work as well as expected.
Once a month it should then have a deeper clean. The motor should be removed and it can be cleaned to get rid of any build up of dirt and other muck (using a toothbrush (an old one!) will help remove deposits). The dome should also be cleaned inside and out though cleaning the inside of the dome can be tricky. The filter should then be changed (filters do come in a pack of three for about $5 so they are not expensive).
Conclusion
Overall my cats loved using the Catit Fresh & Clear water fountain. The water remained fresh and clear all day long and also stayed pretty cool – even in hot summers.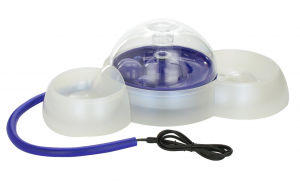 As the fountain holds a large amount of water I found that it only needed topping up once a week – so perfect for multi-cat households. As it is big it does take up quite a bit more space than the more compact drinking fountains though. I did find the attached food bowl a little useless – filling with dried food meant that more often than not bits of food ended up in the water bowl. Luckily it is detachable.
Clean up I did find a bit onerous. Whilst just rinsing out the cat fountain was simple, at least once a month I had to do a full strip down of the fountain and clean up the motor – which can be a messy task.
I also found that quite often water would also start running down the dome in rivulets rather than a nice cascade so I had to keep massaging the dome. The water would then start cascading properly again only for it to then start running in rivulets about an hour later. I am not sure if this was because my floor was not completely smooth.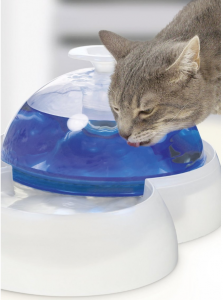 Sometimes motors do blow on these units (I lost a motor after just over a year of use). However, replacement motors can be bought quite easily and are not expensive. One really nice thing about this water fountain though was that it also had a plastic cord guard – absolutely great if your cats like to chew wires. This was a thoughtful addition as most fountains just have standard electrical cords with no guards.
Pros
Clean, fresh water all day long
Really very nice looking design
Holds a large amount of water
Cats love it (well mine did)
Plastic cord guard (great for kitties who like to chew)
Cons
Clean up can be time consuming
Massaging the dome to get water cascading can get tedious.
Summary
I love water fountains and the CatIt Fresh and Clear is a good addition to this list. It does look cool though as well as being very useful.
You can buy this today from Amazon at a great price of about $30, just click here.
If you want to see our review of another water fountain, then we try out the Cat Mate Pet Fountain here. Take a look and then decide which you prefer.