Since moving to a smaller flat I have had to get a little more creative with space. My cats have a variety of trees and beds but if a bed is on the floor then it takes up valuable floor space. Plus my Roomba then seems to push the bed around whilst it is cleaning and if it is a raised bed then it sometimes gets stuck on the legs. Therefore, I often look for products that I can also get off the floor but will provide a great environment for my cat. The Cat Crib is one of the items I looked at as a new sleeping option.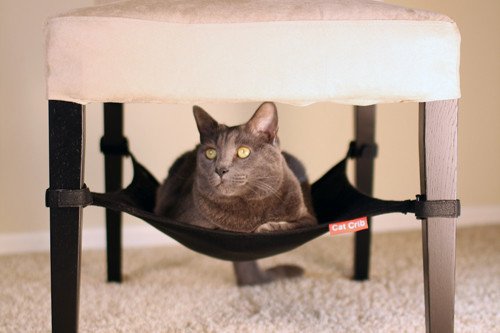 What is the Cat Crib?
Simply put this is a cat hammock. But unlike other hammocks on the market which come with their own legs, this is designed to be attached to your current pieces of furniture. So a great idea as it already utilises the furniture that you currently have. The crib, therefore, keeps the cat bed off the floor allowing you to clean underneath – yay Roomba. And it does not make extra floor clutter in a small space.
It is a simple but clever design and works out cheaper than buying a complete hammock system. The cat crib itself is an 18-inch by 18-inch square made from a ballistic nylon one side and a fleecy material the other. Therefore it is strong enough to hold a pretty chubby cat. Just place the ballistic nylon side on the floor side and let your kitty nestle in the fleecy material.
Each corner of the hammock has a strong velcro strap which wraps around the chair legs and is then tightened. These are very strong and will not snap under the weight of your cat.
How It Works
First, the cat crib fits under any chair that has some space under it. And the chair legs need to between 18 inches and 27 inches apart from each other. It does work best on wooden legs. Sadly it will not work on the very slender metal chair legs.
You then wrap the straps that are on the four corners of the hammock around each of the four legs. And then you need to pull these straps tight – use two hands. Remember, though, to leave enough room between the hammock and the base of the chair seat for kitty to jump into and settle down.
Third, just wait for kitty to jump in and start to snooze.
Will Your Cat Like the Cat Crib?
I think this is a great idea for a product. It makes a really cosy hideaway area for your cat. Often I find my cats lying under the table or a chair as they find the area safe. The cat crib helps with this behaviour. It is also big enough for quite sizeable cats.
As you can also place this on almost any chair in your house you can choose the best place your kitty feels comfortable. Do they prefer to stay in the same room as you? Or do they prefer a nice quiet out of the way spot? Up to you and your cat where you place it.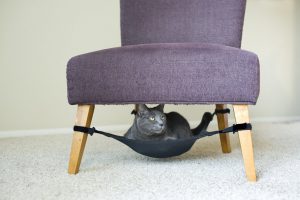 And while your cat will find it comfortable and cosy, you will also find that it helps with clutter and is easy to keep clean. Just don't use it as a storage space for magazines, tv remotes etc. (coughs and looks sheepish).
Quick Tips:
Use two hands to tighten the velcro straps to make it tight
You can also use this on a side table instead of a chair.
Get two and then you can put one in a quiet area and the other where you usually sit so your cat has the best of both worlds.
The Cat Crib currently comes in three colors – black, purple or tan is available to buy here from Amazon.