Pawsome cat scratching posts have to be tall and stable enough that they do not tip over when used. This very contemporary cat scratching post by Charley and Billie looks as though it fits the bill.
I love smart scratching posts which fit into the design of my house. All too often scratching posts end up looking tatty after the sisal becomes frayed and it starts to age. Also, with a pair of rather long cats who are pretty strong, I find that store bought scratching posts are often not up to the job.
After all a cat likes to have a full on body stretch to help their muscles when they scratch. With some cheap posts that I have bought, in the past, either my cat cannot do a full length stretch as the posts are too short. Or they immediately pull the post over because there is no stability. And did I mention fraying sisal? Everywhere! So the post looks very untidy after a small amount of use.
Therefore by paying a bit more for a scratching post I hope that I can get a product that I like in my lounge and my cats love.
Contemporary Cat Scratching Post
This cat scratching post by Charley and Billy looks great. It is made from an ethically sourced stone (sandstone) base so does not tip over. It has sustainably sourced oak end compressors and the actual scratching surface is made from recycled corrugated cardboard. Not only does it look great but it is also good for the environment.
At a height of almost 30 inches it should be high enough for longer cats. And it weighs in at almost 18 pounds due to the very stable stone base. As it is made from stone it can therefore have a smaller footprint whilst supplying the same stability as other cat scratching posts.
As the Charley and Billie original cat scratcher is handmade using naturally sourced materials there will be variations in the look of the product.
You can also make the post look the way that you want to. You just unscrew the oak nut compressing the cardboard to loosen the post and then alter the cardboard inserts however you want. Then just tighten the nut back up to re-compress the cardboard.
Wear and Tear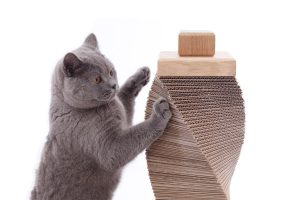 Compressed cardboard actually lasts quite a long time. But if your cat likes scratching in a particular place that wears quicker you can slacken the oak nut again and re-order the cardboard inserts. This means that your scratcher will have much more even wear and will last longer.
Furthermore, Charley and Billy do supply replacement cardboard posts. So if yours does wear out you do not have to replace the entire scratching post. The cardboard inserts are very easy to change. Again just loosen the oak nut and remove the compressor. You can then slide off the old cardboard from the threaded rod and slide the new inserts on. Then just put the compressor back on top and replace the nut.
You can order this contemporary cat scratching post from Charley and Billie at their Etsy shop. Whilst it is made in the UK they do ship to the US and many other countries as well. Your shipping charges will vary from country to country.