With the new school year almost on us (and it might have started for some). Let's look at some very cool back to school backpacks for the cat lovers amongst us. If you are like me, once everyone knows you love cats you get a wide variety of cat-themed gifts.
Here we look at some of the snazziest and coolest looking backpacks available. If classes suck then at least you will have a cool feline following you around.
Junior Students School Bag Cute Kitty
This really cute backpack is shaped like a fat cat. It comes in 4 colors – black, white, calico and a ginger cat color. It's size is perfect for kids from elementary to high school as it is 11.8 by 9 by 4.3 inches in size. It also comes in washable canvas – perfect for a messy school yard.
I think I am particularly fond of the calico cat look.
For U Designs Cute Cat Dog Shoulder Backpack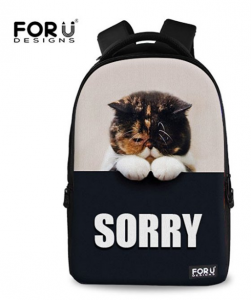 This is a great looking backpack for a cat (or dog) lover. It is made from a high quality polyester and is stain resistant (perfect for messy teens). It also has an abundance of compartments consisting of two side zipper pouches, a pocket on the top for sunglasses or earphones, a backpocket and a laptop compartment.
The For U Designs Cute Cat Backpack comes in two sizes:
Small – 10.23″ L x 15.7″ H x 5.1″ W
Large – 11.41L*18.5H*5.51W
There are quite a few different cat (or dog) pictures available (the picture being my favorite). Plus you can send the manufacturer you favorite cat pic to have it placed on the backpack instead.
Gloveleya Kid's Cartoon Sweet Cat Backpack
Designed for kids under 5 this would be perfect for kindergarten. It is almost like taking a soft toy cat to school with you. Made from a high quality soft plush it is 7.5 by 3.5 by 10 inches in size and comes in a cute gray color. It has two back straps and a carrying handle on top.
This backpack is super cute and also useful. There are two compartments – a large one at the top of the bag which can be zipped shut. The smaller compartment is in the front and has a velcro fastener. Due to the plush fabric however it is not waterproof.
I think any kid who loves cats would love this very sweet plush backpack.
Lonson® Cute Cat Preppy Style Lightweight School Backpack
This backpack has a cute black cat with large eyes cutout on the back. Suitable for elementary through to high school kids, it is 15.7 inches high by 10.2 inches wide and 5.9 inches in depth. It is made from a canvas material and comes in 5 cool colors – black, blue, pink, sea blue and purple.
I love the startled look on the cat's face on this backpack. Definitely cute and the blue is a lovely pastel color especially.
You can get this cute cat preppy backpack here.
MooleCole Cat Ears Backpack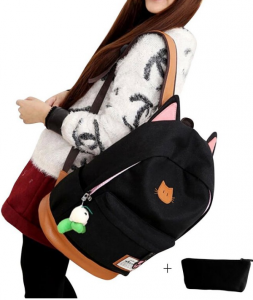 Definitely a very cool and cute backpack. Look how cute those ears are! The Moolecole is made from canvas and leather trimming and comes with a canvas zipped wallet as well. There are two zipped areas on the pack one large and the other smaller in the front as well as two small cupholders on the side.
The size of the pack is 11.9 inches by 17.5 inches by 6 inches depth and the wallet is 3.9 inches by 8.2 inches. It comes in a range of different colors – black, coffee, sapphire blue, turquoise, fruit green, yellow, rose, beige, dark blue and sky. I think my favorite is the black. One note though is not to put anything too heavy in this pack.
If you want this very cute backpack then click here to buy from Amazon.
Lily & Drew Lightweight Canvas Backpack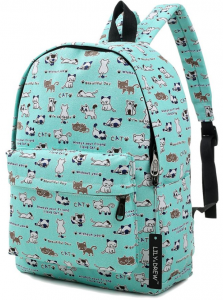 This is a really cute looking canvas backpack perfect for teens or younger kids and good for everyday school use. It has a large zippered main compartment as well as a zippered front pocket. This backpack though comes in two sizes:
Small Size – 11″ tall x 9.1″ wide x 6.3″ deep.
Medium Size – 15.5″ tall x 11.5″ wide x 6.3″ deep.
The main compartment on the medium will hold a 14 inch laptop whilst the main compartment on the small will hold an iPad Air. You can put water bottles or snacks in the two side pockets. It has adjustable shoulder straps and a foam-padded back so good for all-day comfort. There are multiple fabric options but the cat themed bags come in a blue or a pink.
Hello Kitty Pink Bear Backpack
When you think cat themed backpacks, the phenomena known as Hello Kitty comes to mind. If your child loves Hello Kitty then this is a great back to school item and is perfect for kids up to 8 years old. This is a 16 inch washable backpack which comes with one main compartment and two smaller front pockets. There is also a mesh side pocket which is fastened with velcro.
This Hello Kitty pack is very pink in color. It has enough space to fit a folder, notebooks, lunchbox and water bottle.
Get the Hello Kitty Pink Bear Backpack now ready for the new school year.
Skip Hop Zoo Pack Little Kid Backpack
An adorable cat shaped backpack perfect for toddlers and preschoolers. It has been designed specifically with little ones in mind. It has a roomy main compartment with matching zipper pull that is easy for small hands to use.
The mesh side pockets will fit juice boxes or water bottles and there is a front pouch that is great for snacks. There is also an inner meshed pocket that is great for holding pencils.
The Skip Hop comes in size 10 by 4 by 11.5 inches and has comfy padded straps and a write on nametag.
You can get the Skip Hop Zoo Backpack from Amazon.
Cute Cat Backpack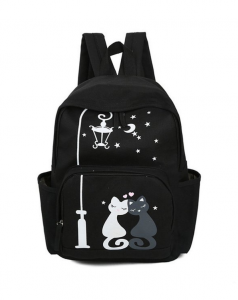 The design on this backpack is so cute, with two cat decals in black and white. Made from canvas it has a padded main compartment which is big enough to hold a 14 inch laptop.
The side pockets are not zippered but can hold a water bottle or umbrella. The front pocket does have a zipper and is perfect for a phone, purse, sunglasses or snacks. The size is 11.4 by 15.4 by 5.5 inches and comes in four colors – black, pink, aqua and blue.
You can get any of these backpacks by clicking the links or photographs above. Or add a pencil case to go with your cat theme backpack.