Here is a really cute cat face watch which is a great timepiece for women who love cats. If you have a friend that loves cats then a Boum Miaou cat-faced watch is a really cute gift.
This cute kitty watch features cat ears built into the case and the version here has a leopard print band made from calf skin. But what makes this even more adorable is that scrunched up cat face on the actual watch face. Doesn't it look as though this cat is chuckling happily?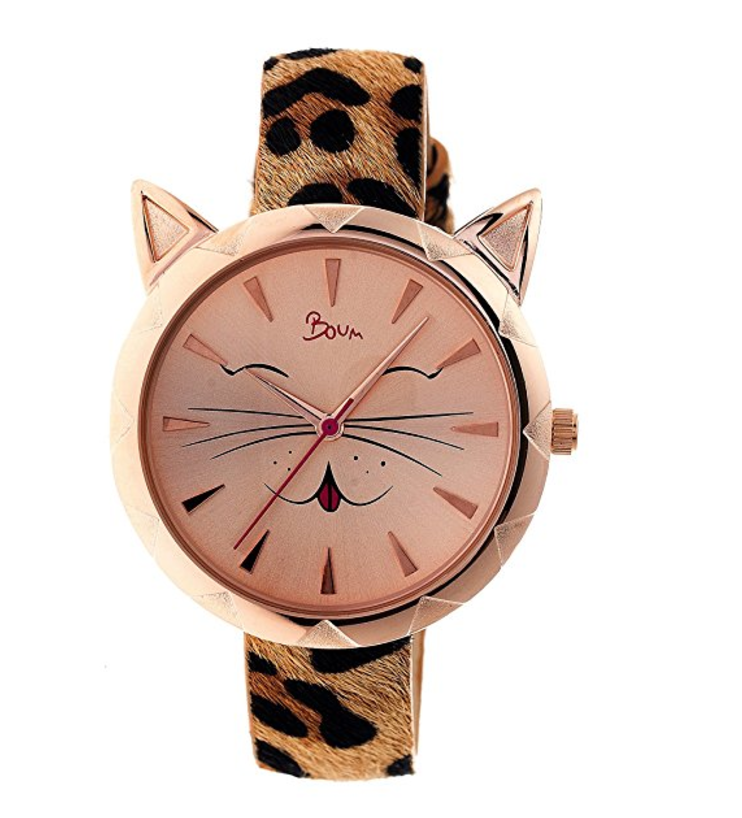 Boum means 'party' in French and fashionistas will love these accessories which are perfect for party night. But not only that, these watches are well made. And who can resist a kitty watch?
These cat face watches have a polished rose-gold metal case with an engraved Boum logo. The accented dial also has rose gold colored timer markers and rose gold colored hands.
Boum Miaou Cat Face Watch
Whilst the cat faced bezel has a brushed finish and is covered with a non-glare scratch-resistant mineral crystal cover. This also has a genuine leather strap which has been overlaid with a fake fur in leopard print. Size wise this is a pretty decent size. The case itself is 4 cm wide and 9mm thick in the centre. Whilst the strap is 14 mm wide from buckle through to where it is attached to the case.
But like all watches, it is important that the mechanism works otherwise this is just a fancy bracelet. In this case, the Boum Miaou watch has a Japanese quartz movement and is water resistant to 3 ATM.
The Boum Miaou Rose Gold Cat Face Watch is currently available by clicking here on Amazon.
Have a look at some more of the Boum Miaou cat face watch range: