I have sadly just broken my favorite frog mug. (yes  I did say frog mug). It was my favorite coffee mug and I had it for over 20 years – amazingly. I have other coffee mugs but nothing as funny, silly or just downright cute. So with my obsession with cats at the forefront of my mind I have been hunting for some replacement cute cat mugs. And who knows some of these might make good Xmas stocking fillers for my cat loving friends.
And who knows some of these might make good Xmas stocking fillers for my cat loving friends.
Romero Britto Cat Design Mug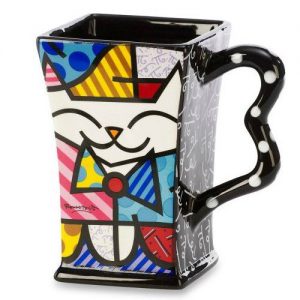 This was such an unusual mug that it immediately caught my eye. It is quirky, unusual and a real talking point.
Romero Britto is a renowned pop-artist and he has designed a number of ceramic items. This cat mug being one of them. This holds 14 ounces of liquid and is made from ceramic.
This cat mug stands out because it is in a square design and has a black base inside and outside the mug. Furthermore, it has a very unusual handle in the shape of a "3".
The cat painting itself is very brightly colored and very geometric. It is beautifully artistic and comes in a lovely presentation box which has also been designed by the artist. There is also a print of the artist's signature along the inside rim of the mug. To be honest, I would either give this mug as a gift to a collector or use it for my own collection. It is such a pretty object that I would be afraid to fill it with coffee incase I broke it.
If you are looking for a really nice gift for a collector though then this really should be on your list. You can currently get this mug from Amazon.
I Do What I Want Funny Cat Mug by Got Me Tipsy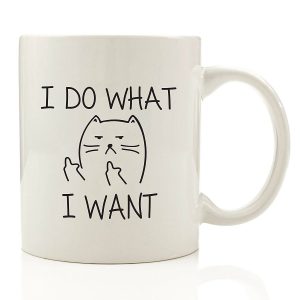 This is completely a cat sentiment. Something that particularly resonates this morning with my kitten trying to stretch herself over my laptop or trying to throw items off my coffee table. Therefore this immediately caught my eye.
This is a white, ceramic mug and holds 11 ounces of your favorite hot drink (coffee in my case). The text is printed in a black ink and is on both sides of the mug. If you are using this in the office then your co-workers will definitely see your message (and probably get a chuckle in). As a major plus it is dishwasher safe and the manufacturer guarantees the safe arrival of your mug or your money back.
I am thinking of getting this as a gift for a couple of people as well as it arrives in a presentation gift box and wrapped in tissue paper. It could make a great secret Santa gift for the office. The I Do What I Want Funny Cat Mug is currently available on Amazon.
Meh Coffee Mug by All You Can Wish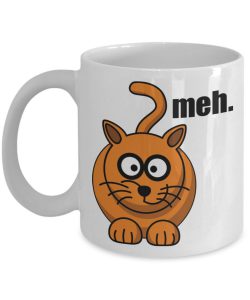 If you are not a morning lover then this coffee mug may raise a smile. With a large orange cat and the words "Meh" emblazoned on it, it definitely raised a bit of a chuckle here. And I do have a soft spot for orange cats.
It is made from ceramic and holds 11 ounces of either your favorite hot or cold drink. The writing is printed in the US and appears on both sides of the mug. It is also dishwasher and microwaveable safe. So great if you like to reheat soup in your mug in the microwave.
Definitely, a cute cat mug and I do like the "put upon" look on the ginger cat's face. This is now available on Amazon and retails at less than $15.
Crazy Cat Mug by Our Name Is Mud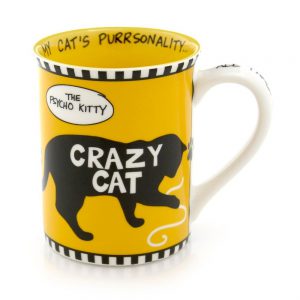 This is a great brightly colored cat mug which is designed by Lorrie Veasey for Our Name is Mud. This one is in a bright yellow color and has a black cat decal on one side with the words "Crazy Cat". The other side of the mug has another black cat decal with the wording "Sleep All Day Pawty All Night".
The inside of the mug is also in the same yellow color with "My Cat's Purrsonality" written along the top edge. This is made from high quality durable fired ceramic which is both dishwasher and microwaveable safe.
If you really do love your coffee then this does hold 16 ounces of liquid. I must admit this is really a very quirky and cute cat mug and I think the designer has made a really unique looking mug.
Currently, you can get this crazy cat mug from Amazon.
If you like this Lorrie Veasey design then she has designed a few other cat mugs which are available on Amazon. Have a look at some of our favorite designs below.
Lang Butterfly Dreams Mug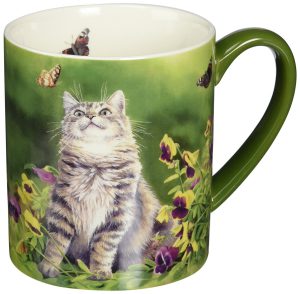 If you love a more classic painted mug rather than a novelty mug, then this Lang mug might suit the bill. This is a 14-ounce ceramic mug and it has beautiful artwork which covers every inch of the outside of the mug – even the handle.
It is made from ceramic and is dishwasher safe. It is also safe to use in the microwave. This is a very pretty cat mug and the picture itself is very detailed with beautiful colors. The picture is a beautiful fluffy cat watching butterflies in a field of pansies and grass.
Inside the mug, there is also a very pretty butterfly decal which as your coffee level decreases you will be able to see.
This Lang Butterfly mug will also make a great present as it comes in a nicely packaged box. It is currently available from Amazon.
If you are interested in any other cute cat mugs then the following are some more of my favorite picks: