Have you ever noticed that us cat lovers all seem to buy cat-themed clothes and jewellery? If you are looking for a gift for a cat lover friend or even a feel good gift for yourself then you usually cannot go wrong with a cat brooch. They can be worn by almost everyone and as you don't wear them against the skin then you do not have the problem of allergies to metal.
Well, I recently did a post about crystal cat pins and brooches that people seemed to love. So I thought of other cat brooches that are out there which are less "blingy" as not everyone wants to wear crystal. With Easter and Mothers Day coming up in the next few months this seemed like a great time to go hunting for a bit of cat jewellery.
If you do like crystal brooches though please check out our crystal cat pins and brooches as we have recently updated it with some great new products.
Enameled Marcks' Black Cat Brooch Pin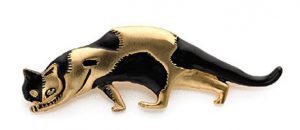 This little fella immediately leapt out at me as I love the fact that he looks like he is stalking his prey whilst watching you. This is a really pretty retro design – it looks almost art deco. And even better it is handcrafted in the USA with a 90-day limited warranty. So you know you are getting a great quality brooch at a good price.
This cat brooch has actually been created in cooperation with the Philadelphia Museum of Art as the design is based on a woodcut print by Gerhard Marcks. It is made from a polished gold tone metal body with shiny black enamel. The Marcks Black Cat Brooch is a licensed product and comes in a deluxe box which makes it an ideal gift for friends or family.
Size wise the brooch measures 2.75 inches in length by 1 inch high and weighs 6 grammes,
This beautiful retro looking brooch is currently available here on Amazon.
Single Kitty Cat Brooch Pin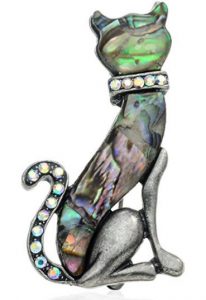 If you are still looking for a little bit of crystal on your cat brooch then this pretty kitty cat might be for you. This cute piece is 2 inches long by 1 inch wide and is made from abalone shell. As this is made from shell, it means that every piece will be unique as you are never going to get matching colors and shapes as abalone is a naturally occurring product.
Therefore, this cat brooch will have a range of color tones from greens, blues and reds. This pin is in the shape of a sitting cat and he has a lovely crystal tail and collar. He also comes in a nice gift box so ready for giving as a present.
The Single Kitty Cat brooch pin is available now from Amazon
Spoontiques Smiling Cat Pin
Now, this is a very happy chap for any cat lover. This cat brooch or pin is a smiling pewter cat who looks adorable. He is engraved with hearts and flowers and has pretty hand painted enamel accents. He also has a cutout heart on his chest. (though I am saying he this might also be a female cat).
He measures 2 inches high by 1.38 inches wide and is really sweet and cute looking. The enamelled colors on this brooch really make the entire piece of jewellery pop out at you. Its also lovely and light in weight so will not weigh down any of your clothes. And it comes on a gift card so you can present this to someone special.
The Spoontiques Smiling Cat Pin is currently available here from Amazon.
Whimsical Cat Stretching Pin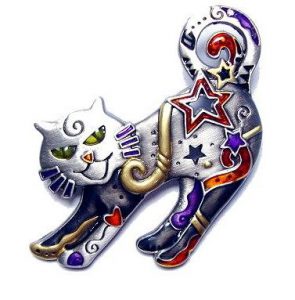 If you liked the smiling cat brooch above by Spoontiques then you will also love this gorgeous pin. Here, we have a lovely pewter brooch of a cat stretching. Again the cat has been hand painted with stars and hearts in bright colored enamel. And just look at the happy face on this pin!
This again would make a great gift for a cat lover – and why not buy the Smiling Cat Pin as well to make it a lovely pair. The whimsical cat is again 2 inches height by 1.38 inches wide and comes on a presentation gift card.
The Whimsical Cat stretching pin is currently sold via Amazon.