Cats love trees and cat condos. They give your cat a great place to play and to sleep. They also allow your cat to perch up high and view their territory. In my case kitten and cat chase each other up and down trees and then they like to sit and watch the birds outside. I know cat trees cat be pricey and sometimes you cannot find the exact tree you are looking for. Therefore I thought I would see what DIY cat furniture plans had to offer.
If you are handy with a drill and screwdriver then these plans available for the Kindle might be just for you. If you are a bit of a DIY clutz (as am I) then our best cat trees list might be better.
Cat Tree Plans: 
Build Cat Condo Furniture, Window Perch, Cat Scratching Post & More
Author: Brian Johnson
Published: Online Kindle Store
Pages: 500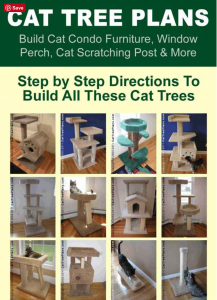 This book contains 10 cat tree plans plus 2 plans for making an upright cat scratcher and a floor cat scratcher.
Each plan comes with a complete list of the wood needed to build the structure. This includes all the sizes and types of wood required. The book does advise you to cut the wood before you start any construction.
Plus you get a full list of other materials required such as carpet and sisal. All of the cat trees have step by step instructions together with a full color photo for each step.
Overall there are between 20 to 80 color photographs for each plan. It is often easier to view a photo to see exactly how a step is completed before moving on.
There are also some very good carpeting tips. For example, the best types of carpet to use and how to cut and fix these carpet pieces to your new tree. It also tells you which tools are best to use to affix your carpet. Each plan then has an extensive guide of how carpet is then fitted to an exact cat tree.
If you are into DIY then these are some very good projects to create your own cat furniture. Some of the tree types are a little basic though but with a bit of experience I could see that some can be expanded on to make your own designs. The author has also added some extra design items into some of the plans such as a cute little house in plan 1 and cat ramps in plan 5.
Cat Tree Builder Pro
Author: Cat Tree Build Pro
Published: Online Kindle Store
Pages: 158
This online Kindle book contains DIY construction plans for more than 21 different cat trees and perches. It is designed so that you can customise some of the plans yourself. Therefore the first chapter contains diagrams of each of the platform shapes used in the trees and the size they should be cut.
Each plan then also lists how many platforms (and which type) are used and the total plywood needed for each plan.
All the plans contain step by step instructions for making the cat tree of your choice complete with pictures and diagrams. Overall there are more than 400 pictures or diagrams in this book.
There is also an extensive tool list of every tool that you will need to construct the cat furniture. Plus you are shown how to cut out the platform shapes safely – especially those platforms with cut out centers.
Furthermore the book contains three bonus plans for making the following:
Triangle and square condos
A sleeping box
See-saw scratcher
These three bonus plans can then be added to any of the other cat tree designs in order to make a tree to your own specifications.
Again these are some very good projects for someone interested in Do-It-Yourself. Though again the cat tree designs are rather basic and coverings for the trees are usually carpet or fur.
Conclusion
Both of these books are great introductions to making your own cat furniture. Due to having some great pictures they are aimed at both beginners and those more experienced. These trees are quite basic though and usually covered in carpet. If you are looking for some more complex designs that are ready built and made from different materials such as seagrass then have a look at our guide to Best Cat Trees.