One of the less enjoyable parts of sharing your home with a cat is dealing with the cat litter box. To keep your house smelling fresh the litter box needs to be emptied regularly. And your cat also likes a clean litter box. But disposing of litter waste is a smelly and time-consuming process especially if you clean out your box more than twice a day. Where do you place all the waste? This is where the Litter Genie Plus cat litter disposal system hopefully helps you out.
What Is the Litter Genie Plus?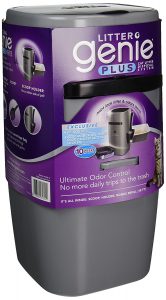 Over the last few years, litter box manufacturers have really raised the bar on how you can hide the litter box in your house. After all, no-one really wants to see a smelly litter box in their lounge or kitchen. So they have come up with great ideas to disguise litter boxes. These range from camouflage furniture through to self-cleaning litter boxes and litter boxes that just honestly do not look like an old fashioned litter pan.
But the problem of soiled litter disposal still remains. After all, if you clean out the box multiple times a day then where do you dispose of the litter. Taking it out to the trash every time is honestly time-consuming (especially if you live in an apartment building). Plus it does make your garbage smell a lot worse. If your garbage is then not emptied for a week or so then this can become very smelly, especially in summer.
Therefore, the Litter Genie Plus is designed to lock away all those smelly cat odors in one area. It is designed to keep your home smelling fresh.
How Does The Litter Genie Work?
The Litter Genie Plus is a litter disposal pail. You fit a specially designed bag cartridge into the pail. Then pull down the bag and close the lid. When you empty your litter box just open the litter Genie lid and drop in the soiled waste. You then pull a handle and the waste drops down and is sealed. This then keeps all smells inside the Litter Genie itself.
Then instead of emptying your cat litter box into the garbage each day, you can just empty the litter genie when your garbage is due to be picked up. So you keep your garbage bin smelling less of cat. Yes, your garbage will still smell of, well garbage, but smelly days old soiled litter has a pretty pungent smell of its own.
When you empty the Litter Genie you just open the lid, pull down some of the bag, and cut it off using the inbuilt cutter. Then just tie up the bag and dispose. To continue to use the Litter Genie just pull down some more bag from the cartridge and tie a knot in the base and you area all ready to start filling again.
The bags themselves are made from a 7 layer technology to keep all nasty whiffs inside the bag. And they do not rip. Furthermore, the Litter Genie Plus also has an added antimicrobial in the pail itself to keep smells down. And it holds up to 2 weeks worth of litter waste.
So Does It Actually Work
Yes in a nutshell it does. Before I went to a rather expensive Litter Robot, I used to use one of these pails all of the time. I actually found that I would empty the litter box much more regularly as I just kept the pail next to the box. And as it was so easy to use that was an added bonus. So if a cat used the litter box as I walked past I would just scoop and drop straight into the pail.
It really did cut down any smells and keep my litter boxes looking a lot cleaner. You can also use any litter with it. I then just used to empty it once a week when the garbage was due to be picked up.
This new Litter Genie is also a little more advanced than the version that I used to use. This is because they have added the extra antimicrobial to the pail itself and the bags have been improved. They have also added a very handy scoop attached to the pail itself as well. So no more hunting about for the scoop.
Tips
I would though recommend emptying more regularly than once every two weeks. Especially if you have more than one cat as the pail can get rather full. With two cats I used to empty once a week.
There are some minor design flaws with the pail, though. They are just minor issues which if they were addressed would make this product even better. The main flaw I can see is that there is no handle to pick up the pail. This would make moving it around much much easier. And whilst the cartridges work very well they can get a little pricey. But those are really minor issues and if I did not have a Litter Robot then I would definitely re-purchase one of these. It is also a lot less money than a self-cleaning litter box.
Size wise the Litter Genie does not take up too much space. It is 8.5 inches but 8.5 inches on the base and 17 inches high and weighs just 3.3 pounds.
Pros
Keeps litter box odors contained
Makes for easy litter box cleanup
Saves you time
Pail itself is reasonably priced and comes with a starter cartridge of litter bags
Very easy to use
Cons
Cartridges can be a little pricey
Needs a handle to move it about
In Conclusion
The Litter Genie is a really simple product and does what it says on the tin. It will make your life easier plus will make your cats happier. After all the more often their litter box is cleaned out then the happier a cat's life will be. I really think that if you use one of these you will keep using it.
Currently, the Litter Genie Plus is available here from Amazon and is one of their best selling products.