I discussed dental care for cats this weekend and why it was important for your cat. But what products are best for cat teeth cleaning? Below I am going to give you my five tips for cat teeth cleaning and how you can keep your cats teeth in tiptop shape.
1. Brushing
The best way to keep your cats teeth clean is brushing. Regular brushing will keep your cats teeth and gums healthy and help prevent tooth loss. For some tips on how to get started with brushing then look at our previous post here.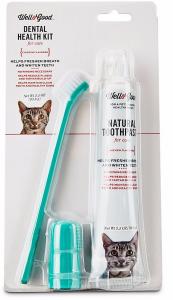 As we said previously, DO NOT use human toothpaste. Instead cat toothpaste is made in a variety of cat friendly flavors such as chicken.  After all cats cannot spit the toothpaste out as humans do. It's also a good idea to get a proper cat toothbrush which will be soft enough for your cats teeth.
Remember that a finger tooth brush can mean that you may get bitten as you have to put your finger in your cat's mouth. Therefore, the toothbrush is a better idea.
You can get a Well & Good Cat Dental Health Kit from Petco for about $7.50. This consists of a natural toothpaste, a shaped toothbrush and a finger brush. (try the finger brush at your own peril). This works out much cheaper than getting your local veterinarian to clean your cat's teeth.
2. Cat Dental Chews
These usually contain extra fibre that gives an abrasive action while your cat chews the treat. They are slightly larger than usual treats as they are meant to be chewed to get the best results. Just crunching a treat does not last long enough to clean teeth.
Some dental chews will also contain dual enzymes which also helps to eliminate plaque-forming bacteria. An example are Virbac CET Enzymatic Oral Hygiene Chews for Cats. These are made from freeze-dried fish and are coated in an enzymatic paper wrapper.
As they are over an inch in length they have to be chewed. You can find these treats here.
If you want to try some other flavors or types of chew (especially if your cat prefers chicken to fish flavors) then we have a selection of different chews here.
3. Cat Chew Toys
These act like the dental chews in that they perform an abrasive action against the cats' teeth. However, unlike the cat chews they are not meant to be eaten but instead played with and chewed. Often they are filled with catnip in order to encourage your cat to play with them. There are a variety of different types of cat chew toys.
For example the Petstages Catnip Plaque Away Pretzel is shaped like a pretzel and is coated with netting which acts as a tooth flosser. As it contains catnip cats can also carry it about and play with it as they would with their other toys.
Other catnip chew toys are shaped as mice or rings. Though they all have in common the ability to create the abrasive action on the teeth and also to massage gums.
Have a look here for some more examples of cat chew toys.
4. Cat Dental Gel
Cat dental gel acts like brushing but without actually needing to brush. Like brushing though the gel has to be applied directly to the teeth and also needs to be done once a day. The gel contains enzymes which help to remove plaque and tartar.
Like brushing it is best to have a definite routine of when to apply the gel so that your cat gets used to having it done. For best results don't allow food or water for about 30 minutes before applying the gel and afterwards. If your cat doesn't mind having its teeth brushed then doing the two in conjunction will speed up the removal of plaque.
Try Tropiclean Fresh Breath Clean Teeth Gel for Cats from here.
5. Cat Food
I am not such a fan of dried cat food but a lot of people feed mainly dried cat food to their felines. There are a number of cat formulations that are specially made for dental issues – they have slightly larger kibble and are designed to promote chewing.
For example Royal Canin make a Oral Health catfood in which the kibble size, shape and texture encourages the cat to chew.
I personally find that dry cat food contains too many grains and also not enough moisture. However, you can also feed raw food to your cat which contains all the sinew, muscle and bones. This food also promotes chewing as well as being completely natural for your cat.
Strangely I have found that my cat loves chicken feet – they are crunchy and perfect for chewing. They can also be bought for dogs.
Hopefully the ideas above will give you some ideas of other things to try in order to help with cat teeth cleaning. Let me know below if you have tried any of the above or if you have tried any other methods of keeping cat's teeth clean.