I love Xmas morning and I honestly get more excited at seeing people open their own gifts than opening my own. Creating a Christmas stocking prolongs the enjoyment as there are just so many little things in there that people can open. But what stocking stuffer gifts can you get for a cat lover?
Over the years I have got everything from mugs to pencils to small books and even cute fridge magnets in my stocking. So let's have a look at some of the great gift ideas that are available for the cat lover in your life. Hopefully, you can find some great stocking fillers in this list to appeal to anyone.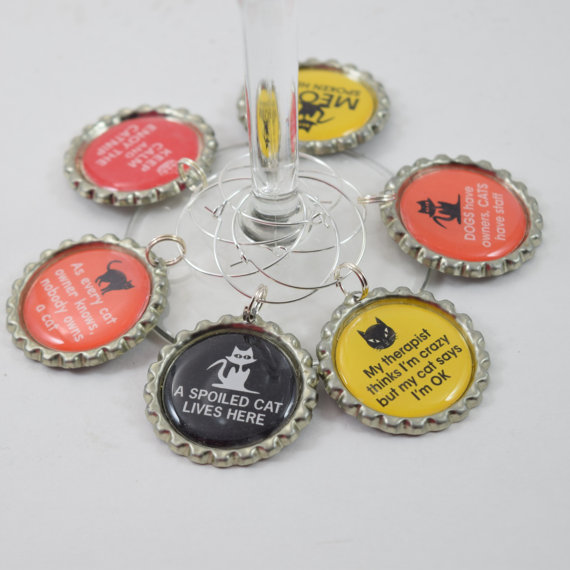 These are perfect for a stocking filler as they are small and it is nice to get the odd funny gift. These cat quotes are all made from a flattened bottle cap which is decorated and quote added to it. They are then covered with resin to protect the quote and pic.
Each charm includes a ring that can then be placed around your wine glass. So you should never lose your wine glass again. There are 6 bottle cap charms in this set and these include the following:
A spoiled cat lives here
Keep calm and enjoy the catnip
Meow spoken here
Dogs have owners, cats have staff
My therapist thinks I'm crazy but my cat says I'm OK
Every cat owner knows, no one owns a cat
They are available from Painted Pug Creations on Etsy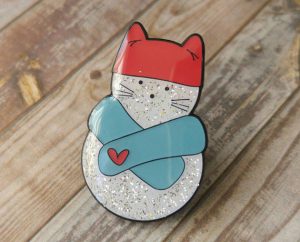 This little Christmas snowy cat is just so cute. Handmade and designed by Diglot Etc it is an enamel pin that your cat-loving friends will love. Snowcat is a 1.25 inches tall enamel pin so perfect for that little stocking filler.  He is covered in a silver glitter with an epoxy coating.
The designer has based this little floof on her childhood in Finland and he really is a cute character. I think almost everyone's friends would love to wear this on their lapel or bag. This pin comes attached to a snowy scene backing card in a cellophane sleeve.
It is available from Diglot Etc on Etsy and the seller ships worldwide.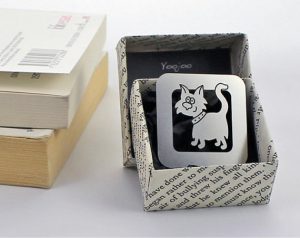 This clip on, mini bookmark is perfect for a cat loving bookworm. This is a pretty cute cat which has been hand drawn and then etched onto stainless steel. He kind of reminds me of a feisty little tom cat and definitely has cattitude.
This bookmark is handmade and hand finished by YooJoo Cards on Etsy. It is just a mini bookmark at 1.2 inches by 1.2 inches but is perfect for clipping onto a page and not losing your reading place.
It will make a cute gift which you will not have to wrap as he comes in a handmade origami gift box. Each gift box is unique as they are made from recycled book pages.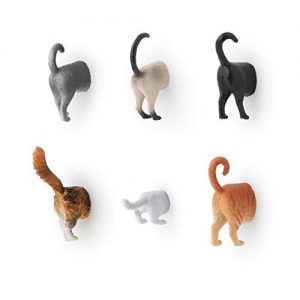 Now who does not want a fridge magnet in the shape of a cat butt? And what is even better but getting SIX different cat butts.
These will probably raise a giggle if they find their way into your stocking. But you can also give them as an office Secret Santa gift. Made from Phthalate-free vinyl, the largest magnet measures 2 inches by .75 inches by 1.25-inches.
The pack of six contains a variety of different cat breeds. You have a calico cat, ginger, black cat, white cat, a gray and a cute little color point.
The Kikkerland Cat Butt fridge magnets are currently available from Amazon.
Tiffany Twists on Etsy makes these really cute keychains to order so if you want a customized stocking stuffer then this is perfect.
This is a 1 inch round metal disc which has been stamped with the words 'Crazy Cat Lady'. And comes complete with a little fish charm plus a small paw charm.
All of Tiffany Twists keychains come gift wrapped so it is ready to be placed in a stocking of your choice.
Have a look at the Crazy Cat Lady keychain here.
If you have a friend who loves hair combs then this is a quite unusual piece. Handmade by Smitten Kitten Kendall on Etsy it is made from an antiqued brass filigree comb.
There is then a silver plated cat charm or cameo placed on the comb. It is a unique looking stocking filler. All of Smitten Kitten's items arrive in an organza gift bag. And they ship worldwide from Canada.
Christmas is not Christmas without getting at least one pair of socks from someone. (I don't think I have ever had to buy socks as I get so many pairs for Xmas). These socks are made from combed cotton, spandex, and polyester and come in a four pack set.
You get a calico cat, a ginger cat, a gray and white cat and a cute little black cat with a white bib. They are size 9-11 and fit a shoe size of 6-9. Each of the socks has a really large set of eyes in varied colors.
These cats eye cartoon socks are available via Amazon.
Sadly this cute tote bag is only available in the UK at the moment. This is a 100% cotton black tote bag with has a really cute kitty on the front. It is 42cm by 38cm in size and has extra long handles which are great for carrying the tote over your shoulder.
Each bag will be slightly different as it is made from natural cotton. Also, you can have the name of your cat applied to the bag for some extra personalization. Cotton tote bags are great for taking out shopping as they fit into quite small areas. So can be just rolled or folded up and placed in a handbag. It also makes them great as a slightly different stocking filler.
This is available from Whiteout Fashion on Etsy.
If you have a cat lover friend or relative that likes the odd drink then this stainless steel hip flask could make a good stocking filler. This is an 8oz hip flask so perfect for a little bit of brandy or whiskey for the cold winter weather. And to make it perfect for a cat lover it has a funny cat design on the front which has been hot laminated.
The size is 5.5 inches by 3.75 inches and 1 inch deep which is fine to fit in a pocket. It also has a captive screw on top which prevents losing the cap.
This hip flask is available from Amazon.
If you have a friend who loves the odd glass of wine and also has cats then this glass might raise a laugh. It is an amusing gift to give as a stocking filler as it has a funny message for cat lovers.
It is made from lead free glass and is 7.5 inches tall and is dishwasher safe. Each glass is individually wrapped in tissue paper and presented in a strong gift box.
You can get this in time for Christmas by ordering from Amazon.
Hopefully you have found a good stocking stuffer in this list for a cat loving friend or relative.
Have a merry Xmas.