I'm someone who never ever used to use handbags. I would always carry money in pockets (and regularly lose it when I accidently put the items in the wash). Plus I would carry multiple other bits in other various pockets. However, I had a bit of an epiphany a few years ago and realised that I was breaking a lot of pockets. There had to be a better way of carrying wallet, iPad, phone, various bunches of keys and business cards. I know that seems silly but I have no idea why I didn't use handbags back then.
So then I started collecting unusual handbags to use as I love vintage or quirky and unusual. I've got to know a bit about bags and I now also find really nice and unusual ones for my mother too. She's into Radley at the moment as an aside. So when I spotted this Anuschka hand painted bag which was covered with paintings of cats I was definitely intrigued.
I had not actually heard of Anuschka even though their handbags are extremely popular. As I said before I am a bit late to the party (again). But when I saw their designs they really fitted what I look for in a bag. Functional and aesthetic. And oh yes this design had cats covering it, so perfect for a crazy cat lady like me.
So a little about Anuschka before we look further at this lovely cat bag.
Who Are Anuschka?
In the late 80s a couple, Swapan and Roma Basu wanted to bring together art and functionality and to use art and design to empower and uplift local craftsmen. They therefore began designing hand-painted Anuschka creations and evolved both the art and the production process they utilised whilst keeping the integrity of their brand intact. For over 25 years they have remained a family owned company and over time other family members have become involved with the design and the painting of the products.
Each bag is designed to be a piece of art. From the use of colors which range from muted tones and hues through to rich and vibrant colours and a wide range of imagery from abstracts through to natural scenes (including the bag we are going to show here which depicts cats).
Even now the manufacture of these handbags is still very much a family process and is not a mass produced factory process. Both Swapan and Roma still oversee the workshop every day ensuring that each Anuschka bag which leaves the workshop reaches the quality control that they desire. Each original bag is also signed by a member of the family.
[one_half_first]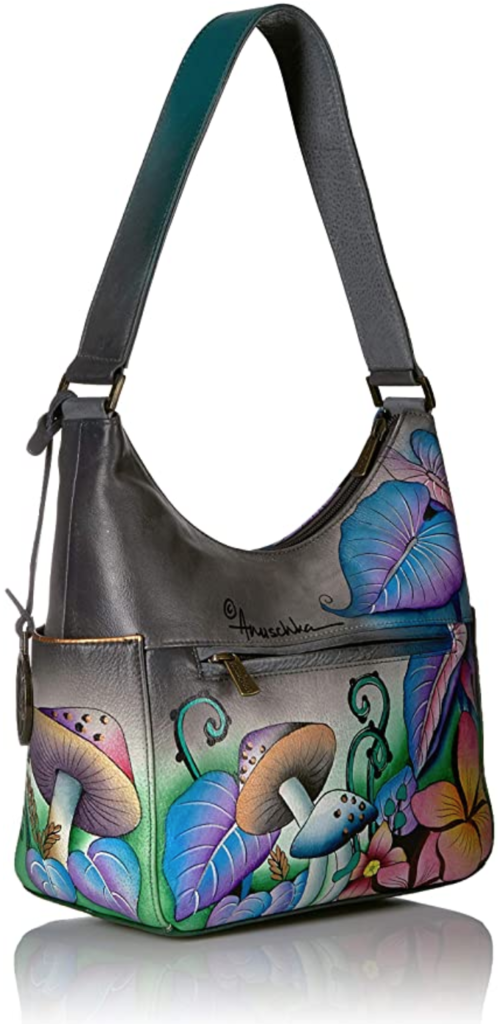 [/one_half_first][one_half_last]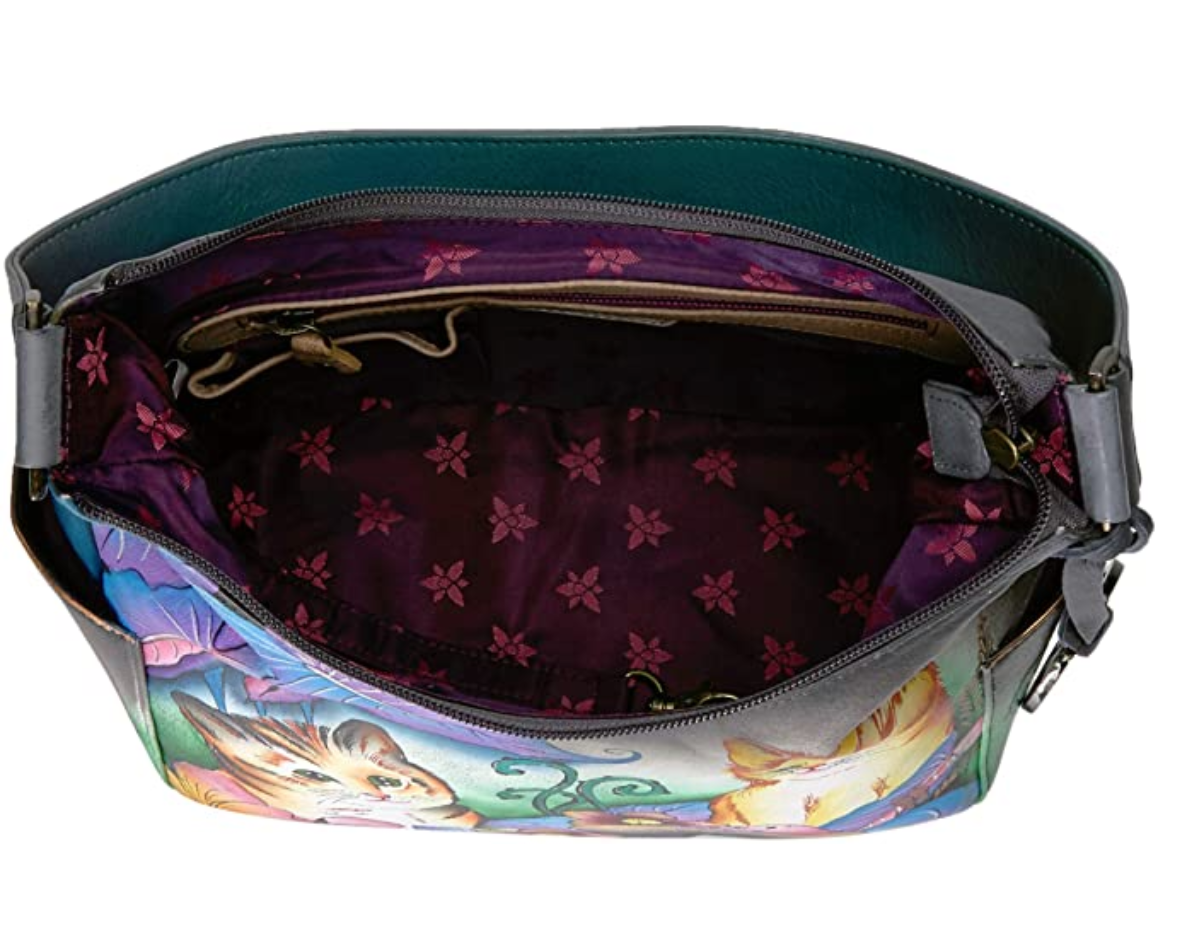 [/one_half_last]
Cats In Wonderland
The theme of this classic hobo bag is Cats in Wonderland. And it is a vibrant mix of beautiful colours and is painted on every side of the bag. Usually when you see painted bags they are often only painted on one side only. This has a lovely cat scene which carries on right around the bag. The scene has two cute cats surrounded by a fantasy scene made up of flowers and mushrooms in a variety of colors and tones.
The bag itself is made from 100% premium full-grain leather and is in a hobo style. Over time this leather will get softer and more supple with use. This leather fully absorbs the paint so the colors are imbedded into the leather. The inside of the bag is made from a polyester lining which has the Anuschka print.
Style wise, not only is this bag beautiful but it is also extremely functional. It has a top zipper meaning that the contents of your bag will not fall out if tipped up. I always prefer zip topped bags especially if I am out and about in the city – it makes me feel that my wallet and iPad is much more secure. There is also a rear zippered pocket (my favorite pocket for keeping travel documents or train tickets) and also two open deep side pockets – so plenty of storage space. The inside of the handbag also has another zippered pocket.
In size the bag is 12.5 by 10 by 4.8 inches so a nice medium size. It also has a very nice thick shoulder strap which offers more comfort than tiny thin straps. The size of the strap is 2 inches across and gives an 11.5 inch drop.
Specifications:
100% Leather

Polyester lining

Zipper closure

2″ shoulder strap

4.8″ high

12.5″ wide
This Anuschka cat themed handbag is now available on Amazon.