Everyone knows that cats are the perfect destresser. You get home from a hard day at work, sit down and within minutes there is a cute bundle of fluff lying in your lap purring. Stroking your cat's fur is immensely therapeutic. Well, a big fad over the past couple of years has been adult coloring books which are great for helping promote relaxation. So what better idea to mix adult coloring books with cats. Therefore, I thought I would take a look at how a cat coloring book helped my relaxation.
Probably like you I spend a lot of my day running around, dealing with problems and then having to handle the daily commute. There is nothing worse than being stuck in heavy traffic for an hour or more a day. By the time I get home I often feel as though I cannot settle down so I have taken to spending an hour when I get in destressing myself from the day. Recently I have been trying both jigsaw puzzles and coloring books.
Now you may sound sceptical and think that coloring books are just for children. But honestly, these are really great to relax with. The pages are already drawn out and you can choose your own colors to personalise the design to your tastes. Let's have a look at just a few of the cat coloring books that I have found.
Cats: 70 designs to help you de-stress (Colouring for Mindfulness)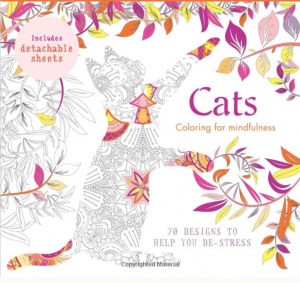 This is a wonderful collection of 70 different intricate designs to help you de-stress. Quite often the lovely complex designs are in the first few pages and other designs are very simplistic. But this is not the case with this book – each page is wonderfully intricate and well laid out. The designer, Aurelie Castex, has taken swirls and patterns and put them all together in a wonderful kaleidoscope. And as an added bonus you can actually detach the pages so you can give as gifts or display on the wall.
Some of the designs have very small details which you need to fill in so you can either use pens or  thin pencils. A thick marker would be too thick for these areas, gel pens are much better. But as they are such pretty intricate designs it is actually quite easy to lose track of time for a while, whilst coloring in. However, these small intricate areas might not be for everyone as some will find them too small.
It is not a large book in size as it is 8 inches by 8 inches but a big downside is that the designs are on both sides of the page. That means that as the pages are detachable you can only display one of your designs. And it does mean that if you use certain felt tip pens then it can bleed through to the other side. I usually like to use pencils for coloring though so bleeding was not such an issue for me. On the plus side though this is a very pretty book with lots of lovely illustrations and cat lovers will love the cat headshots specifically.
Take a look at the 70 Designs to Help you De-stress Cat Coloring Book on Amazon now.
Creative Haven Creative Cats Coloring Book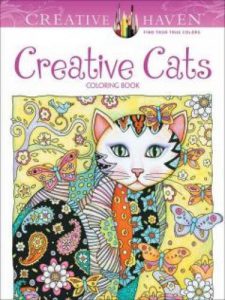 The Creative Haven Creative Cats Coloring Book has over 30 lovely cat designs and is perfect for someone used to coloring books. This collection has been designed by Marjorie Sarnat and it has pages filled with beautiful cat illustrations. There are a lot of motifs in these pages which include intricate paisleys and hearts, flowers and butterflies.
The artist has produced some gorgeous illustrations with complex embellished backgrounds to each image. The cats themselves have absolutely amazing eyes though I did find their expressions a little similar in all the illustrations. A big bonus though is that every single illustration is on single sided paper so you do not get the issue with damaging the image on the other side. Also they have used a bright white, heavyish paper to put this together which is perforated so you can easily remove your finished painting to display it once you have finished.
As the illustrations are on one-sided paper you have more flexibility to try out the coloring pens of your choice. So you can use anything from pencil, watercolor pencils, markers and gel pens. One tip though is to try out the pen before you use it and if it does show through to the other side then just place a bit of card under the page you are working on to protect the rest of the book.
Overall though this is a lovely illustrated book which will give you hours of coloring joy. Take a look at the Creative Haven Creative Cats Coloring Book on Amazon now.
Creative Haven Grumpy Cat Hates Coloring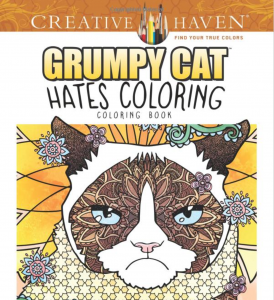 I am going to admit it and say that I am a huge Grumpy Cat fan. The beautiful Tardar Sauce aka Grumpy cat has become an internet sensation over the past few years and has inspired hundreds of memes. She has the most unique expression and I love that some artist has put this expression into this great coloring book.
The illustrator, Diego Jourdan Pereira is a Silver Morosoli Award winning artist and graphic designer who has specialised in comics and illustrations. He has been renowned for his great work on other designs such as Teenage Mutant Ninja Turtles and Toy Story amongst many others. Therefore he is the perfect artist to help bring Grumpy Cat's expression to life in a coloring book.
Inside the book there are 31 intricate designs all on the cranky looking feline. Each illustration is on a one sided page so you will be able to display every page in the book once you have finished coloring. And each page is perforated for easy removal.
Grumpy Cat Hates Coloring is so adorable and amusing. The artist has placed her in a number of situations where she looks wonderfully grumpy and cranky. I had so much fun with this coloring book and complete respect for the artist who has perfectly captured the essence of Grumpy Cat.
The Grumpy Cat Hates Coloring book is perfect for adults and children and makes a great gift for a fan. It was definitely an amusing coloring book and a great way of whiling away a few hours. You can get this cat coloring book now from Amazon by clicking here.
And if you love coloring then take a look at our picks to help you further.