Like a lot of people, I am constantly thinking of ways to hide my litter box, especially now that we are living in an apartment. Unless you can turn an entire room over to your cats' bathroom needs then wherever you place your litter box can be in view of yourself or guests. On first look though you would not immediately think 'litter box' when looking at the IRIS Top Entry cat litter box.
We have discussed the pros and cons of top entry litter boxes before so if you want to know whether they will work for you and your cats then give the article a quick read.

IRIS Top Entry Cat Litter Box
Top entry litter boxes are exactly as described. Your cat enters the box via a hole in the roof of the box and exits through the same hole. This style of litter box seems to be getting more popular as it does hide the litter box in plain sight. It is also great for cats that love to kick their cat litter about. If you have used a conventional litter box then maybe you suffer from the dreaded 'litter scattered all over the floor'. Instead with a top entry litter box this keeps litter confined inside the box itself.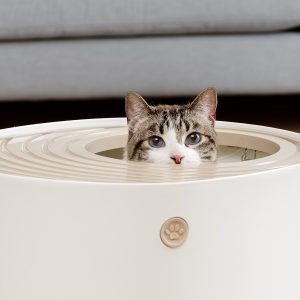 To also stop litter tracking throughout your home the IRIS has unique grooves on the top lid. This, therefore, captures the litter from your cat's paws when they are exiting the box. This litter box can also help to keep your home clean and hygienic as due to having high sides and a roof it can keep urine inside the box if your cat has a tendency to spray.
The IRIS top entry cat litter box is also pretty stylish looking and comes in two very cool looking colors. First up you can get an ivory colored box with a tan lid cover. Or the IRIS comes in a modern looking burnt orange with a darker brown lid.
Spacious for Even Larger Kitties
One issue with some top entry litter boxes is that the inside of the box is not very spacious. This is not true for the IRIS litter box. The size of this box is about 20.5 inches by 16 inches by 14.5 inches high. It is perfectly comfortable for even a larger kitty of around 20 pounds. Furthermore, the top entry access hole is also one of the largest entrances around.
So this larger size makes this box comfortable to use. And it allows larger cats to get through the entrance very easily.
Clean Up
Cleaning out the litter box is never the best job. However, this box is simple to clean as it is just curved inside with no sharp angles where mess can accumulate. Therefore giving the box a wash out is a breeze. And the box itself contains a handy hook inside the unit where you can hang the litter scoop. This keeps all your cats' toilet items out of the way and together.
Conclusion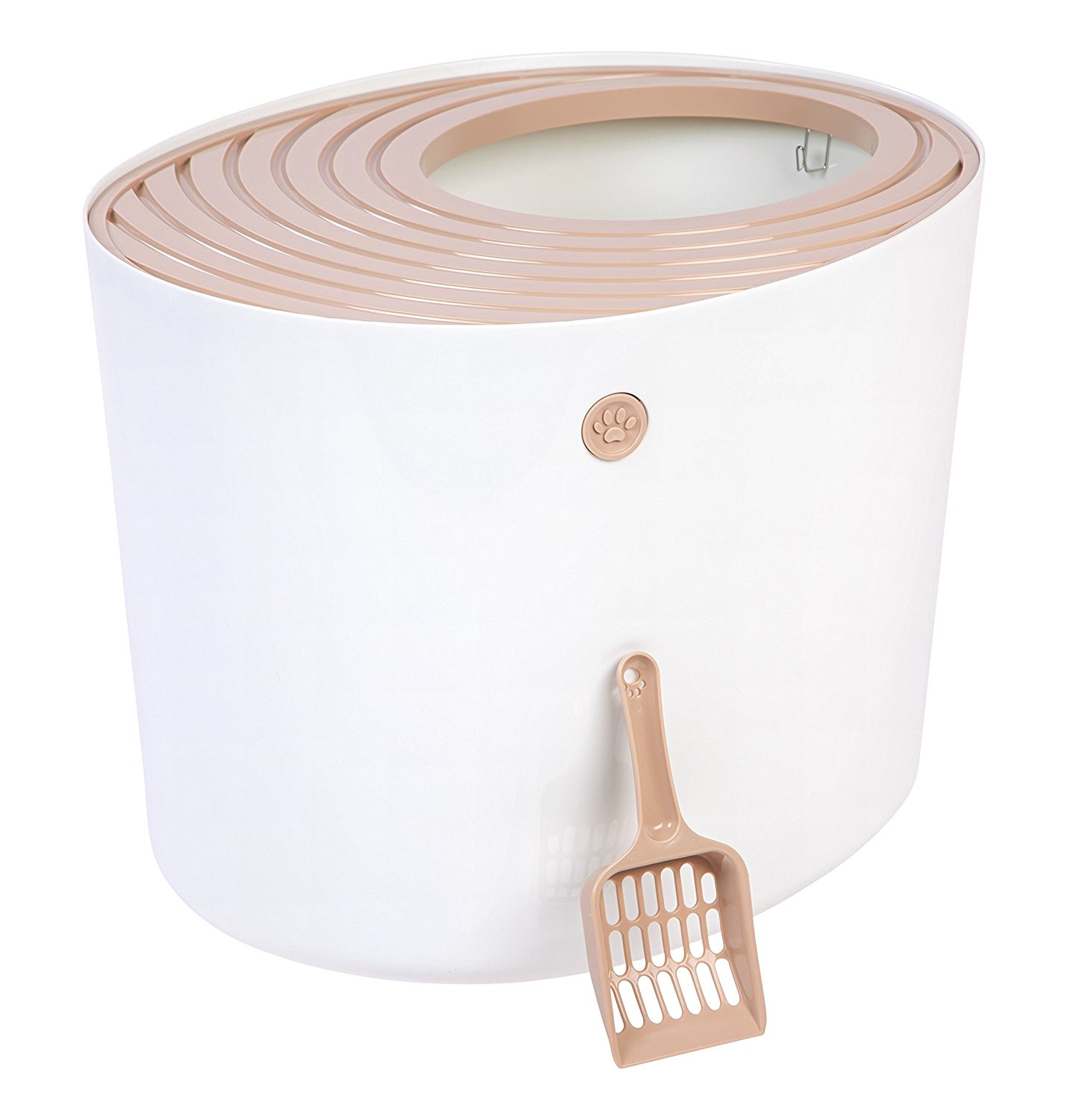 The IRIS top entry cat litter box is a really nice unit and is reasonable in price. However, as with all litter boxes, your cat will be the final judge. Some cats love top entry litter boxes and will immediately use the new box. However, some cats might need a little extra encouragement to use the box. However, this can be the same for many different types of litter box.
Pros
Smart and stylish looks with two modern colors
Very roomy inside
Large entrance way
Keeps litter in the box and not scattered over your floors
Easy and simple clean up
Cons
Not every cat will take to a top entry box (especially older or arthritic cats)