Keeping our cats entertained (as well as fed and watered) is all part of being a great cat parent. Having a cat tree or cat condo in your house is a great way to keep your cats entertained and also give them space to explore and climb. However, you might have seen cat trees at the pet store and felt that they were a complete eyesore. After all, these large items can be covered in carpet, be boring colors or will just look out of place in your lovely lounge or dining room. Well, all that cannot be said about the Katt3 modular system.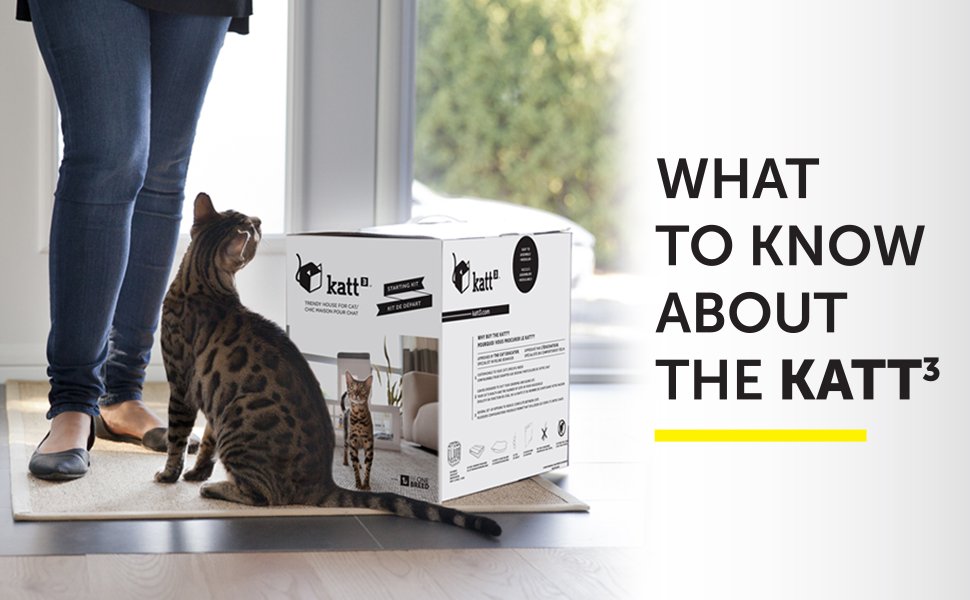 BeOneBreed has really brought out a pretty neat looking product. Gone are the carpet covered monstrosities of old and enter a new shiny looking cat tree with a modern look and feel. But looking clean and modern is just part of the Katt3's appeal. What makes this extra special for me was that it was a modular system and you can create your cat tree in different shapes. And if you don't know where to start or what bits to buy, well Katt3 is currently available in a starter pack.
What is the Katt3
Well, Katt3 is a cat tree system made completely from cubes (or Kubes as BeOneBreed call them). You just have to put the Kubes together to build your cat tree. Now I thought that sounded pretty simple, but we all know in practice that building a cat tree can be tricky. You have to line bits up to screw together, and you usually need something to screw the different parts with. Well, it's not so with the Katt3 – yes it really is as simple as they say to put it together. And not having to screw and drill holes is perfect for me as my DIY skills are pretty much non-existant.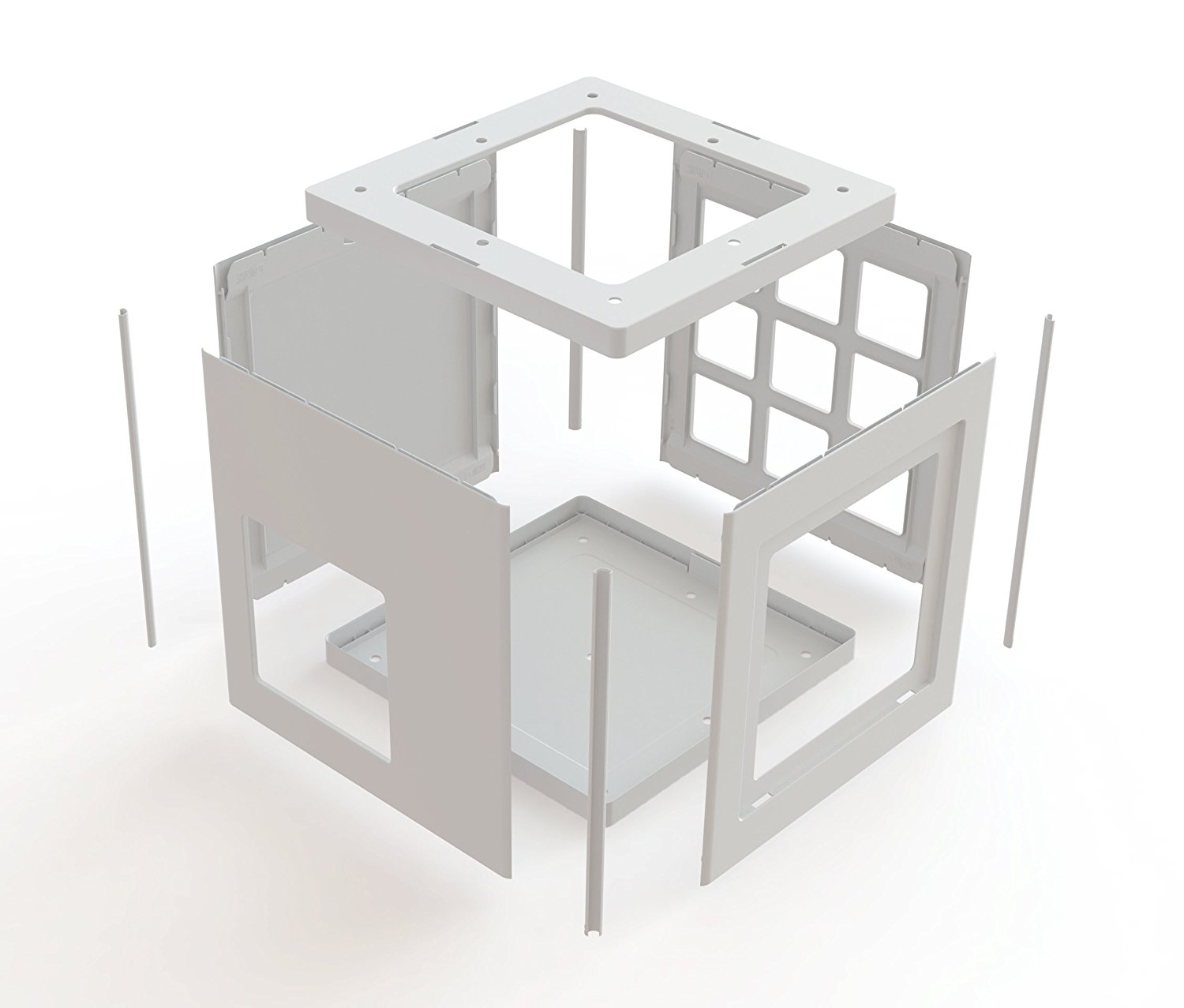 Constructing a cat tree with Katt3 requires no tools. Instead, the panels and Kubes easily clip together and you get a stable and interesting design in just minutes. This always gets a huge paw up in my household. You can even build the Katt3 easily by yourself, so you don't need an extra pair of hands holding stuff up for you.
The only difficult part is thinking up all the different configurations you can set up. So many different ideas.
But, not only is it easy to put together, it is also easy to take apart. So if you decide that the six-foot tall tree you have built is now too high, then just take it apart and create a lower configuration.
And being made from a white plastic, it is very simple to keep clean. Just wipe over with a damp cloth and it looks as good as new. You can also place it in the window and the plastic does not yellow in the sun.
How To Start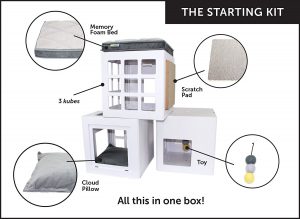 The best way of getting started with a Katt3 is getting the starter kit. This comes with three Kubes each measuring 14 inches by 14 inches by 14 inches. You also get a few accessories with the starter kit, these include…
A memory foam bed which is lovely and comfortable for your cats. Maybe put this at the top of your Katt3 tree so that cats can gaze out from a high vantage point. Or if you want to make a comfy hide away then you can place the memory foam bed inside a Kube – it fits perfectly.
Dangly toy. You get three fluffy balls on a string that can then be placed anywhere on your Kubes. Maybe you want to hide it inside a Kube and then place a lattice panel outside so your cats can stick their paws through.
Cloud Pillow – This comfortable pillow can be placed inside any cube for a snug resting and sleeping area. And it is washable. Just pop it into the washing machine and let it air dry.
Scratching Area – You get a nice scratching square that you can also place onto any of the Kubes. If your cat likes scratching vertically then place it on the vertical side of a Kube at the perfect height for your cat. Or if your cat likes a horizontal scratcher then place it on the top of a Kube.
With just the starter kit you have enough Kubes and accessories to start making a great looking cat tree.
Taking It Further
As you can make a Katt3 tree into any configuration to suit your cats, you can have a low tree if your cats are getting older and do not like to jump so much. Or you can build a high tree with different shapes and configurations.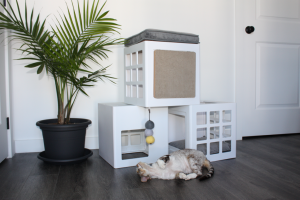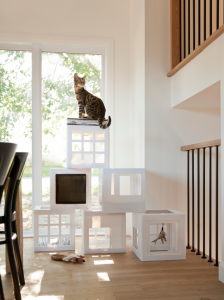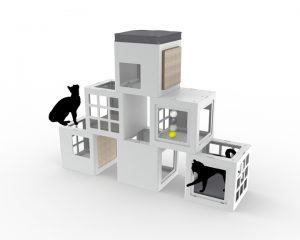 It is also easy to add to the starter kit over time as well. Kubes can be bought separately and you also have the option of adding extra beds which come in a range of designer fabrics. Or you can add extra dangly toys such as feathers or more balls. BeOneBreed also have a cardboard cat scratching panel you can add.
The great thing is as well that BeOneBreed are hoping to add even more accessories down the line.
Conclusion
We love modular cat furniture in this household as I love to change my decor around. But my cats also love it as changing the configuration of their cat tree means they do not get bored with it. I also like that it looks so clean and modern.
What We Love
It is modular so I can add extra bits to make it bigger
Easy to put together and you need no tools
The price – it is actually really good value for money as cat trees can be expensive
Easy to clean – it is simple to wipe down with a damp cloth
What We Don't Love
Difficult as there was nothing we hated on the Katt3 at all. We though would like to see some other accessories such as a mini ladder (though I think this is in the pipeline). I would also love to see this in some other colors such as a glossy black or red. I think it would look amazing as a bright glossy red.
Anyhow the Katt3 starter kit is now available from Amazon.