If you love cats and love vintage Americana then take a look at the Kit Cat Clock. You have probably seen this little whimsical clock before but did you know that these clocks have been made for over 80 years? This clock can trace its history all the way back to the great depression.
I must admit I love vintage stuff and especially things from the 1920s and 30s. (As an aside I go to vintage clothing sales to buy 1920s dresses and accessories). The 20s and 30s were great for design which is highly recognisable such as the late art deco style. So this kitty cat clock ticks all the boxes for me – vintage, whimsical, funny and it is a cat.
What makes this clock so cute and amusing is that it has a large smiling face with huge eyes which move back and forth. But also the tail acts as a pendulum and swings about. The only thing this kit cat clock doesn't do is miaow for its dinner.
How the Kit Cat Clock Has Evolved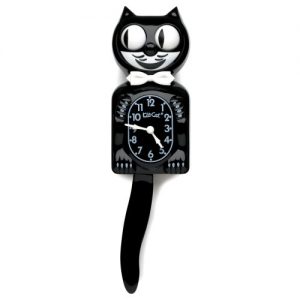 Really the entire style of this clock has not changed very much since the 1930s. The only real changes is that the kit cat clock now has four paws (there were only two on the original) and it is now battery powered.
I am a little ambivalent about the change to just battery power. It is good because you can now put this clock anywhere in the house even if there is no electrical socket close. But the clock does need two C batteries which then need regular changing. Once the clock starts to slow then you know you need new batteries. I would prefer the option of using battery or electric as I really hate it when clocks start to lose time.
But this clock is not really bought for being an incredibly accurate timepiece. They are bought because they are completely cute and a very classic piece of Americana.
Now the original classic Kit Cat Clock was also a cute tuxedo cat. He was mainly black but had a white muzzle and wore a white bow tie. However, you can now get the Kit Cat clock in some new funky colors such as green and blue. Plus they also now make a female cat who wears a pearl necklace instead of a bow tie.
The Specs
Manufactured in the U.S.A
Made from a tough and durable plastic
Measures 15.5 inches tall.
Runs on 2 C batteries
Has a wagging tail and revolving eyes
The Collectors Edition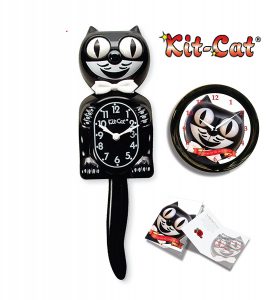 Kit Cat clocks are so popular that they have also brought out a special collectors edition. This version is the same size as the classic cat but you get the following extras:
A round, 12-inch kit cat clock
Gift Note
Batteries ARE included
The collector's edition would make a really cute present for a cat or clock loving friend. Especially one that loves vintage items.
As well as the collector's edition, Kit Cat clocks now also come in a smaller size which is three-quarters the size of the original.
Overall
This is a perfect vintage piece that has barely changed in style since the Great Depression. It is fun to watch and can feel quite soothing – watching the cats tail swing back and forth and the eyes moving from side to side. I would though prefer if you could choose whether you want battery operated or mains.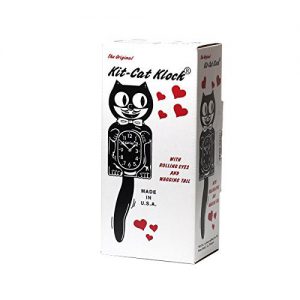 I also like that it has also been given a bit of a modern twist by being produced in other colors as well as the original tuxedo. Though I do think the tuxedo cat does look the best.
With regards to the revolving eyes and tail. Sometimes these might stop working – it is, therefore, a good idea to move the cat to a slightly different angle to get the mechanism working.
This Kit Cat Clock would make a cool gift or even for yourself. I must admit that I even liked the box as it had such an original look. Its not really for the person who wants a time piece that keeps exact time all the time. Especially because it can use a lot of battery life and the mechanism does slow down when the batteries are beginning to die. However, it is a great talking point for cat lovers, vintage lovers and people who love classic pop art and Americana.
Have a look here on Amazon for the classic Kit Cat Clock.