Product: Kitty Ball Bed by Refined Feline
Height: 28 inches
Best Price: $80 at time of review from WayFair (offers free delivery)
I recently had a brief from a friend. Find her, and her cat, a small cat tree which looks good and would make a good cat bed. Therefore, Dyson and I had some fun with trying out a couple of different small cat trees. The Kitty Ball Bed by the Refined Feline fit the brief so we tried it out.
The Refined Feline does make some nice looking kitty furniture. Most of their designs are very modern and contemporary. Whilst, they look good they also need to be comfortable and useful for your pet.
This cat tree has a space-saving design. The actual bed part is a ball shape on top of a short pole. The look of this actually reminded me of the ball shaped seats that were around in the 1960s and 1970s but with an updated look.
Features
The Kitty Ball Bed is made from a poly rattan which according to the manufacturer is durable and withstands clawing. This material is non-toxic and completely safe for your cat. The rattan itself is woven together and then colored in Espresso (a very dark wood color).
The bed itself is off the floor – so good for cold winters, and is a dome shape. This dome is 17 inches in diameter so is pretty large and roomy and can accommodate a 20 pound cat. This means that it is great for larger cat breeds.
Inside the bed there is a removable cushion which is machine washable. The base of the cat tree is also very sturdy and will withstand your cat jumping inside.
Made from a durable non-toxic polyrattan
Dome is 17 inches in diameter
Machine washable cushion
Floor to dome height is 11 inches
Weighs 14 pounds
Setting Up the Kitty Ball Bed
The Kitty Ball arrived in one box. Inside there were just two pieces, the base together with the small pole and the dome. All tools needed for putting it together were included in the box. In this case the tools just consisted of one bolt and one allan key.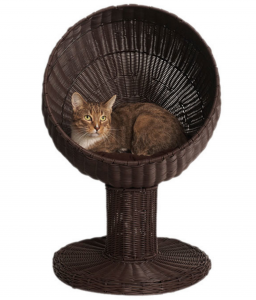 Putting it together by myself was not hard. I placed the base straight onto the floor and then balanced the dome on top. The bolt then goes through the dome and into the below pole. Getting the hole to match up between the dome and the stem was quite fiddly though.
Once I managed to match up the holes, it was just a question of screwing the bolt and then tightening with the supplied key. It basically took less than 5 minutes to set up.
I then just placed the cushion into the dome and awaited the sound of furry feet.
So What Did Dyson Think?
Well Dyson immediately came to investigate. The dome was not too high up for her to put her front paws on and then pull herself up. (she sometimes gets a bit lazy with jumping). I was slightly concerned when she first went into the dome as there was a slight wobble.
However, once she settled down there was no other movement. I did though see if it could be rocked and it was perfectly stable. Dyson is a rather large cat and she had plenty of space to turn around a few times (as cats seem to do) before settling down for a sleep.
If Dyson sleeps on something then it does have the seal of approval. Personally though I thought that the cushion was a bit thin so I also added a cat blanket for a bit more cosiness.
If you would like to see a video of the Kitty Ball Bed in action then watch this video from the manufacturer.
Conclusion
Pros:
Durable material
Is a very nice looking piece of cat furniture
Simple to put together
Removable machine washable cushion
No carpet
Sturdy
Comes with all the required tools
Cons
Cushion could be thicker
The bolt fitting the dome to the stem could be a little longer
Overall I liked this cat tree, even though it was more like a cat bed. It was very smart looking and easy to assemble and keep clean which are the three things I look for. For Dyson it was comfortable and looked to be safe and sturdy.
I would have liked the bolt fitting the dome to the stem to be a little longer as I was initially worried that it was not a tight enough fit. I would have also liked the cushion to be a little thicker and more "plush". Though, it was machine washable and could be removed which was great.
The dome of the Kitty Ball Bed was a very generous size – quite often cat beds can be a little cramped. This meant that it was perfect for a larger cat such as Dyson. It also felt pretty tough and hardwearing.
Due to my obsession with cool cat items I actually didn't want to hand this one over to my friend. But this was her item and I think she has been very happy with it.
If you want to get the Kitty Ball Bed by Refined Feline then click here for a great price from Wayfair. It also has free delivery.