We all know how much our kitties love to hide away in cardboard boxes. But leaving cardboard boxes out in our house can get untidy and they quickly fray and break. So what better than to have a smartly designed cat box that can double as a hideaway and a lounging area, as well as giving play opportunities. Well, this is what the Curious Cat Cube by Midwest Homes aims to achieve. Let's have a look and see if it lives up to its claims.
What Is the MidWest Homes Curious Cat Cube
Well, the Curious Cat Cube is a cat condo hideaway plus lounging area plus play area all in one. It offers your cat their own private area in a smart looking cube that will not be out of place in a lot of homes.
While the curious cat cube resembles a cardboard box together with lid. The actual look is very far from that. This cat cube condo is covered in an expensive-looking brown faux suede. And the lid is topped with a plush fleecy fabric giving your cat a comfortable lounging spot. And giving you a cat condo that fits in with your home decor.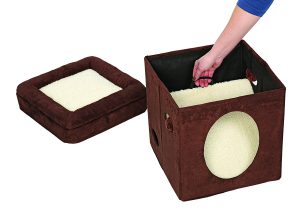 But even better the cat cube actually collapses flat when it is not in use so that you can easily store it or travel with it. But this does not mean that the Midwest cat cube is flimsy. Instead, it has a very strong, sturdy construction and MidWest Homes also offers a one year warranty.
So let's look at the three parts of the curious cat cube – hideaway, lounger and play area…
The Hideaway
This is the cube part of the Curious Cat Cube. It is sized 15.5 inches wide by 15.5 inches in length and is about 16.5 inches tall. You cat enters through a hole in one of the sides. And this is not a small entry hole but is 10 by 8 inches so perfect for even a slightly tubby cat. Larger cat breeds such as Ragdolls or Maine Coons will have no problems entering this cube.
Inside the hideaway, the floor is covered with a comfortable and warm faux sheepskin so your cat can have a great snuggling experience. The sheepskin pad is also removable and washable.
The Lounger
If your cat likes sitting on top of boxes and watching the world go by then they will probably like the top of the Curious Cat Cube. Here we have a cushioned bed topper which has stuffed bolsters which are ideal for a bit of elevated lounging or sleeping.
Again the lounger material is a lovely soft faux sheepskin in brown. And it is washable.
Play and Activity Area
If your cat loves to play then the curious cat will allow him or her to do just that. The sides of the main cube have cut out holes in them. So your cat can lie inside the cube and play peekaboo or paw at other cats through the holes. And your other cats can reciprocate by pawing through the cut outs at your cat inside the box.
There are also hanging plush toys with jingle bells which hang from the outside of the box. So if you have cats kittens that love to bat at balls then this is perfect fun for them.
Pros
Smart looking design
Strong and sturdy construction which comes with a manufacturers warranty
Offer cats two sleeping areas plus a play area
The beds are removable and washable
Can be collapsed down for easy storage – collapses to around 4 inches in height
Cons
Whilst the box is a decent size which a nice wide opening I would like a larger box to be available as well.
In Conclusion
This is a great looking bed which will make you want to throw away those old cardboard boxes. Assembly is very quick and being able to fold the box down when not in use is a very useful idea. Sometimes cat beds can take up a lot of space and you cannot store them but this is not the case with this bed.
I do also like that it is not just a hideaway like an igloo, but instead, it also allows my cat to lounge about on the top of the box if she wants.
Now, I thought that the initial price of this cat condo was a lot more than the actual cost. It is actually a really good price for the quality of the product.
If you want to check the price of the Curious Cat Cube then have a look here on Amazon where it is a best seller product.