I will start by saying that I love modern cat furniture. The days of boring plain cat trees covered in carpet are past and nowadays manufacturers are becoming more creative in their designs. The modular cat tree by Katris is definitely cool looking and fun as well as being great for cats which is very important.
This Katris tree is basically tetris for cats. Just look at the photos and tell me that that is not the first thought that comes to mind.  This cat tree is a set of blocks that you can fit together however you want to make different designs.
[columns_row width="half"]
[column]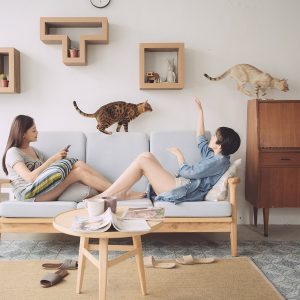 [/column]
[column]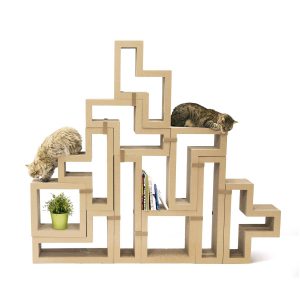 [/column]
[/columns_row]
You do not even have to place all the blocks together to form one tree. In fact you can set them up as two or three different shapes. You can even fit some to the wall. And you do not have to make the tree 2 dimensional. If you place the blocks in different configurations you can make a 3 dimensional tree. You can basically let your imagination run wild.
Not only that, but this piece of furniture is not only for your cats. You can place books or other items inside the blocks. Just be aware though that if you place breakable items in the block your cat might just think they look better on the floor.
Whats in the Box
You can buy the Katris modular blocks either as a set of five blocks or as individual blocks. Buying the individual blocks means that you only buy the ones that you want. So if you want a square shaped block to hang on the wall then just buy that item.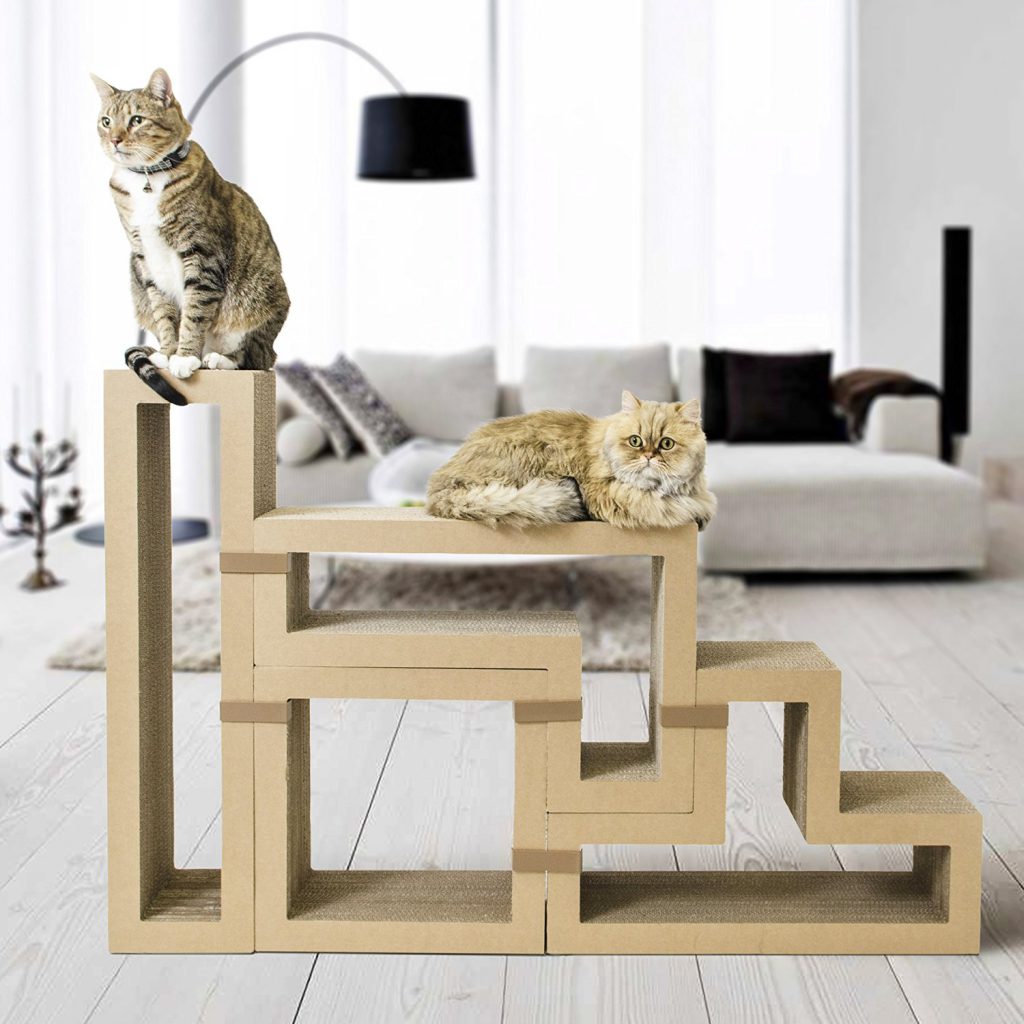 The sets though are a well designed mix of different blocks. You get five completely different shapes – from squares, L-shapes, T-Shapes and the tetris S. All of which fit together.
You also get 10 clips to hold the blocks together, 5 bags of catnip, 5 matching covers in your selected color and 10 cat toys.
The Katris modular cat tree also comes in a variety of different colours:
Black
White
Original Kraft
Maple
Multi-color
Teak
And you can mix and match your sets. Buy a black set and a white set and make a large black and white cat tree. Or convert part of the tree to a bookcase. This cat tree is definitely only limited by your imagination.
What Are the Parts Made From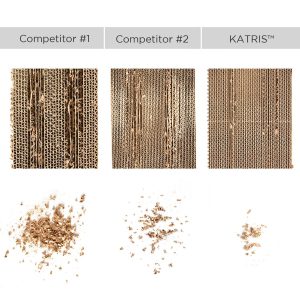 The material the blocks are made from is 100% recyclable cardboard. But this is not like a flimsy cardboard box – it is designed to hold up to 300 lbs in weight. So will be able to take books and even the largest and fattest cat.
The cardboard is also non-toxic and designed to be scratched. All the blocks are different sizes and dimensions but they each weigh between 8-9 pounds.
The sizing ranges from 16 inches by 8 by 16 inches to 24 x 8 x 16 inches to 32 x 8 x 8 inches depending on the actual block shape.
Examples of Use
For You:
Bookshelf
Coffee Table
Shoe Rack
Organising Shelf
For Your Cat:
Lounger
Cat Tree
Scratching Post
Wall tree
Play Area
Pros
Extremely versatile
Looks very cool and modern
Holds up to 300lbs
Easy to clean
Good variety of colors
Can buy individual blocks to mix and match
Cons
Can be a little expensive for a set
Would prefer the blocks to be a little wider (they are usually 8 inches)
Overall this is a very versatile and great looking product. And you can fit it into any area of your house.
The Katris Modular Cat tree is currently available on Amazon.