If you have tried out standard cat scratching posts and found that your cat pulled them over then have a look at the Mondo Cat Scratching Post. This incredibly high scratching post, made by Purrfect Posts, is probably currently the king of all scratching posts.
A good scratching post is going to save your furniture and your curtains. As well as giving your cat a great way of stretching its' muscles. But, if you have a cheap low scratching post you have a couple of problems…
First, as standard scratching posts are only 24 inches in height your cat cannot get a full body stretch.
Secondly, how many times has your cat grabbed the top of the post and then pulled it over?
My cat, Dyson, is a largish ragdoll who used to pull over standard sized scratching posts. It is amazing how a cat can look at you with complete disgust as if to say 'I was scratching where you wanted me to and look what happened'. One thing I had to watch was that she would not then use my wallpaper as a scratching area as she could then stretch out full length.
So What about the Mondo Cat Scratching Post
Well the Mondo scratching post was designed by a veterinarian who in her own words said,
"I started making Purrfect Posts in response to the multitude of requests I received from people asking me where to find the right scratching post for their cats.

Most posts are made without consideration for why cats scratch and how to provide for those needs. They are made out of the wrong materials and are too short and too unstable. Cats don't want to scratch short, fluffy, wobbly things. They want a strong, rough, and sturdy scratching post. Just like a tree!"
Scratching posts really need to meet three criteria: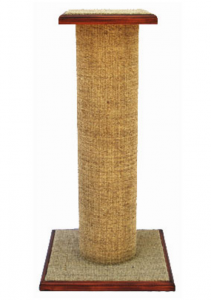 Height – Cats like to stretch full length which will pull the muscles in the back and shoulders. In the wild cats will use trees as their scratching posts. So a good commercial scratching post needs to be tall enough for large cats to stretch full length.
Sturdiness – When a cat scratches in the wild against a tree, it will not wobble or fall over. Therefore, your cat would like the same thing indoors. If your cat stretches full length and keeps pulling their scratch post over they are going to stop using it.
Material – Again in the wild cats will scratch at bark which allows them to clean the old husks from their claws. The Mondo Cat Scratching post uses a sisal fabric which allows a smooth scratching motion rather than their claws catching on fiber.
How does the Mondo Differ from a Standard Cat Scratching Post?
Well, as I said above cat scratching posts are usually around 24 inches in height. The Mondo scratching post is a massive 39 inches – over 3 foot – in height.
Your standard scratching post is also a narrow pole with a less than sturdy base. Meaning that when kitty is in a full-on scratching session they can pull the pole over – or it moves across the floor. The Mondo scratching post is actually 19.5 inches across the base. Furthermore, the post has anti-tip weight distribution inside it to stop it from tipping over. So more safety for kitty.
Standard posts are also usually wrapped in a sisal rope. Whilst sisal is great for scratching, over time you find that the rope begins to detach itself and unravel from the post. Also because the rope is wrapped around the post, your cat will not have a smooth scratch as their claws catch in the next piece of rope.
With the Mondo Cat Scratching post, the post itself is covered in a sisal fabric – so it makes a smooth scratching surface so no catching on bits of rope. Also if part of the post wears more than other parts the post can be rotated.
Features and Sizes
| | |
| --- | --- |
| Height | 39 inches |
| Base Dimension | 19.5 inches square |
| Top Platform Dimension | 13 inches square |
| Post Diameter | 9 inches |
| Post Circumference | 29 inches round |
| Total Weight | 30 pounds |
Purrfect Posts are all individually hand-made in the USA
Developed by a veterinarian
Extra tall post for scratching
Thick base for extra stability
Post is reversible to extend the life of the Mondo
Scratching material is made from sisal fabric
Has a wooden finish in either Dark or Light wood.
Furthermore, the top of the Mondo Cat Scratching post has been made into a flat area so your cat can sit on it.  This top platform comes in a few variants: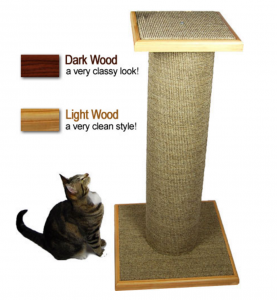 A Dark or light wood finish which matches the color of the rest of the scratcher. This platform is also covered in more of the sisal fabric so that your cat can sit and scratch.
A leopard colored fabric with either the dark or light wooden finishes. This costs an extra $10.
A cappuccino or leopard colored top round bed. This is a plush bed that can be used for perching or sleeping. This costs an extra $30.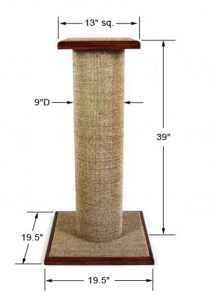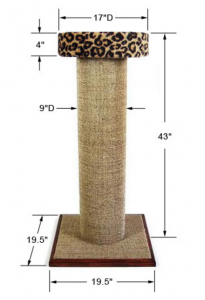 So how Did It Do In the Kitty test
Well I couldn't believe how big this thing actually was – it is massive. Even though Dyson is a large ragdoll she was dwarfed by this.
Immediately she went up to it and started giving it the good scratch test. Then all of a sudden she realised that she could climb it as well. I might have breathed a sigh of relief as she used to love to climb curtains.
The sisal fabric also seems to be very good. It does not seem to fray like the sisal rope did. After reading some cat forums where other large cat owners were using one of these, many of them say that it is still in perfect condition after months of use.
I had the perfect place to put this scratching post as well. My cat loves the window in my workroom – however, it is quite high and she does not like to jump straight up. She was using a suitcase that I had left in front of the window to jump from. However, the window sill is not very wide and she can't lie down up there even though she loves watching the birds from that vantage point.
I was going to put a cat tree there for her to use as a sleeping and bird viewing platform. But as it doubles as my workroom there was not much space. The Mondo Cat Scratching post though is perfect for this area especially with the bed on top of it. It takes up less floor space than a cat tree and yet it is tall enough for her to reach the window. Win win.
You can watch a video from the manufacturer here and see how well the post does.
Conclusion
Pros
Very strong and sturdy
Hand-made in the USA (everyone loves handmade)
The sisal fabric works well
Looks good – has a very classy feel to it
Very well made
Cons
Quite large for a small apartment
Overall this is a big paws up. It is definitely a pawsome scratching post. Quality scratching posts will be slightly more expensive than those you find in the local petstore but are much better made. We usually need to change our normal scratching posts every 6 months to a year as they start to fray and the rope unwinds. The Mondo scratchin post however, is going to last much longer.