Now the world's best cat perch is a pretty impressive claim but it is one that the original Kitty Cot claims to make. If you do not have room for a floor standing cat perch near a window or even a wide window sill then this window perch will let your cat watch the world go by.
Unlike most cat perches, the Kitty Cot attaches to the window using giant suction cups. However, I was still rather sceptical. After all, this hammock was going to hang from my windows by just suction cups and it needed to hold the full weight of a cat.
What Is the Kitty Cot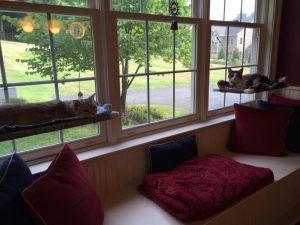 If you have never heard of the Kitty Cot before then let me explain further what it is. This is a hanging window bed. It affixes to your window with the giant suction cups mentioned above. And when I say giant suction cups I really do mean giant! These suction cups are actually 14 inches in diameter and are patented in the USA.
Two of the cups then have 1/8 inch stainless steel cables attached to one end. While the other end holds the cot. Plus you also have two more suction cups on the hammock part itself. So in total you have 4 large suction cups holding up the kitty cot.
The actual cot is made from super strong 3/4 inch PVC pipe and fittings for support. While the actual sleeping and perching area is made from a rugged fabric that can also be used outdoors. This is a tough weather resistant fabric that is easily cleaned. To wash the kitty cot, you just need to take it down from the window and you can wipe over the PVC and wash the hammock fabric with soap and water.
Indoors or Outdoors?
You don't need any extra tools to install this cat bed. And it can be placed on any window in your house and at any height. Though the manufacturer does recommend placing the Kitty Cot on double paned windows. It can even be fitted onto any outside windows as well especially since the fabric is water resistant. Therefore, your cat can enjoy the outdoors while you can keep an eye on your kitties whilst they are outside.
Indoors you can place this bed on any window that gives your cat a great view of the outdoors. So, if you have bird feeders outside your window then your cat will get a great view – and it will keep the birds safe from your cat.
Does It Do What It Says?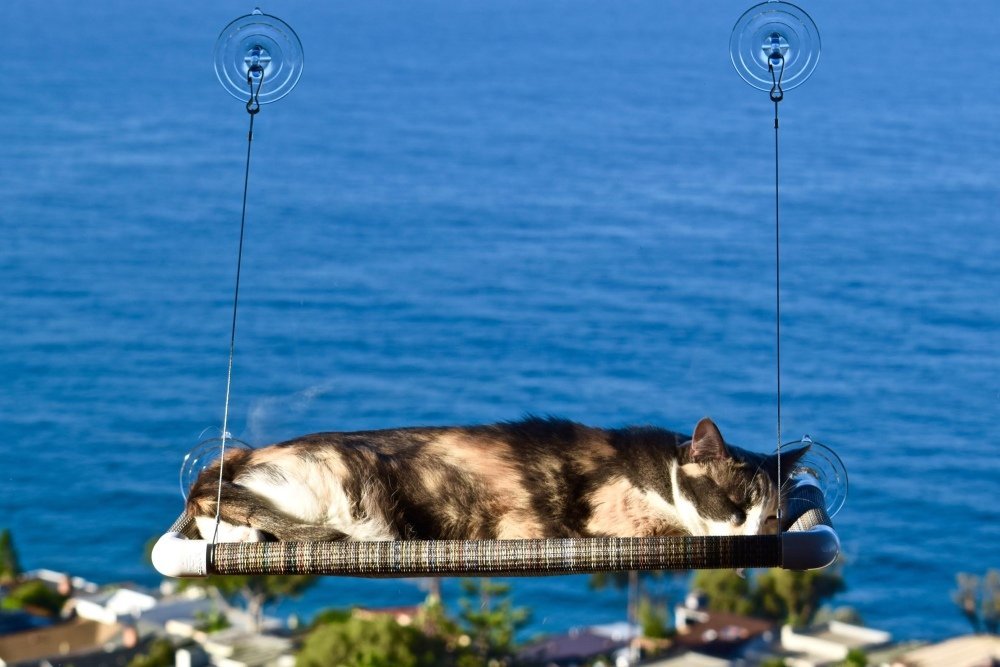 I really was sceptical. After all, I have used suction cups on other items in the past and they have never seemed strong enough. So I was really surprised at how big these suction cups actually were. And therefore they really do grip your windows. Accordingly, a cat (or cats) up to 25 pounds in weight can use the kitty cot. Now my cats are not that heavy but it handled a 15-pound ragdoll cat without any issues.
Putting it up was really easy. I have full-length floor to ceiling windows and placed it about three foot off the floor. But you really do need to fit it to windows that are at least 26 inches wide. Size wise the kitty cot itself measures 26 inches in length.
My cats were actually really intrigued with it and quickly jumped up to view the outside world. I think they actually liked lounging and sleeping in the sun.
I did though place a fluffier fleece cushion into the kitty cot for more comfort. My cats like their comfort.
Added Tips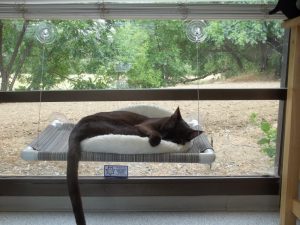 Before affixing the suction cups it is a good idea to give the window panes a clean. This will remove any grease that would stop the cups gripping onto your windows.
Also, make sure that you place the kitty cot level. It is a good idea to maybe use a spirit level to made sure it is horizontal. The reason for this is that if you make the bed sloped then the weight of your cat will produce more force on one set of the suction cups. This could then lead to the cups failing to grip.
Check the cups every day as well to make sure that they are still gripping. If they come off then reclean the windows before re-affixing.
Conclusion
Even though I was initially sceptical that the Kitty Cot was strong enough to fix to my windows. I was soon proved wrong. It really does work very well. Better still though cats really do seem to like it. For indoor cats this can give them a good bit of enrichment.
If you also have limited floor space for floor standing cat perches and cat trees then the Kitty Cot will solve this problem. By keeping it off the floor you keep your floor area tidy. And as this is made from weatherproof fabric and pvc it is very easy and hygienic to keep clean.
We'd actually give the Kitty Cot a big paws up!