Those pawsome people at Charley and Billie have just extended their awesome range of cat scratching posts. We've previously spoken about Charley and Billie as we love their use of natural materials such as wood and stone in their cardboard scratching posts. Well, they have now taken their love of natural material and extended out to include some gorgeous original sisal cat scratching posts.
They have come up with a unique and modern looking cat scratching post which will look smart in any home. And what makes these posts unique is that you can quickly and easily replace the actual sisal. This means that replacement costs are much cheaper than replacing the entire post. Plus, it puts an end to scruffy and untidy looking sisal scratching posts. So if your cat prefers a sisal post rather than cardboard then have a further look.
The Original Sisal Cat Scratching Posts Range
As per their cardboard scratchers, Charley and Billie have actually brought out a varied range of their new scratching post. Not only is there a range of smart materials for your post. But, you can also get tall posts, fatter posts or even a horizontal post. Therefore, you can pick the post your cat will love the most. And you can pick the scratcher in the material you prefer.
Each post has a solid wood top and base plate. It then has an 8mm Portuguese sisal rope wrapped around the main trunk. Finally, each post is mounted on a solid stone slab for extra stability and a threaded rod keeps all parts of the scratching post together. And don't worry there is no chance of the stone scratching your floors as the post also has four rubber feet for protection.
Two natural wooden materials are available. That is a sustainable sourced solid oak and a very smart looking dark walnut. The stone is also locally sourced and comes either polished or as a more natural rustic pitted look. It is your choice which to have.
Sizes
It is always important to get a post that your cat will enjoy using. Quite often cats love to stretch full length when scratching or they like to grab around the scratching post. Your cat might even like using both types of post.
The Original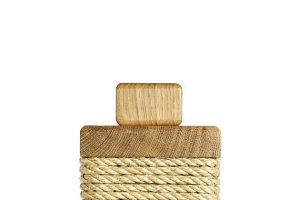 Charley and Billie's Original post is available in both oak and the walnut finishes. And because of the very sturdy stone base you do not need a large base. So this scratching post has all the stability but does not take up so much room in your house. The approximate measurements of the original post are as follows:
* Length: 30cm (11.8″)
* Width: 30cm (11.8″)
* Height: 75cm (29.5″)
* Mass: 16kg (35.3lbs)
The Tall
Streamlined for a smaller footprint, the tall cat scratching post comes in the dark walnut and oak wood finishes. Again you can also choose between a polished stone or the more rustic look. If you have a long or large cat then they may like the extra stretching room with this scratching post – approximate measurements are…
* Length: 30cm (11.8″)
* Width: 30cm (11.8″)
* Height: 100cm (29.5″)
* Mass: 18kg (39.7lbs)
Cuboid
The Cuboid cat scratching post is a very thick sisal pole. Perfect for those cats that love to hug their scratching posts. The cuboid only comes in the oak wood finish and again has a solid stone base. Its measurements are…
* Length: 22.2cm (8.7″)
* Width: 22.2cm (8.7″)
* Height: 75cm (29.5″)
* Mass: 14kg (30.9lbs)
Horizontal Cuboid
The horizontal cuboid has been designed for those cats that like to scratch on the ground in mind. Some cats prefer stretching out along the ground to do their scratching rather than on vertical scratching posts. Therefore this scratching post could be great for those cats, plus the design looks great in your house. Whilst the horizontal cuboid comes in both oak and dark walnut this version of the Charley and Billie doesn't contain any stone. However, its measurements are…
* Length (oak nut to oak nut): 90cm (35.4″)
* Width: 22.2cm (8.7″)
* Height: 22.2cm (8.7″)
* Mass: 10kg (22lbs)
Approximate measurements:
* Length: 30cm (11.8″)
* Width: 30cm (11.8″)
* Height: 75cm (29.5″)
* Mass: 16kg (35.3lbs)
Why I like the Charley And Billie Scratching Posts
I really like the great design but there are a number of reasons I think that these Charley and Billie sisal cat scratching posts are a great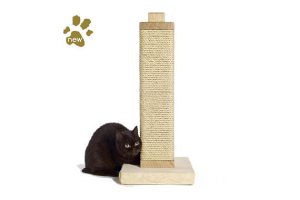 buy…
Handmade from sustainable materials. With everyone becoming more aware of how we affect the planet, usage of sustainable materials is very important. Charley and Billie use completely sustainable wood and stone (and sisal) for these handmade scratching posts. And as they are handmade from natural materials then no two posts are exactly alike.
Re-usability. If your cat wears out one area on the scratching post, then it is simple to reverse the post to spread the wear. This gives you double the usage time for this sisal post. Also because the post is placed onto a thread between wooden sections then it is very simple to replace the entire pole section. This means that you don't have to go to the expense of buying a new scratching post. Charley and Billie manufacture the sisal rope section so you can slot this into your current cat scratching post. And if you want to do it yourself then you can wrap your own sisal around the post. Even better if you want to try out a cardboard scratching post you can actually use the Charley and Billie cardboard refills on the sisal scratching post and vice versa!
Different Looks Available. The posts come in two wood finishes, plus you can have a polished or rustic stone. You can also have different sizes and shapes of scratching post dependent on what your cat prefers to scratch.
Stable. Because of the stone base, this is a very stable scratching post with just a small base area. Therefore it takes up less space in your room. And more importantly, your cat will not pull it over.
Quality Made. These posts are all handmade and the quality is fantastic.
Replacement sisal available. Charley and Billie have made sure that you can easily replace a worn out scratching pole without buying a completely new unit.
Oh, and did I mention that the company is actually named after the owner's British short hair cats. Now, how cute is that?