No-one likes losing a pet, but at some stage, this is something that we all have to go through. I have had cats and dogs since I was a small child so I have lost a few but we remember each of them especially their individual quirks and mannerisms. We recently spoke about Budsies and Petsies memorial plushies, but not everyone wants a plush animal in the likeness of their cat or dog but instead would like something more subtle that they can keep with them at all times. As I was again browsing Etsy recently (been trying to find lots of bits and pieces for my photo studio), and as I get easily sidetracked I came across some beautiful pet memorial jewelry by Sea Ranch Jewelry.
Now I know that when I lost my last cat (Cobie who had been my companion for almost 20 years – and who used to talk to me and jump into my arms when I got home), I received her ashes back from the vets and I had absolutely no idea what to do with them. I don't have a garden to bury them in and I honestly could not see myself keeping an urn in the apartment. Instead, she was buried in my mothers garden under a very nice tree. Now I have lots of photographs of Cobie still but most are old digitals (20 years ago when she was a kitten digital photography was still a little in its infancy) and I do wish I had other items.
One of the things I do find quite often with memorial items is that they can look a little tacky and this is why I rarely get a memorial item. However, these memorial pieces of jewelry from Sea Ranch jewelry are nowhere near being tacky and cheap looking. In fact, each piece is custom made to order by Sea Ranch Jewelry who is based in Maine. And even though each piece is custom made their prices are incredibly reasonable for a piece of jewelry that is both a tribute to a loved one and a piece of art.
The Memorial Jewelry Pieces
There is a definite tribal or boho chic edge to each of these pieces of jewelry. You also have a choice of a variety of bracelet styles and a pendant style for your memorial piece.
BUT, whilst these pieces are designed to house some ashes of your beloved pet, the artist is also able to use fur to create a bespoke piece whilst your pet is still alive. This I really wish I had found before losing Cobie as she had the most gorgeous calico coat and I would love a piece of jewelry that represented all those gorgeous colors. A recent customer of Sea Ranch Jewelry actually stated that they sent a bag of fur to the artist together with a photo of their cat and the artist then used a mix of the fur colors in the jewelry tube to create a beautiful piece. The owner was even sent a photo prior to the item being sent to check that they like it – now that is great customer service.
To get a memorial piece you just need to send around one tablespoon of ash to the artist (or as in the case above just some fur). And your jewelry piece will the ship back to you in about a week after the ashes are received together with any ash that is left.
Examples of Memorial Jewelry Pieces
Sea Ranch Jewelry currently provide five different looks for their memorial jewelry – four of which are bracelets and one is a lovely pendant. My favorite looking pieces from the collection are the following:
Leather Cremains Bracelet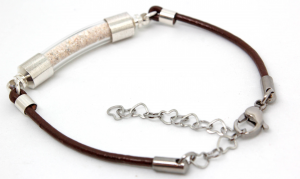 This is a very simple yet elegant memorial bracelet. It also would make a very lovely gift for a friend or family member who has recently lost a pet (or as we saw earlier you don't actually have to have lost your pet as you can use fur inside the bracelet).
This bracelet has a curved glass tube which can be filled with ashes (or fur) which has silver plated end caps. The rest of the bracelet strap is made from a 2mm leather cord which you can specify the color of your choice. And with about 25 different colors of leather cord available, you should be able to find something for any taste. The bracelet is also adjustable for sizes 6 to 8 inches and has a lobster clasp so will be safe and secure.
Turquoise Gemstone Cremains Memorial Bracelet
I love the look of turquoise and silver with turquoise is always a classic combination. This bracelet mixes industrial with an earth vibe and is perfect for both women and men. Each bracelet has genuine turquoise rondelle beads strung on black leather. Each bead measures around 6 by 10mm in size.
Again this bracelet contains a glass tube which can be filled with ashes or fur and is finished with silver plated end caps. The clasp is a nickel free alloy lobster clasp with a 2-inch hearts extender chain. This means that this bracelet can fit a range of wrist sizes from 6 to 8 inches in diameter. This is a very smart and classy gift for anyone or for yourself.
Memorial Ashes Cremains Necklace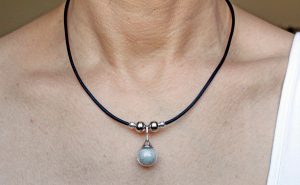 If you prefer to have a necklace than a bracelet then this is a simple yet elegant pet memorial pendant. This has a 14mm round blown glass globe as the focal point of this pendant. And this globe can be filled with the ashes or fur of your beloved pet. There is a hefty 925 silver teardrop bail connecting the pendant globe to the actual necklace and the drop of the pendant is around 1 inch.
The necklace is finished off with silver plated beads on a choice of either 15-inch silver plated snake chain or a 16-inch genuine leather 2mm thick cord. If you choose the leather option then this comes in a variety of colors. There are over 20 different color leather cords available. Finally, we have a stainless steel lobster clasps with a 2-inch extender chain made with heart-shaped rings. This allows you to extend the necklace to a maximum of 18 inches for the leather cord necklaces or 17 inches for the silver chain.
As per the bracelets, this pendant is custom made to order.
Sea Ranch Jewelry sell their unique range of cremains memorial pet bracelets and pendants from their Etsy store. Click the button below to take a look at the other items they also have available.