Product – Pioneer Pet Stainless Steel Fountain Raindrop Design
Capacity –  60 oz (1.77 litres)
Price – $36.99 from Amazon at time of reviewing
I am about to get another kitten so wanted a second water fountain as my cats could be separated if needed. I have used plastic water fountains in the past but decided I wanted something that looked a little more stylish. Hence, I tried out the Pioneer Pet Stainless Steel Fountain Raindrop Design.
Whilst the name of this fountain is a mouthful, it is actually a sleek and compact design. The stainless steel does look a lot smarter than the plastic versions. BUT, does it work as expected? Whilst I like nice design the fountain's principle function is to encourage cats to regularly drink and supply them with clean fresh water.
What's in the Box.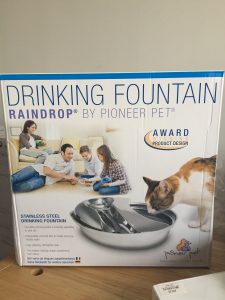 Well, the water fountain arrived on the hottest day of the year and Dyson was not happy with the heat. I already had a water fountain running but decided to set this one up also to encourage her to keep hydrated. Whilst it was bought for the new kitten's arrival I may as well use it before they arrive.
Inside the box we had two stainless steel pieces, a charcoal filter, a shell shaped plastic housing and a pump. Oh yes it also came with instructions on how to put together which I admit were not well written.
Putting it all together
With the instructions in hand and feeling the heat I started to put the water fountain together. First thing, the pump fits into the plastic clamshell. However, the instructions did not say which way round the pump fitted. I did finally get it correct as the pumps output needs to line up with the hole in the clamshell. I put not thinking about this initially down to the heat (it was a very hot day).
Then the filter fits into the clamshell – this is much simpler to work out which way around this goes as the filter is a V-shape and so went into the pointier end of the shell. Then you close up the shell (so that it does look like a clam). This did need a little bit of force as I could not get it to close initially – again I put my lack of patience down to the heat.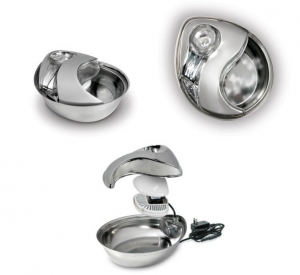 The shell shaped housing has little plastic feet so these are then placed into the stainless steel base. There is a triangular shaped marking on the base as to where to the shell fits.
Then place on the top stainless steel part. Note there is no clipping here as this piece just lies onto the base. You do however need to line the spout from the clamshell up with the hole on the top stainless steel part. If you do not then the water does not flow correctly and the fountain makes a bit of noise.
Once it is together..
You now fill the base with water (to about half an inch from the top), before plugging in the pump to the mains. After about two minutes water should flow.
In my case it did not, meaning that I had to get back into the pump housing to turn up the water flow. The pump should be set onto the second flow rate. But, while there is a slider on the pump it does not say which way the highest rate is until you actually switch on the unit.
So I now got a bit wet whilst trying to re-open the pump casing and then sliding the flow up. After putting back together again, water then started flowing. Note that the pump must be switched off from the mains before doing this.
The Sound of a Babbling Brook
I am used to a very quiet water fountain and there is a humming sound from the Pioneer Raindrop fountain's pump. It is not loud though, just a gentle hum.
Water bubbles out of the top hole and cascades down the channel and into the base unit. You can hear this but it does sound like a lightly babbling brook. The sound of running water, though, is therapeutic so this did not worry my.
Catability
So did Dyson use this? Well yes she did. She is used to a water fountain so the increased sound level on this one did not bother her. It might take some encouragement for a cat that has never used a water fountain before though. The water does flow quite quickly and a cat used to a static bowl but wonder about it.
The nice thing about this fountain is that there are three good places that a cat can drink from. Firstly, they can drink from the top spout where the water bubbles out – Dyson's favorite spot. They can drink from the moving channel which is good for cats that like flowing water. Or they can drink from the base bowl which is good for cats that like more static water.
Maintenance
Having a water fountain does mean that they need regular cleaning. If this is not done they get noisier and it can mean that the pump does burn out quicker. You can by the way get replaceable pumps for these units.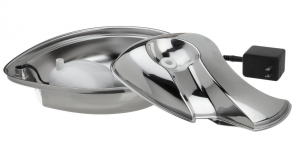 This fountain does need topping up with water every day. The water should be about half an inch from the top of the base. Unlike a lot of other fountains, the Pioneer Raindrop fountain does not have a maximum and minimum water marker which is a bit annoying. Therefore, it has to be regularly topped up as otherwise it gets noisy.
I am a bit unused to topping up the fountain each day as other fountains I have had have a minimum water level on them and it can sometimes take a few days to reach this level.
Once a week the unit should be given a clean. This is quite simple and just entails washing out the top and bottom stainless steel parts. These are also dishwasher safe. You also run the filter under the tap and wash the plastic clamshell.
It is advised to change the filter once a month. I am often bad at this though and usually change them every 6-8 weeks. Filters though do get gunked up with cat hair and dirt so keeping this regularly washed does keep this running reliably. Again a gunked up filter will make the unit run noisily.
Also about once a month give the pump a clean. I usually use a toothbrush for this (an old, unused toothbrush I hasten to add). Scrubbing over the filter with a toothbrush removes any gunk or any scale build up. This gives your pump a longer life.
Specifications
Stainless Steel
Dimensions -4 ¼"H x 9 ¾"W x 11 ¾" L
Capacity – 60 oz (1.77l)
Weight – 1.7 lbs
Patent pending design holds filter and pump
Water flow washes the bowl for maximum cleanliness
Safe, low voltage UL listed power system
6 foot long power cord
Replaceable charcoal filter for clean water
Pros
Smart stainless steel design
Keeps water clean and circulating
Multiple drinking spots
Easy to clean
Replaceable pump
Stainless steel does not allow bacteria and algae build up
Bubbling noise from the water can be relaxing
Pump has an adjustable flow
Cons
No maximum or minimum water level
Does need to be topped up each day and not doing so will make the unit noisy
Has to be taken apart once a month which is fiddly
Pump does make a humming noise which can be a little strange if unused to it.
Can get noisy if pump or filter is dirty or water level too low.
Conclusion
For a stainless steel fountain, the Pioneer Pet Stainless Steel Fountain in raindrop design is not expensive. In fact it is cheaper than some other plastic drinking fountains.
Stainless steel fountains are good as they stop the build up of bacteria and algae which can occur with a plastic fountain. Also a plastic fountain can allow cats to get a cat acne on their chin if they are prone to this. A stainless steel fountain will stop this from occurring.
Whilst this was easy to put together some parts were a little fiddly, Namely snapping together the halves of the clamshell. Also the instructions could be better written. Again, whilst the pump has an adjustable flow this does need to be marked clearly on the pump itself.
This water fountain does have a clean, elegant design and looks nice. It also holds a decent amount of water (about average for a water fountain). However, I really would like a maximum and minimum water level marker so that I know not to go below a certain level. Being told to keep water level about half and inch from the top does mean regularly needing to top this up.
Overall this gets a paws up. It does what it says on the tin and keeps water fresh and moving which encourages cats to drink.
To get the Pioneer Stainless Steel Fountain Raindrop design – Go Here.