We love the people at Purrfect Post. And we have in the past recommended their pretty fantastic Mondo Cat Scratching Post. And they also supply other scratching posts as well in a range of great sisal and fur covering colors. Well they have now brought out some extra colors for their range called Sophisticat.
Apart from Purrfect Posts being fantastic cat scratchers, they are also very smart in appearance. Usually your scratching post gets frayed, bits of sisal all over the floors and there is no space for your cat to sit on the post. More importantly standard scratchers are just not tall enough to get a full body stretch. And cats love to stretch. With the Purrfect posts they are designed to meet all your cats needs whilst also looking great in your home.
Sophisticat
The new sophisticat color is available throughout their cat scratching post range. This is a new sisal color that resembles a green/brown color. Now that might sound as if it would be muddy looking. But actually depending on your other color schemes it can look either green or brown. You can also combine it with the light or dark wooden trim to give it a different look.
In a brighter light and with a light wood stain to your scratching post then Sophisticat appears greener. When you have a dark wood stain and warmer lighting it appears a brown color.
New Carpet Options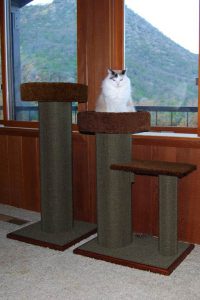 Purrfect Post has always offered a range of mix and matching for your scratching post. You choose the trim color, then the sisal color (now that we have the new Sophisicat option). Then if your post has a bed option you can also choose the carpet color for the bed. Therefore, your post will match any of your decor.
The carpet colors were:
Leopard – a luxurious animal print
Cappuccino – A light milky coffee look.
Now they have added an extra color to the range with a deep brown carpet color. This carpet is the same tone as the Sophisticat sisal but does not contain any shades of green.
Take a look at our original Mondo review and see if you can mix and match to find your Purrfect Post.