There are some beautiful looking pieces of cat furniture being created by Sauder currently. This Sauder Natural Sphere Cat Tower being just one of a range of cool and modern looking designs that will look great in any home. This sphere shaped cat tree is a great looking sleeping area for any feline.
Sauder Natural Sphere Cat Tree
This is a really smart piece of cat furniture and I really do like the look of it. First of all, you (or your cat) gets a natural banana wicker sphere which has two access points – one hole is at the front whilst the other is on the top of the sphere. This sphere is then raised up off the floor by three legs making the tower stand at about 44 inches high.
I do like the look of this piece of cat furniture as it looks very modern with the tripod legs and beautifully crafted sphere. But more importantly, the sphere contains a very comfy and washable bed cushion which makes a cosy little home for your cat.
Your cat will also enjoy the Sauder Natural Sphere cat tower as they get a few places to sit and they can also hide out in the top sphere whilst they watch the world go by. Put it in front of a window and they will also get a great view of the outside world. But they can also hang out on the bottom platform which is covered with a rug. This is a great platform to just stretch out but remain off the floor. From this platform, they can also bat at the dangling toy which hangs from the top sphere.
There is also a scratching area as one leg is covered with sisal rope.
Why I Think You Will Love This Cat Tower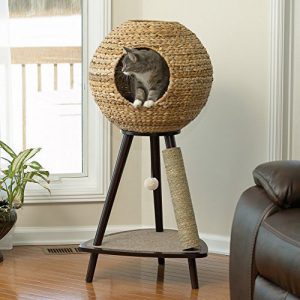 From a design point of view, this sphere shaped cat tower looks great. I think you will love the natural banana wicker sphere and the tripod design is interesting and innovative. Personally, I also like that the legs are a stained espresso colored wood. It is also very stable. Whilst it does arrive at your home with the legs and lower platform unassembled it is very easy to put together and comes with all the tools and screws that you need.
With cat furniture and beds I feel that you also need a product that is hygienic and also keeps looking good for months on end. As the bed cushion is removable and washable this helps keep the sphere clean. And as the cat tower is so well made it really does remain smart for a few years. This is a quality, not a cheap, product. I do find though that paying a bit extra for a quality cat tree or cat bed means that the item lasts a lot longer than a cheaper product.
It is also interesting for your cat as they have two ways of entering the cat sphere – from the top and also from the front.
What Could Be Better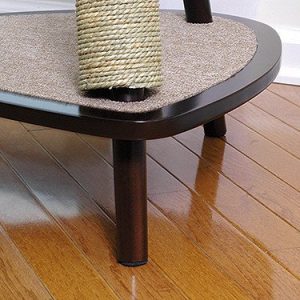 Maybe I am being overly picky. However, the sphere might be a little high up for an older cat and therefore you might need to make it easier for your cat to jump into this sleeping area. For example, you could place the cat tower near to a sofa so that your cat could climb in via the sofa arm. The top entrance to the sphere might also be a little too high for your cat to jump down from.
However, you could then turn this into a bit of a cat adventure playground by placing the sphere near to a wall and having a wall shelf so that your cat step out onto from the top entrance. You could then have a set of wall steps for your cat to have a way down to the ground (they could also use this as a way back up into the sphere). Have a look at something like the CatastrophiCreations Cat maze and you can design a great area for your cats to enjoy by integrating a set of innovative cat products.
The Sauder Cat Sphere is also on the expensive side. But it is a quality product which will last for years.
The Sauder Natural Cat Sphere Tower is available from Amazon.