This is such a cute cat night light which is perfect for kiddies rooms. Actually, who am I kidding, I really want this for my room as it is so adorable.
This night light is perfect for kids rooms as you can charge up the light using the USB cable provided and then remove from the electricity outlet and place anywhere in your home. Once unplugged from an electricity outlet, this cat night light then has around 12 hours of usage. So highly useful to pop into a childs room – and you can feel safe that they are not going to pull any cables.
This kitty night light is approximately 6 inches tall and is made from a very soft silicone. It has three light modes:
a white light
single color mode using one of 7 different colors
7 color breathing mode where the light cycles between all 7 colors

Simple to Use
To use the cat night light you just charge up the light using the included USB cable. Then press the main power button on the base of the cat to turn on. This immediately places the night light into the white color mode.
You can then tap the kitty to change between the three light modes. Turning it off just means pressing the button again on the base. The light also has a working life of around 50000 hours so this will last a long time.
Three Cute Kitty Looks
This cat light also comes in three different cat faces. To be honest my hardest choice was choosing which cat face I liked the best. Which one do you like the most and can you guess which one is my favorite? (answers under the pictures below)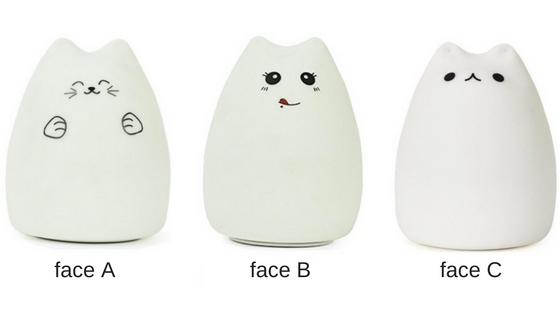 My favorite was the first one with the cat with the scrunched up eyes (face A). He looked so happy.
Conclusion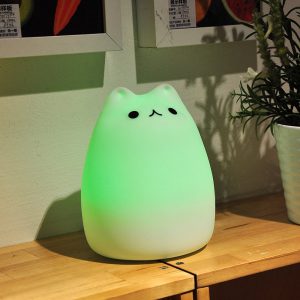 This is a really nice light and very very cute. It is soft to touch and simple to use. The light itself, especially in white mode, is very soft and is perfectly fine for reading to. I actually like this as when I get up in the middle of the night I don't usually like to put on all the main lights in the house. After all they are very bright when you have been to sleep for a few hours.
In this case I can just switch this on and it gives enough glow for me to see where I am walking. I do also like to read at 3 or 4 in the morning sometimes so the light emitted is great for that.
I also liked that this night light did not need to be plugged into an electrical socket at night. As I have a curious kitten at the moment – any electrical cables are covered and kept out of her way. Therefore, as there is no electrical cable needed for this at night I do not have to worry that she is trying to chew a cable whilst I am asleep.