The SmartCat Ultimate Scratching Post by Pioneer Pet is currently the number one best seller scratching post on Amazon. And it is easy to see why.
It towers over other scratching posts by a good few inches allowing your cat to get one of the best scratching experiences. And it saves your furniture into the bargain.
What I look for in a scratching post
Well, the main desire is a good surface for your cat to scratch their claws on. If they are using a scratching post then they are not using your walls, doors or furniture. But what else is important?
Most cats like to stretch out full length in order to scratch. This is so they can use their back and shoulder muscles. Almost like you do when you get out of bed and have a full stretch in the morning.
However, a lot of actual scratching posts are not very tall. The cheaper ones on the market are usually only a couple of feet high – and a fully stretched out cat is taller than this. Also with cheaper posts, they are not completely stable. So when your cat stretches they pull the post over. How many times has your cat pulled over their small scratching post and then refused to use it?
How the Smartcat Ultimate Scratching Post is different.
First up this scratcher is 32 inches in height so will allow a full stretch. Even a longer cat like my Ragdoll can get a full stretch going.
Secondly, the base is 16 inches by 16 inches so a good size. This is sturdy and keeps the post from tipping over. So when your cat pulls it from the top it does stay upright.
Thirdly, the post is wrapped in a fibrous woven sisal which is preferable to carpet wrapped posts. Carpet can snag claws whilst sisal allows a full range of motion without snagging.
Sounds good? It does on paper but the proof is always in the setup and trying it out.
So how to Setup
My level of DIY is basically managing to put together Ikea furniture. Though I am now able to build a number of cat trees. I still like easy to set up items though and the ultimate scratching post actually filled this requirement.
Basically, it arrived in two parts with just two screws to fit. Even I can get this right. The base contained two predrilled holes – so just fit the post over the top of these. Then screw in the two screws – simples.
Cat-ability
This is always the big test – does my cat like it and does she use it? Dyson is actually used to scratchers so she goes straight to it and stretches right up.
The manufacturer does advise you to place the scratcher near to any furniture that your cat currently tries to scratch. If you find that your cat doesn't initially use it then try the following:
Spray catnip spray onto the sisal
Place a dangle toy to just dangle from the top platform
These ideas should get your cat used to the feel of this under their paws.
The Smartcat Ultimate scratching post is also very smart looking. We have a nice wooden base and wooden top. The sisal covered post is square shaped so your cat can grab both sides.
However, the top of the post whilst it has a small platform is a little small for lying on. It is also a bit slippery if your cat tries to jump onto it. So this scratching post is just a scratching post and does not work as a perch.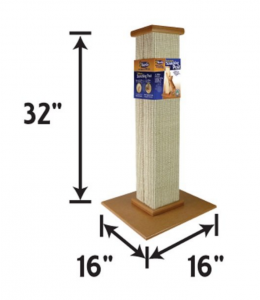 Specifications
32-inch post height
35 inches in height overall
16 inch by 16-inch base
Fibrous, durable sisal covering
Neutral beige color
Shipping weight is 20lbs
Conclusion
Pros
Cons
Slippery top so cats unable to perch
You can't rotate the scratching post if part of it gets more wear.
Summary
This is a nice alternative to the Mondo Cat Scratching Post at a quarter of the cost. Whilst it is not as functional (no cat perch) and not as durable it is still great for the money.
I must admit I would have liked the ability to rotate the actual scratching post. This would double the life of the scratching post as if the top gets worn you could then turn it around. The worn part would then be down by the base.
Overall though I am pretty pleased with the Smartcat Ultimate Scratching Post. We give this a big paws up especially on the price.
If you want to order one of these then the SmartCat Ultimate Scratching Post is available from Amazon.