When hunting for gifts for cat loving friends, do you often find that you end up also spending on yourself as you find something cute or funny that you need to have too? This happens to me all the time. My latest find came because I was hunting for some fun books for my mother who is another cat lover (and has just discovered the world of Kindle). Her cat is probably crazier than mine so I found this cute little book called 'Sorry I Barfed On Your Bed' by Jeremy Greenberg.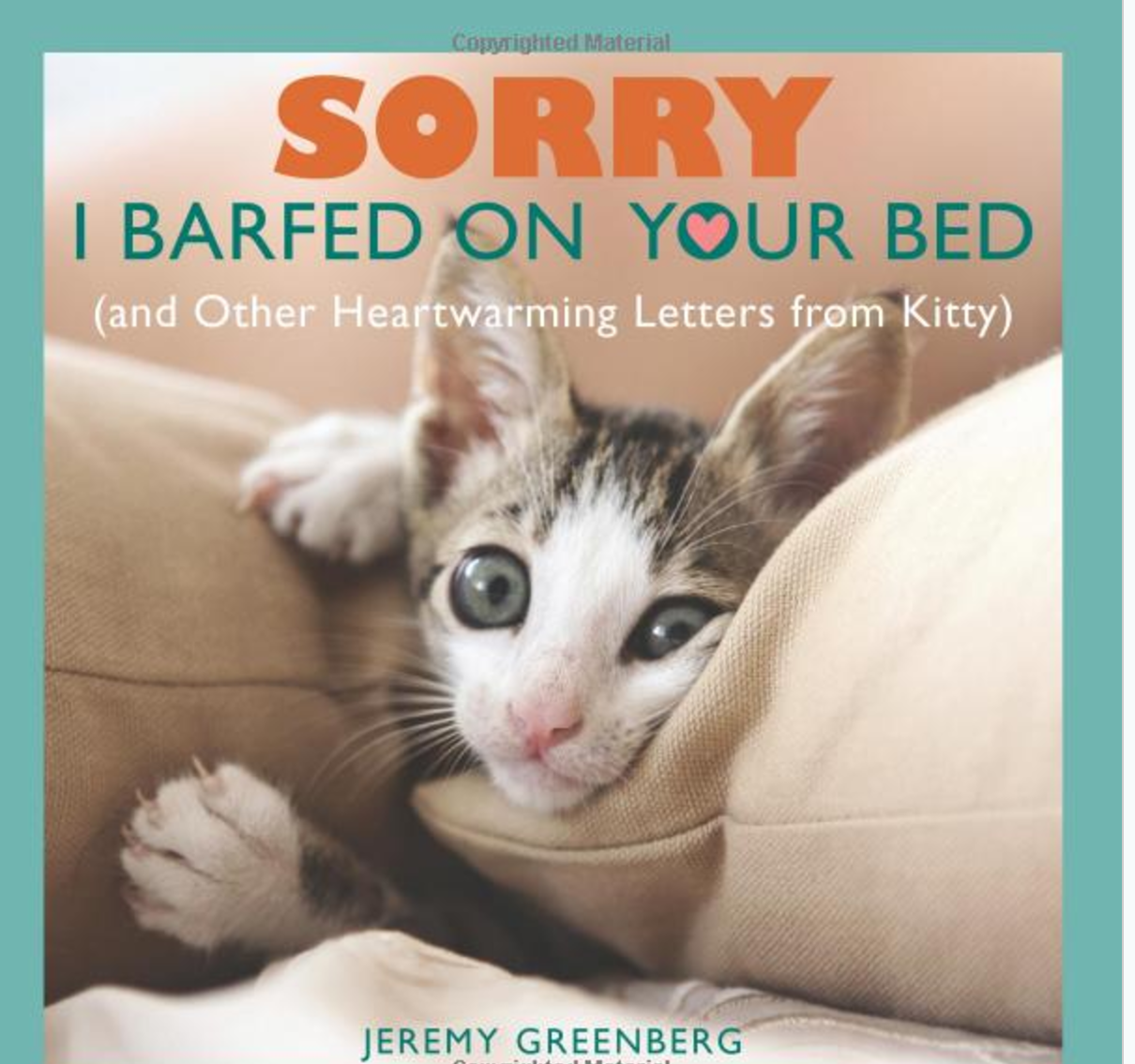 The title alone made me laugh as yes I can imagine this from my own cats. If they get a hair ball or throw up on the bed they look at me with disdain until I clean it all up and they can resettle down in comfort. They always have that look on their face as if to say 'that mess wasn't me – it must have been you'. So I definitely thought my mother would appreciate this.
Sorry I Barfed On Your Bed
The author, Jeremy Greenberg is a best-selling author who has written at least 9 humor books. He is also an award winning parent blogger and stand-up comedian and joke writer.
Sorry I Barfed On Your Bed is the cat version of the book, Sorry I Pooped In Your Shoe (cats would never do that). And is a hilarious collection of letters of excuses and suggestions from cats to the people who love them. After all, even if our cat does throw up on the bed, we still love them. It is also crammed full of full-color photos as well.
You will definitely chuckle or even laugh out loud with some of the tales as they are told from a cats point of view on common feline versus human co-habitation issues. It is a fun and light hearted gift for any crazy cat loving human.
Some of the feline insights include:
[thrive_text_block color="light" headline="Cat Insights"]
Why your cat sits on your laptop. You might have thought that it was for warmth and attention, but your cat is actually preventing you from interacting with the outside world. After all, why do you need to make human relationships when you have a cat?
Eating grass has medicinal purposes and your cat believes this should be legalized.
And why is your cat sorry it barfed on your bed? Well, it is really because they have to now get up and sleep in your clean laundry instead.
[/thrive_text_block]
Overall
This is a cute little book with 64 fun pages and about 30 different stories. I think most cat lovers will actually really enjoy getting this little book. So give it as a gift or even keep it for yourself to read.